Indonesia dan Malaysia Khawatir Proyek Kapal Selam Nuklir AUKUS
Indonesia, Malaysia Concerned Over AUKUS Nuclear Subs Plan
Editor : Ismail Gani
Translator : Novita Cahyadi

PUBLISHED: Senin, 18 Oktober 2021 , 20:41:00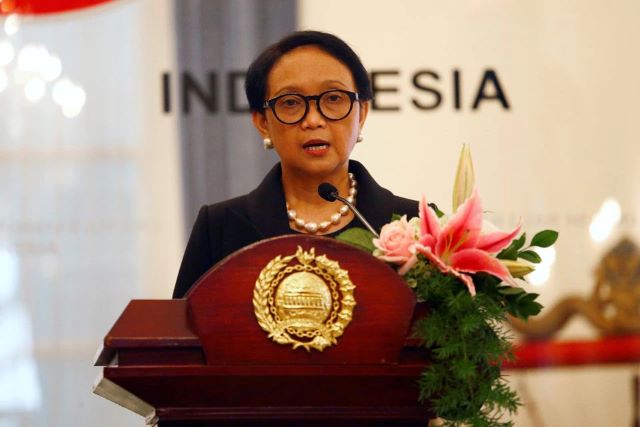 ILUSTRASI: Menlu RI Retno Marsudi berbicara dalam konferensi pers usai bertemu Menlu Jepang Toshimitsu Motegi di Jakarta [10/1/2020]. [Foto: Reuters]
PEMERINTAH Indonesia dan Malaysia menyatakan keberatan atas keputusan aliansi Amerika Serikat, Australia dan Inggris [AUKUS], untuk mendatangkan kapal selam bertenaga nuklir ke Australia, meskipun senjata nuklir tersebut tidak digunakan.
Hal ini disampaikan oleh Menteri Luar Negeri Malaysia, Saifuddin Abdullah dalam konferensi pers usai pertemuan dengan Menteri Luar Negeri RI, Retno Marsudi di Jakarta, Senin [18/10].
Saifudin menyatakan kedua negara sama sama khawatir akan konsekuensi pakta keamanan trilateral [AUKUS], yang disepakati bulan lalu oleh ketiga negara tersebut.
"Kami sepakat soal isu terbaru mengenai negara di dekat wilayah kami yang membeli kapal selam bertenaga nuklir baru," kata Saifuddin dalam konferensi pers usai pertemuannya dengan Menlu RI Retno Marsudi.
Pakta tersebut muncul di tengah meningkatnya ketegangan di Laut China Timur dan Selatan, yang menyalurkan triliunan dolar pengiriman senilai sekitar sepertiga dari perdagangan global.
Sementara, Filipina, yang dekat dengan AS, telah menyatakan dukungannya terhadap AUKUS. Filipina mengatakan bahwa perjanjian tersebut bisa menjadi penyeimbang yang diperlukan untuk China yang semakin ganas, seperti dikutip Reuters yang dilansir MailOnline.
Malaysia sebelumnya mengatakan akan mencari pandangan tentang masalah ini dengan China dan Perhimpunan negara-negara Asia Tenggara [ASEAN].
ASEAN pada hari Jumat [15/10], memutuskan untuk mengecualikan pimpinan junta Min Aung Hlaing dari pertemuan yang akan datang. Pada kesempatan yang sama, Retno menegaskan ASEAN akan terus menawarkan bantuan kemanusiaan ke Myanmar.
Pada pertemuan kedua negara tersebut, Saifuddin dan Retno pun mengatakan sedang berdiskusi tentang dibukanya koridor perjalanan antara Indonesia dan Malaysia, dan telah sepakat menyelesaikan perbatasan laut maritim di Malaka selatan dan Laut Sulawesi.
MALAYSIA and Indonesia share strong reservations over Australia´s decision to acquire nuclear-powered submarines, even though nuclear weapons were not part of the plan, Malaysia´s foreign minister said on Monday.
Referring to AUKUS, a trilateral security pact agreed last month between Australia, the United States and Britain, Saifuddin Abdullah said the two Southeast Asian nations were similarly concerned about its ramifications.
"We agree on the latest issue in the region regarding a country near our territory that is purchasing new nuclear-powered submarines," Saifuddin told a joint news conference after a meeting counterpart Retno Marsudi.
"Even though that country doesn´t have the capacity for nuclear weapons, we are worried and concerned."
Indonesia last month said https://www.reuters.com/world/asia-pacific/aukus-deal-ensure-peace-security-indo-pacific-says-us-admiral-2021-10-14 it was concerned AUKUS could lead to a regional arms race.
The deal comes amid increasing tensions in the East and South China Seas, conduits for trillions of dollars of shipments amounting to about a third of global trade.
The Philippines, a U.S. defence treaty ally, has backed https://www.reuters.com/world/asia-pacific/philippines-supports-australia-nuclear-sub-pact-counter-china-2021-09-21 AUKUS it, saying it offers a necessary counterbalance to an increasingly assertive China.
Malaysia previously said it would seek views on the issue with China and ASEAN.
The Indonesian and Malaysian ministers also expressed disappointment with the Myanmar junta´s lack of progress in implementing an agreed peace plan with the Association of Southeast Asian nations (ASEAN).
ASEAN on Friday decided to exclude junta chief Min Aung Hlaing, who led a Feb. 1 coup, from an upcoming regional meeting, in an unprecedented snub by the bloc.
ASEAN will continue to offer humanitarian assistance to Myanmar, said Indonesia´s Foreign Minister Retno Marsudi.
The foreign ministers also said they were in discussion about starting a travel corridor between Indonesia and Malaysia, and had agreed to finalise maritime sea borders in southern Malacca and the Sulawesi Sea.