Senang Didukung Militer AS, Begini Cara PM Denmark Luapkan Kegembiraan
Danish PM Risks His Life to Wave at F-16 Fighter Jets from an Open Cargo Bay at 16,000ft
Editor : Ismail Gani
Translator : Novita Cahyadi

PUBLISHED: Rabu, 17 Januari 2018 , 21:39:00 WIB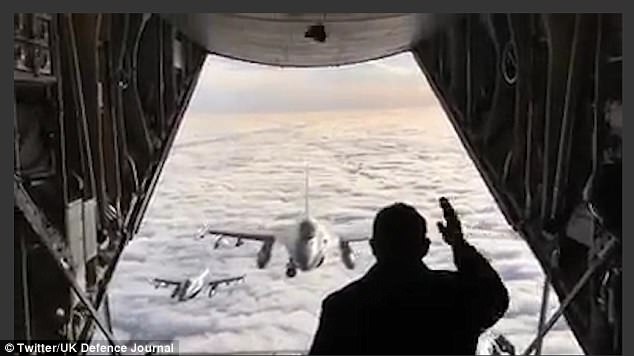 Rekaman video tersebut muncul sepekan setelah empat jet F-16 Denmark tiba di negara sekutu NATO untuk mengambil alih misi pengawasan udara dari empat pesawat F-15 Amerika (Foto: MailOnline)
SEBUAH rekaman video memperlihatkan Perdana Menteri Denmark melambaikan tangan kepada dua pilot jet tempur F-16 dari belakang pesawat transportasi militer yang tengah mengudara di atas Lithuania.

PM Lars Rasmussen tampak berdiri di belakang pesawat militer C-130 saat direkam pada Senin untuk meninjau kegiatan latihan militer.

Rekaman video tersebut muncul sepekan setelah empat jet F-16 Denmark tiba di negara sekutu NATO untuk mengambil alih misi pengawasan udara dari empat pesawat F-15 Amerika.

NATO telah memposisikan pasukan militer, kendaraan lapis baja dan pesawat jet tempur di sepanjang perbatasan Rusia untuk meyakinkan sekutu dalam mengantisipasi meningkatnya kehadiran militer Rusia.

Ada sekitar 1.200 tentara yang ditempatkan di Lithuania, didukung ribuan lainnya di Estonia, Latvia dan Polandia.

Ketegangan terus meningkat sejak Rusia mencaplok wilayah Krimea di Ukraina pada 2014 setelah runtuhnya pemerintah yang didukung Kremlin.

Sejak saat itu penyerangan oleh pesawat Rusia ke wilayah udara Eropa meningkat.

Tahun lalu Denmark terpaksa mengerahkan jetnya 37 kali untuk mengawal pesawat Rusia melalui wilayah udara sendiri, lebih dari dua kali lipat tahun sebelumnya.

Denmark pekan lalu mengerahkan 200 tentara ke sebuah misi NATO yang dipimpin Inggris di Estonia seperti dilansir MailOnline.

Pada saat itu, Rasmussen mengatakan: ´Perilaku Rusia telah menciptakan lingkungan keamanan yang tidak dapat diprediksi dan tidak stabil di wilayah Laut Baltik.
THE DANISH Prime Minister has been filmed waving to two F-16 fighter pilots from the back of a military transport in the skies above Lithuania.

Lars Rasmussen stood in the back of a C-130 transport for the stunt on Monday as the pilots took part in an escorting training mission.

It comes a week after four Danish F-16 jets arrived in the NATO-allied country to take over an air-policing mission from four American F-15s.

NATO has been positioning troops, vehicles and aircraft along the Russian border to reassure allies in the face of a heightened military presence from Putin.

There are around 1,200 soldiers stationed in Lithuania, with thousands more in Estonia, Latvia and Poland.

Tensions have been running high since Russia annexed the Ukrainian region of Crimea in 2014 following the collapse of the Kremlin-backed government.

Since then incursions by Russian aircraft into European airspace have spiked.

Last year Denmark was forced to deploy its jets 37 times to escort Russian aircraft through its own airspace, more than double the previous year.

Denmark last week deployed 200 troops to a UK-led NATO mission in Estonia.

At the time, Mr Rasmussen said: ´Russia´s behavior has created an unpredictable and unstable security environment in the Baltic Sea region.