PM Kanada Dikecam di Medsos lantaran Joged Bangra di New Delhi
Justin Trudeau Dons Traditional Dress again and Dances the Bangra in India
Editor : Ismail Gani
Translator : Novita Cahyadi

PUBLISHED: Sabtu, 24 Februari 2018 , 21:43:00 WIB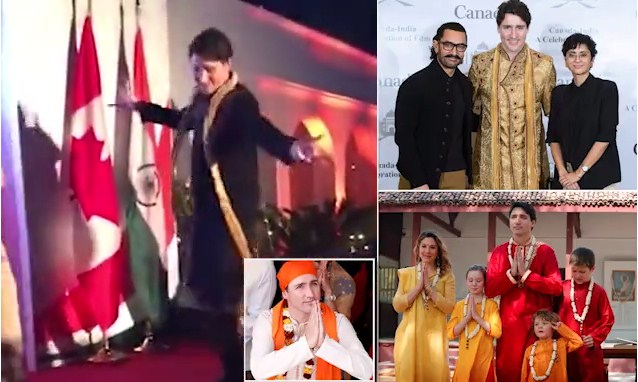 Pada Jumat Trudeau kemudian bertemu dengan Perdana Menteri India Narendra Modi - satu-satunya pertemuan resmi yang dilakukannya dalam perjalanan delapan harinya ke India (Foto2: MailOnline)
JUSTIN TRUDEAU dalam rekaman video terlihat menari bhangra pada acara makan malam di New Delhi.

Perdana Menteri Kanada kembali mengenakan pakaian tradisional India saat dia hadir di acara tersebut pada Kamis malam mendapat cemoohan dari warga India yang menuding pakaian yang dikenakan ´menyebalkan´ selama berada di India.

Trudeau berada di atas panggung di Canadian High Commission untuk mendengarkan musik pembuka dan kemudian dia menari, lalu mengajak para tamu ikut bergoyang bersamanya.

Namun reaksi beragam dilontarkan publik melalui medsos, banyak yang memuji aksi spontannya dan tak sedikit yang mengejeknya sebagai hal memalukan.

Atirav Kapur, dari Delhi, tweeted: ´Dapatkah seseorang mengatakan kepadanya bahwa orang India tidak hidup seperti mereka lihat di film Bollywood selama 24 jam?´

Pengguna medsos lain yang dengan nama ´The Dark´ menambahkan: ´Seseorang harus mengingatkannya setiap 10 menit bahwa dia adalah seorang PM.´

Yasmine Mohammed, seorang penulis dari Kanada, mengatakan: "Sangat memalukan. Bisakah Anda membayangkan beberapa orang datang ke Kanada mengenakan tuksedo lalu menari-nari jambon atau apa? Ugh.´

Warga Kanada lainnya yang memakai nama Jacqui berkomentar: ´Please, please, please India, keep him.´

Ini terjadi setelah Trudeau banyak diolok-olok di media sosial oleh warga India pada awal pekan lantaran pakaian tradisionalnya, yang dicap ´norak dan menyebalkan´.

Pada Jumat Trudeau kemudian bertemu dengan Perdana Menteri India Narendra Modi - satu-satunya pertemuan resmi yang dilakukannya dalam perjalanan delapan harinya ke India.

Kedua pemimpin berpelukan di karpet merah di luar Istana Kepresidenan di New Delhi, tujuh hari setelah Modi menghindari pertemuan dengan Perdana Menteri Kanada di bandara saat pesawatnya mendarat.

Langkah itu banyak ditafsirkan sebagai penghinaan atas dukungan Trudeau terhadap kelompok separatis Sikh, meskipun Modi secara resmi menolaknya seperti dilansir MailOnline.
JUSTIN TRUDEAU has been caught on camera dancing the bhangra at a private dinner in New Delhi.

The Canadian Prime Minister was back in traditional dress when he made a dramatic entrance at the event on Thursday night despite facing ridicule from Indians for his ´annoying´ outfits during the trip.

Trudeau walked out on stage at the Canadian High Commission to the sound of drums before breaking out his dance moves, to the approval of the crowd.

But the reaction on social media was decidedly mixed, with some praising his style while others derided him as an embarrassment.

Atirav Kapur, from Delhi, tweeted: ´Can someone tell him Indians don´t live like they are in a Bollywood set 24x7?´

Another user going under by the name ´The Dark´ added: ´Somebody should remind him every 10 minutes that he is a PM.

Yasmine Mohammed, an author from Canada, said: ´So embarrassing. Can you imagine some dignitary coming to Canada dressed in a Canadian tuxedo dancing some Newfie jig or something? Ugh.´

Another Canadian going by the name Jacqui remarked: ´Please, please, please India, keep him.´

It comes after Trudeau was widely mocked on social media by Indians earlier in the week for his traditional outfits, which were branded ´tacky and annoying´.

On Friday Trudeau then met with Indian Prime Minister Narendra Modi - the only high-level engagement of his eight-day trip to India.

The pair embraced on the red carpet outside the Presidential Palace in New Delhi, seven days after Modi avoided meeting the Canadian Prime Minister at the airport when his plane initially landed.

That move has been widely interpreted as a snub over Trudeau´s perceived support for Sikh separatist groups, though Modi officially denies it.