Kontroversi `Pria Bertelur` dari Gowa Disorot Dunia
Akmal, 14, from Gowa in Indonesia Says He has been Laying Eggs since 2016
Editor : Ismail Gani
Translator : Novita Cahyadi

PUBLISHED: Jum'at, 23 Februari 2018 , 17:55:00 WIB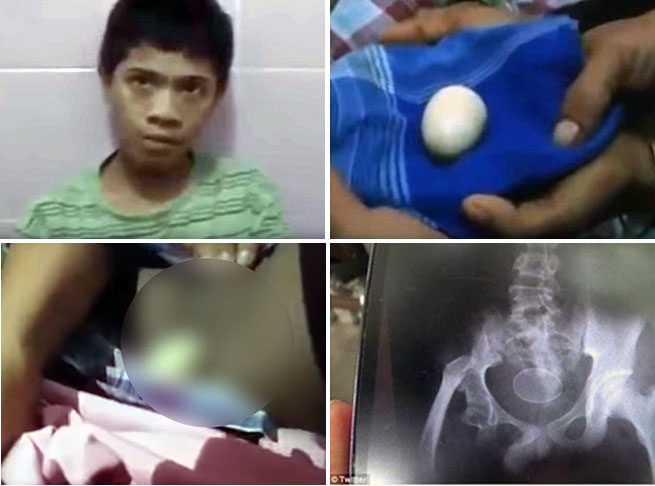 Akmal, 14, dari Gowa di Indonesia mengatakan bahwa dia secara teratur mengeluarkan telur dari duburnya sejak 2016 (Foto2: MailOnline)
KONTROVERSI tentang Akmal yang mengeluarkan telur tidak hanya menarik perhatian di Indonesia tapi juga ke mancanegara.

Seorang remaja pria yang mengaku telah mengeluarkan 20 butir telur dalam dua tahun terakhir, benar-benar membingungkan dokter.

Akmal, 14, dari Gowa di Indonesia mengatakan bahwa dia secara teratur mengeluarkan telur dari duburnya sejak 2016.

Ketika cangkang telur dibuka, ayah Akmal mengklaim bahwa telur yang keluar dari perut anaknya tampak berwarna kuning atau putih seluruhnya.

Anak berusia 14 tahun tersebut telah berulang kali dirawat di rumah sakit karena kondisinya, dan baru-baru ini mengeluarkan lagi dua butir telur melalui duburnya.

Ayahnya yang bernama Rusli bilang: "Dalam dua tahun terakhir anaknya mengeluarkan 18 butir telur dan dua lagi hari ini, jadi totalnya sudah ada 20. Saya memecahkan telur pertama dan isinya berwarna kuning, tidak berwarna putih."

Namun dokter bingung dengan kondisinya, dengan mengatakan bahwa ´tidak mungkin´ telur terbentuk di dalam tubuh manusia, seperti dilaporkan Daily Star.

Seorang juru bicara dari rumah sakit tersebut mengatakan: "Kecurigaan kami adalah bahwa telur tersebut sengaja dimasukkan ke dalam perut Akmal. Namun kami tidak melihatnya secara langsung."

Ayah Akmal membantah ini.

Dia mengatakan kepada media lokal: ´Dia tidak pernah menelan telur utuh, mengapa dia harus melakukan itu?´

Dokter telah mengarantina remaja tersebut untuk mempelajari kondisinya di Rumah Sakit Syekh Yusuf di Gowa, Sulsel seperti dilansir MailOnline.
IF YOU´RE eating breakfast now is your last chance to turn away.

A teenage boy has claimed to have laid 20 eggs in the past two years, completely baffling doctors.

Akmal, 14, from Gowa in Indonesia says he has been regularly laying eggs since 2016.

When cracked open Akmal´s father claims the eggs laid by his son appear to be either all yolk or all white.

The 14-year-old has been repeatedly hospitalised for his condition, and recently laid two eggs in front of doctors.

His father Rusli said: ´In two years he laid 18 eggs and two today, so in total there have been 20. I cracked the first egg and its content was all yellow, no white.´

But doctors are baffled by his condition, saying its ´impossible´ for eggs to form inside the human body, the Daily Star reported.

A spokesperson from the hospital said: ´Our suspicion is that the eggs were deliberately shoved into Akmal´s rectum. But we did not see it directly.´

Akmal´s father denied this.

He told local media: ´He never swallowed eggs whole, why would he do that?´

Doctors have quarantined the teenager to study his condition at Syekh Yusuf Hospital in Gowa.