Pawai #JeSuisCharlie, Foto Pemimpin Wanita Dihapus Koran Ortodoks Israel
Orthodox Israeli Newspaper Airbrushes Female World Leaders Out of #JeSuisCharlie
Editor : Ismail Gani
Translator : Novita Cahyadi

PUBLISHED: Rabu, 14 Januari 2015 , 22:26:09 WIB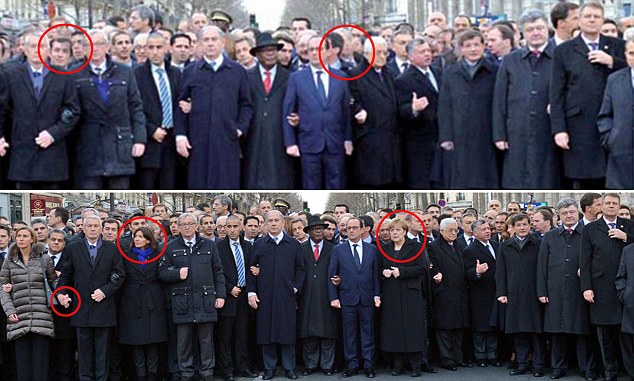 Koran The Announcer yang terbit di Israel menghapus wajah Kanselir Jerman Angela Merkel dan Walikota Paris Anne Hidalgo - dan memotong (crop) yang dipasang di halaman depan kecuali PM Denmark, Helle Thorning-Shmidt (Foto2: MailOnline)
SEBUAH surat kabar Yahudi ultra-konservatif memanfaatkan aplikasi digital untuk menghapus para pemimpin wanita dari foto para pemimpin dunia yang berkumpul di Paris, menyusul serangan teror pekan lalu di ibu kota Prancis tersebut.

Koran The Announcer yang terbit di Israel menghilangkan foto Kanselir Jerman Angela Merkel dan Walikota Paris Anne Hidalgo - dan memotong (crop) foto yang dipasang sebagai foto utama di halaman depan korang kecuali PM Denmark, Helle Thorning-Shmidt.

Hal ini diyakini penghapusan foto bersejarah, yang dilakukan pada 11 Januari, sehingga surat kabar tidak akan menyinggung perasaan para pembaca Ortodoks.

Presiden Swiss, Simonetta Sommaru, dihilangkan wajahnya dengan membuat kabur fotonya di antara kerumunan para pemimpin dunia, sementara kepala urusan luar negeri Uni Eropa dan kepala keamanan, Frederica Mogherini juga dihapus.

Para wanita di antara 40 pemimpin dunia yang berpegangan tangan berjalan bersama rekan-rekan pria mereka untuk memimpin unjuk rasa satu juta orang di Paris, sebagai pernyataan solidaritas internasional menyusul pembantaian Charlie Hebdo.

Enam wartawan majalah, dibunuh oleh dua orang bersenjata bertopeng, di antara 17 orang yang tidak bersalah yang kehilangan nyawa mereka dalam gelombang serangan teror di Paris pekan lalu, seperti dilansir MailOnline.

Koran Perancis mengecam The Announcer sebagai tindakan 'munafik' pada halaman depan, yang mereka yakini tidak menghormati 'semangat solidaritas'.

Satu pembaca di Israel mengatakan: "Mereka bukan melindungi perempuan dari para pria, atau para pria yang berpikiran kotor."

Ortodok Yahudi menyatakan di komunitas mereka bahwa wanita tidak boleh melakukan kegiatan di luar rumah. Sangat memprihatinkan dan sangat mengganggu."

Tiga tahun yang lalu, koran Yahudi ortodoks lainnya, Di Tzeitung, memicu kemarahan di AS dengan menghapus wajah Menteri Luar Negeri, Hillary Clinton, di Gedung Putih saat serangan militer yang menewaskan Osama Bin Laden.

Sementara The Announcer - yang dikenal dalam bahasa Ibrani sebagai HaMevaser - menolak untuk mencetak nama-nama anggota perempuan parlemen Israel.

Tindakan menghapus wajah Angela Merkel dan pemimpin perempuan lainnya dari halaman depan pekan ini karena'alasan kesopanan dan sikap yang tidak pantas dari wanita di media.'

Menurut media Israel lainnya, Haaretz , menghapus perempuan dari foto tersebut bukanlah hal baru.
AN ULTRA-CONSERVATIVE Jewish newspaper has digitally removed female politicians from an iconic image of world leaders marching through Paris, following last week's terror attacks.

Israel's The Announcer airbrushed out German Chancellor Angela Merkel and Paris Mayor Anne Hidalgo - and cropped the front-page picture to completely exclude Danish Prime Minster, Helle Thorning-Shmidt.

It's believed the women were removed from the historic image, taken on January 11, so the newspaper would not offend its highly devout Orthodox readers.

Swiss President, Simonetta Sommaru, has been left as a blur behind a crowd of faces, while the EU's foreign affairs and security chief, Frederica Mogherini, was left out entirely.

The women were among 40 world leaders who lined arms with their male counterparts to lead a million people through Paris, in a statement of international solidarity following the Charlie Hebdo massacre.

Six of the magazine's journalists, killed by two masked gunmen, were among 17 innocent people to lose their lives in a wave of terror attacks in Paris last week.

French newspapers have blasted The Announcer's 'hypocritical' front page, which they believe disrespects 'the unity of the march'.

One reader in Israel said: 'They are not protecting women from leering men, or men from illicit thoughts.

They are telling their community that women have no place in society outside the home. Very sad and very disturbing.'

Three years ago, another orthodox Jewish newspaper, Di Tzeitung, sparked anger in the US by removing then Secretary of State, Hillary Clinton, from a 2001 image of the White House situation room during the raid which killed Osama Bin Laden.

While The Announcer - known in Hebrew as HaMevaser - has refused to print the names of female members of the Israeli parliament.

It has allegedly defended the removal of Angela Merkel and other women leaders from this week's front page for 'reasons of modesty' and its stance not to depict women in the media.

According to another Israeli publication, Haaretz, removing women from such pictures is nothing new.