Pasca Pilpres, 1 Terduga Teroris JAD Ditembak Mati dan 6 Ditangkap
Indonesia Says Breaks Up Plot to Attack Police over Election Period
Editor : Ismail Gani
Translator : Dhelia Gani

PUBLISHED: Rabu, 08 Mei 2019 , 01:06:00 WIB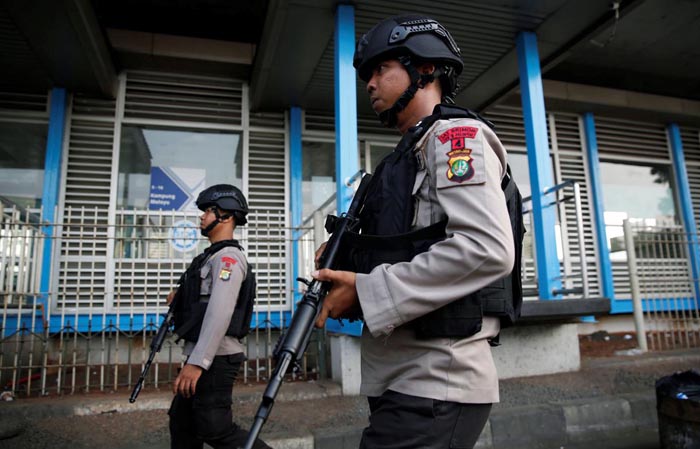 Foto: Reuters
POLISI antiteror Densus 88 telah menembak mati seorang terduga teroris dan menahan enam orang -yang diduga merencanakan serangan terhadap personel polisi dengan senjata api atau bom bunuh diri di bawah kedok demonstrasi yang terkait dengan pemilihan umum baru-baru ini, kata juru bicara Kepolisi RI [Polri].
Para tersangka ditahan setelah serangan akhir pekan di Bekasi di Jawa Barat dan satu orang tewas setelah ditembak ketika ia melemparkan bom ke polisi, kata Karopenmas Divisi Humas Polri Brigjen Dedi Prasetyo.
"Mereka berencana merebut senjata api polisi dan menggunakannya untuk melakukan teror, apakah dengan menjadi pembom bunuh diri atau melakukan serangan lain yang bisa berakibat fatal bagi para pengunjuk rasa," kata Dedi Prasetyo, seraya menambahkan bahwa bahan peledak juga telah disita.
Presiden RI Joko Widodo menyatakan kemenangan setelah pemilihan 17 April berdasarkan hasil tidak resmi dari lembaga survei swasta, tetapi penantangnya, mantan jenderal Prabowo Subianto, mengeluhkan terjadinya kecurangan yang meluas dan menegaskan dia menang.
Prabowo mengatakan bahwa jika keluhannya tidak diatasi dan penghitungan resmi pada 22 Mei mengonfirmasi kekalahannya, hal itu bisa memicu protes rakyat melalui ´people power´.
Brigjen Pol Dedi mengatakan para tersangka militan terkait dengan kelompok Jemaah Ansharut Daulah (JAD) yang diilhami oleh Negara Islam ISIS, kelompok yang terkait dengan ormas Islam di Indonesia, yang secara hukum dibubarkan tahun lalu karena "melakukan terorisme" dan berafiliasi dengan kelompok militan asing.
Dia mengatakan para tersangka berniat menggunakan bahan peledak dan senjata api untuk meniru serangan Mumbai 2008 di mana gerilyawan melakukan serangkaian serangan dan pemboman di seluruh pusat ekonomi India tersebut.
Polisi Indonesia cukup berhasil mencegah dan menghentikan serangan besar sejak Bom Bali 2002 yang menewaskan ratusan orang wisatawan asing, meskipun para pengamat memperingatkan agar Indonesia tidak cepat puas.
"Indonesia telah beruntung sejauh ini bahwa para teroris umumnya terlalu sedikit pengalaman untuk berpikir besar," kata analis Sidney Jones dari Institut Analisis Kebijakan Konflik yang berbasis di Jakarta dalam sebuah laporan baru-baru ini.
"Dengan sedikit imajinasi dan kepemimpinan yang lebih baik, sel-sel pro-ISIS ini dapat melakukan kerusakan yang jauh lebih besar," kata Sidney Jones.
Pada Maret, istri dan putra seorang tersangka teroris meledakkan diri di rumah mereka di Sumatera Utara setelah beberapa jam negosiasi yang menegangkan dengan petugas Densus 88.
Indonesia juga menjadi target serangkaian serangan mengerikan di kota Surabaya setahun yang lalu, ketika seluruh keluarga, termasuk anak-anak usia sembilan tahun, terikat pada rompi peledak dan meledakkan diri di gereja dan kantor polisi, menewaskan lebih dari 30 orang seperti dikutip Reuters yang dilansir MailOnline.
INDONESIAN anti-terrorism police have shot dead one Islamist militant and detained six suspected of planning attacks on officers with firearms or suicide bombings under the cover of rallies tied to recent elections, a police spokesman said.
The suspects were detained after weekend raids in Bekasi in West Java and one died after being shot when he threw a bomb at police, national police spokesman Dedi Prasetyo said.
"They were planning to take police firearms and use them to commit terrorism, whether by becoming suicide bombers or performing other attacks that could be fatal for protesters," Prasetyo said, adding that explosives had also been seized.
President Joko Widodo declared victory after the April 17 election based on unofficial results from private pollsters, but his challenger, former general Prabowo Subianto, has complained of widespread cheating and insists he won.
Prabowo has said that if his complaints were not addressed and an official count due by May 22 confirmed his loss, it could trigger "people power" style protests.
Prasetyo said the suspected militants were linked to the Islamic State-inspired Jemaah Ansharut Daulah (JAD) group, the largest Islamic State-linked group in Indonesia, which was legally disbanded last year for "conducting terrorism" and affiliating itself with the foreign militant group.
He said the suspects intended to use explosives and firearms to imitate the 2008 Mumbai attacks in which militants carried out a series of attacks and bombings across India´s financial capital.
Indonesian police have had considerable success in stopping major attacks since the deadly 2002 Bali bombings, though analysts warn against complacency.
"Indonesia has been lucky thus far that its terrorists generally have had too little experience to think big," analyst Sidney Jones from the Jakarta-based Institute for Policy Analysis of Conflict said in a recent report.
"With a little imagination and better leadership, these pro-ISIS cells could do far greater damage," said Jones.
In March, the wife and son of a suspected militant blew themselves up in their home on the island of Sumatra after hours of tense negotiations with counter-terrorism officers.
Indonesia also saw a series of gruesome attacks in the city of Surabaya a year ago, when whole families, including children as young as nine, strapped on explosive vests and blew themselves up at churches and police stations, killing more than 30 people.