Apakah ini Ruangan Kelas di Masa Depan?
Is This The Future of Classrooms?
Editor : Ismail Gani
Translator : Novita Cahyadi

PUBLISHED: Rabu, 02 Desember 2020 , 22:54:00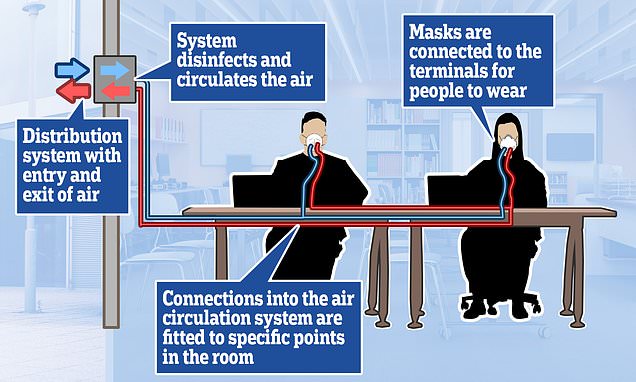 KELAS MASA DEPAN: Desain yang dipatenkan oleh para ahli di Universitas Alicante di Spanyol melibatkan pemasangan dalam jaringan tabung ke setiap posisi duduk di sebuah ruangan. [Foto: MailOnline]
MURID yang berada didalam kelas bisa mendapatkan pasokan udara steril yang dipompa langsung ke masker yang telah dipasang di meja mereka, jika sistem baru yang tidak biasa ini diterapkan.
Pakar dari Spanyol telah mematenkan desain yang melibatkan pemasangan jaringan tabung disetiap tempat duduk di sebuah ruangan
Udara yang disterilkan, bebas dari partikel virus korona, akan disuntikkan ke dalam sistem dari pompa pusat dan setiap orang akan menerimanya melalui masker.
Labirin pipa yang luas akan memiliki dua saluran, satu untuk udara bersih dan satu untuk udara kotor yang dikeluarkan.
Para peneliti mengatakan penemuan mereka dapat digunakan di ruang terbatas mana pun, termasuk ruang kelas, bioskop, kantor, dan teater. Seperti dilansir MailOnline.
SCHOOL pupils in the classroom could soon have a supply of sterilised air pumped straight to masks attached to their desks if an unusual new system is adopted.
Spanish experts have patented a design that involves installing a network of tubes to every seated position in a room
Sterilised air, free of any coronavirus particles, will be injected into the system from a central pump and each person would receive their own supply through a mask.
The sprawling labyrinth of pipes would have two channels - one for clean air and one for exhaled dirty air.
Researchers say their invention could be used in any confined space, including classrooms, cinemas, offices and theatres.