Utusan PBB Kunjungi Kota yang Dilanda Kerusuhan di Myanmar
UN Myanmar Envoy Visits Ruined City after Violence
Editor : Heru S Winarno
Translator : Parulian Manalu

PUBLISHED: Senin, 25 Maret 2013 , 03:39:23 WIB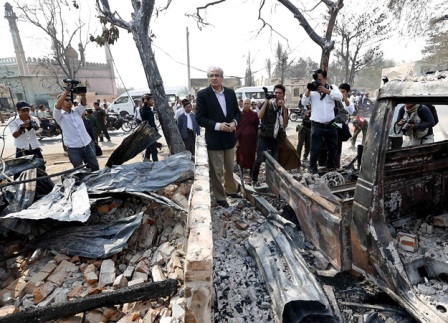 Utusan PBB untuk Myanmar, Vijay Nambiar (Foto: aljazeera.com)
Meiktila (B2B) - Utusan PBB untuk Myanmar meninjau kota dilanda kerusuhan di Myanmar tengah dan bertemu dengan sekitar 9.000 pengungsi.

Kerusuhan antar-pemeluk agama di kota Meiktila menewaskan setidaknya 32 orang dan menyebabkan ribuan orang mengungsi sejak berawal pada Rabu, kata pejabat, yang menyebabkan di kota Meiktila banyak gedung hancur dan memicu militer memberlakukan keadaan darurat.

Vijay Nambiar, penasehat khusus PBB mengenai Myanmar, mengunjungi dua tempat penampungan bagi para warga Muslim yang terlantar dan satu biara yang dihuni para warga Buddha yang melarikan diri akibat kerusuhan itu, seperti dilansir OneNewsPage.

Menjelang kunjungan itu, Nambiar, Jumat, menyatakan "dukacitanya yang dalam" atas jatuhnya korban jiwa dan mendesak para pemimpin agama menyerukan umat mereka "menghentikan aksi kekerasan, menghormati hukum dan meningkatkan usaha perdamaian".

Sekitar 50 truk militer dikerahkan di daerah yang dilanda kerusuhan Sabtu, setelah rumah-rumah dan masjid-masjid dibakar oleh massa yang bersenjatakan parang dan tongkat dalam tiga hari kerusuhan antarmasyarakat itu.

Bentrokan-bentrokan itu adalah tanda terbaru ketegangan yang mendalam antara warga Muslim dan Buddha dan merupakan satu tantangan serius bagi pemerintah sipil saat melakukan reformasi negara itu setelah puluhan tahun berada dalam kekuasaan militer yang bertangan besi.

Ini adalah kerusuhan agama paling buruk sejak bentrokan antara warga Buddha dan Muslim di negara bagian Rakhine Myanmar barat tahun lalu yang menewaskan setidaknya 180 orang dan lebih dari 110.000 orang mengungsi.
Meiktila - A United Nations envoy on Sunday surveyed the charred ruins of homes and met some of those displaced by deadly riots in Myanmar, as Buddhist and Muslim leaders urged an end to the religious violence.

The communal clashes in the central town of Meiktila have killed at least 32 people and displaced about 9,000, according to officials, destroying swathes of the town and prompting an army-enforced state of emergency.

After visiting camps for the displaced from both communities Vijay Nambiar, the UN special adviser on Myanmar, expressed sadness at the death and destruction but said residents want to rebuild their shattered lives.

"What I noticed was that there was great sadness and tragedy, but there was very little hatred... and that people were determined to bring back their lives," he told reporters, adding some local residents blamed unidentified "outsiders" for instigating the clashes.

Around 50 military trucks were deployed in the riot-hit area on Saturday, after homes and mosques were torched by mobs armed with knives and sticks in the three days of communal rioting.

The clashes are the latest sign of deepening tensions between Muslims and Buddhists and present a serious challenge for the Myanmar government as it looks to reform the country after decades of military rule.

It is the worst religious violence since clashes between Buddhists and Muslims in the western state of Rakhine last year left at least 180 people dead and more than 110,000 displaced.