Ukraina Makin Panas, Protes Anti Pemerintah Meluas
Anti-government Protests in Ukraine Spread Beyond Kiev
Editor : Cahyani Harzi
Translator : Dhelia Gani

PUBLISHED: Sabtu, 25 Januari 2014 , 09:54:00 WIB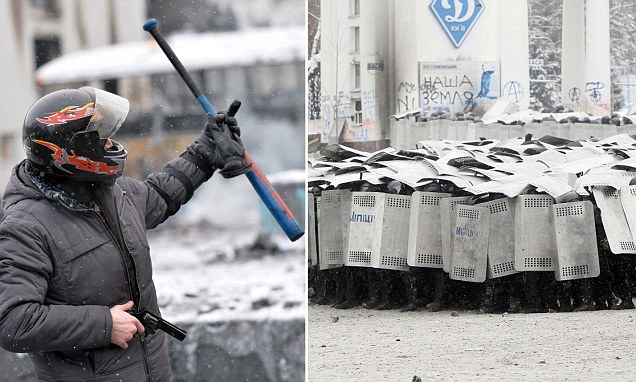 Puluhan ribu demonstran anti-pemerintah berunjuk rasa di beberapa daerah di Ukraina (Foto2: Mail Online)
Kiev (B2B) - Puluhan ribu demonstran anti-pemerintah berunjuk rasa di beberapa daerah di Ukraina pada Kamis malam (23/1) dan Jumat (24/1) untuk menuntut pengunduran diri pemerintah setempat.

Di wilayah Volyn barat, para pengunjuk rasa mengepung gedung pemerintah provinsi, memaksa gubernur wilayah itu mundur, demikian Xinhua.

Di lima wilayah barat lainnya - Lvov, Ternopol, Ivano-Frankovsk, Rovno dan Khmelnitsky - para demonstran berusaha untuk menduduki gedung pemerintah, melampiaskan kemarahan mereka terhadap penerapan undang-undang baru yang membatasi pertemuan publik dan menuntut penggulingan pemimpin daerah.

Demonstran juga melakukan protes di daerah Sumy dan Zhitomir di utara, Chernovtsy di barat dan Cherkasy di tengah. Sementara ibu kota Kiev, yang telah menjadi pusat protes selama dua bulan, relatif tenang.

Para demonstran dan polisi antihuru-hara mengadakan gencatan senjata saat Presiden Viktor Yanukovych dan pemimpin oposisi meluncurkan putaran perundingan untuk meredakan ketegangan.

Yanukovych juga telah menyerukan sidang luar biasa parlemen pekan depan untuk membahas cara-cara keluar dari krisis politik yang sedang berlangsung.

Seruan untuk pertemuan darurat terjadi di tengah bentrokan mematikan antara polisi anti-huru hara dan demonstran, yang turun ke jalan untuk memprotes undang-undang anti-protes yang kontroversial, karena gelombang protes anti-pemerintah meletus akhir pekan lalu di Kiev.

Setidaknya tiga orang dilaporkan tewas dan ratusan orang lain, termasuk petugas polisi, terluka dalam bentrokan.

Protes bermula 21 November dengan demonstrasi damai menuntut integrasi ke Eropa, tetapi kemudian berubah menjadi kekerasan dengan para pengunjuk rasa menuntut pemakzulan presiden, pengunduran diri pemerintah dan pembubaran parlemen.
Kiev - Tens of thousands of anti-government protesters rallied in several regions across Ukraine on Thursday evening and Friday to demand the resignation of local authorities.

In the western Volyn region, protesters besieged the provincial state administration building, forcing the regional governor to step down.

In five other western regions - Lvov, Ternopol, Ivano-Frankovsk, Rovno and Khmelnitsky - demonstrators attempted to occupy the administrative buildings, venting their anger over new legislation limiting public assembly and demanding regional leaders´ ouster.

Demonstrators also staged protests in Sumy and Zhitomir regions in the north, Chernovtsy in the west and Cherkassy in the center. Meanwhile, the capital of Kiev, which has been the epicenter of two months of protests, is relatively calm.

Demonstrators and riot police held a truce as President Viktor Yanukovych and opposition leaders launched rounds of negotiations to ease the tension.

Yanukovych has also called for an extraordinary session of the parliament next week to discuss ways out of the ongoing political crisis.

The call for the emergency meeting came amid deadly clashes between riot police and demonstrators, who took to the streets to protest against the controversial anti-protest law, since a new wave of anti-government protests erupted last weekend in Kiev.

At least three people were reportedly killed and hundreds of others, including police officers, injured in the clashes.

The protests started on Nov. 21 with peaceful demonstrations demanding the country´s European integration, but later turned violent with protesters demanding impeachment of the president, resignation of the government and dissolution of the parliament.