Peta Mode Ungkap Merek Fesyen Paling Top Sejagat
Fascinating Map Shows how Louis Vuitton is Everyone`s Favorite Fashion Brand
Editor : Kemal A Praghotsa
Translator : Novita Cahyadi

PUBLISHED: Jum'at, 08 Januari 2021 , 19:24:00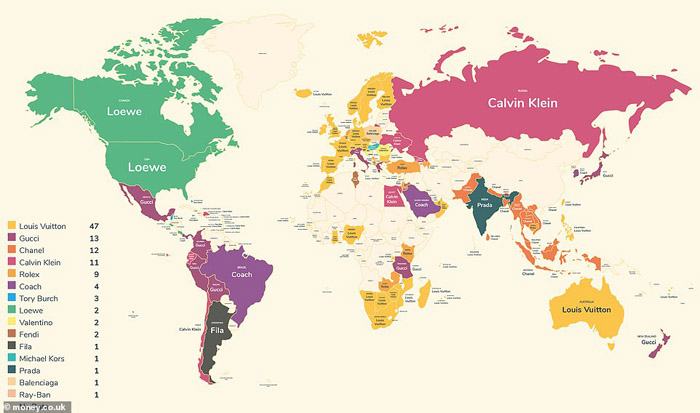 RUMAH MODE: Peta itu dibuat oleh situs penasihat keuangan money.co.uk, yang merilis survei merek fesyen paling dicari di Google pada setiap negara selama setahun terakhir [Peta & Data: MailOnline]
PETA DUNIA yang menguak tentang merek fesyen paling populer di seluruh dunia - dan Louis Vuitton yang paling favorit di jagat ini, tahun lalu.
Di peta - dibuat menggunakan 12 bulan data penelusuran Google - nama negara telah dilengkapi dengan label mode yang paling banyak ditelusuri penduduknya.
Merek Prancis Louis Vuitton berada di peringkat teratas pada 47 negara, termasuk Inggris dan Australia, sedangkan Gucci di peringkat dua, teratas di 13 negara, termasuk Italia. Chanel berada di peringkat ketiga - merek yang paling banyak dicari di 12 negara, termasuk Pakistan dan Thailand.
Peta itu dibuat oleh situs penasihat keuangan money.co.uk, yang merilis survei merek fesyen paling dicari di Google pada setiap negara selama setahun terakhir.
Dikatakan bahwa peringkat teratas Louis Vuitton ´telah dilihat sebagai tanda kesuksesan bagi kalangan berkantong tebal dan terkenal selama beberapa dekade´.
Situs tersebut menambahkan: ´Selebriti dari Audrey Hepburn hingga Billie Eilish telah mengenakan karya disainer selama bertahun-tahun, dengan brand ambassador terkini termasuk Sophie Turner, Lea Seydoux dan Thandie Newton.´
Di tempat keempat ada Calvin Klein, teratas di 11 negara termasuk Rusia, sedangkan kelima adalah Rolex, dengan negara-negara termasuk Israel, Kamboja, dan Kenya menjadikan merek tersebut sebagai pencarian mode nomor satu mereka.
Coach, label barang-barang kulit mewah yang didirikan di Manhattan pada 1940-an, berada di urutan keenam dan teratas di empat negara termasuk Arab Saudi dan Korea Selatan, sementara sesama label asal New York, Tory Burch berada di urutan ketujuh dan merek yang paling dicari di tiga negara termasuk Jamaika.
Gabungan kedelapan dan memimpin di dua negara masing-masing adalah Loewe - label paling dicari di AS - Valentino dan Fendi.
Selain peta dunia, money.co.uk juga merilis peta dengan perincian regional untuk data penelusuran.
Di Eropa, Louis Vuitton menjadi terfavorit - meskipun orang Yunani menyukai Gucci - Valentino adalah yang teratas di Kroasia dan Balenciaga adalah yang paling dicari di Polandia.
Bergeser ke Amerika Utara dan Tengah, orang Kanada paling sering mencari Loewe, orang Meksiko tidak pernah puas dengan Gucci dan merek peringkat teratas St Lucia adalah Ray-Ban.
Ketika berbicara tentang wilayah Oseania, Louis Vuitton sekali lagi adalah yang paling populer - kecuali Selandia Baru, di mana yang dipilih adalah Gucci.
Merek fesyen yang menduduki puncak penelusuran di Amerika Selatan adalah Fila (Argentina), Coach (Brasil), Gucci (Kolombia), dan Calvin Klein (Chili).
Dan di Asia dan Timur Tengah, Louis Vuitton menduduki puncak tangga lagu fesyen di Qatar, Uni Emirat Arab, dan Oman.
Chanel adalah nomor satu di Bali, Vietnam dan Indonesia, sedangkan India adalah satu-satunya negara yang memilih Prada sebagai rumah mode terpopulernya seperti dilansir MailOnline.
A FASCINATING reworked world map reveals the fashion brands that are most popular around the globe - and it´s Louis Vuitton that´s the clear favourite.
On the map - generated using 12 months of Google search data – country names have been supplemented by their residents' most-searched-for fashion label.
French brand Louis Vuitton is top in 47 countries, including the UK and Australia, while Gucci is second, coming top in 13 countries, including Italy. Chanel is third - it´s the most-searched-for brand in 12 countries, including Pakistan and Thailand.
The map has been drawn up by financial advice site money.co.uk, which established the most-searched-for fashion brand on Google in each country over the past year.
It says that top-ranked Louis Vuitton ´has been seen as the mark of success for the rich and famous for decades´.
It adds: ´Celebrities from Audrey Hepburn to Billie Eilish have donned the designer over the years, with recent ambassadors including Sophie Turner, Lea Seydoux and Thandie Newton.´
In fourth place is Calvin Klein, top in 11 countries including Russia, while fifth is Rolex, with countries including Israel, Cambodia and Kenya making the brand their number one fashion search.
Coach, a luxury leather goods label founded in Manhattan in the 1940s, is sixth and top in four countries including Saudi Arabia and South Korea, while fellow New York label Tory Burch is seventh and the most-searched-brand in three countries including Jamaica.
Joint eighth and leading the way in two countries each are Loewe - the most-searched-for label in the USA - Valentino and Fendi.
As well as a world map, money.co.uk has also produced maps with regional breakdowns for the search data.
In Europe, Louis Vuitton is the clear favourite - although Greeks favour Gucci - Valentino is top in Croatia and Balenciaga is most-searched-for in Poland.
Moving to North and Central America, Canadians search for Loewe the most, Mexicans can´t get enough of Gucci and St Lucia´s top-rated brand is Ray-Ban.
When it comes to the Oceania region, Louis Vuitton is again far and away the most popular - except for New Zealand, where it is Gucci.
The fashion brands topping searches in South America are Fila (Argentina), Coach (Brazil), Gucci (Colombia) and Calvin Klein (Chile).
And in Asia and the Middle East, Louis Vuitton tops the fashion charts in Qatar, the United Arab Emirates and Oman.
Chanel is number one in Bali, Vietnam and Indonesia, whereas India is the only country to have Prada as its most popular fashion house.