Rektor IPB Akui Indikator Ketahanan Pangan RI Unggul di Asia Pasifik
Indonesia`s Ranking in the Global Food Security Index
Reporter : Gusmiati Waris
Editor : Cahyani Harzi
Translator : Dhelia Gani

PUBLISHED: Sabtu, 20 Februari 2021 , 23:15:00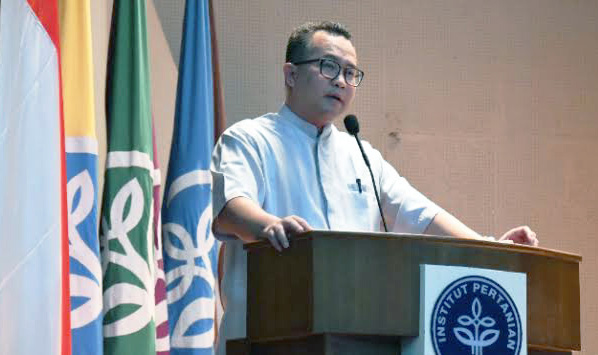 KULIAH UMUM: Rektor Institut Pertanian Bogor [IPB] Dr Arif Satria pada Kuliah Umum di Universitas Syekh Kuala Banda Aceh [Foto: Kementan]
Banda Aceh, Aceh [B2B] - Status ketahanan pangan Indonesia merujuk pada Global Food Security Index [GSFI] menunjukkan tren positif dan unggul di Asia Pasifik. Sementara data Food Sustainable Index sebagai data pembanding, untuk mendorong Pemerintah RI terus berupaya meningkatkan ketahanan pangan nasional.
Mengacu data GSFI, indeks ketahanan pangan Indonesia pada 2014-2019 naik dan terus membaik sehingga lebih tinggi dari Ethiopia, Filipina, Pakistan dan negara berkembang lainnya. Indeks ketahanan pangan Indonesia pada 2014 mencapai 46,5, meningkat ke 54,8 [2018] dan 62,6 [2019]. Peringkat Indonesia adalah 62 dari 113 negara atau peringkat 12 dari 23 negara Asia Pasifik.
"Data index itu kan ada ketahanan pangan dan keberlanjutan pangan. Nah, untuk yang indikator ketahanan pangan, Indonesia memang unggul dari negara lain," kata Rektor Institut Pertanian Bogor [IPB] Dr Arif Satria pada Kuliah Umum di Universitas Syekh Kuala Banda Aceh pada Sabtu [20/2].
Sebagaimana diketahui, data GFSI 2019 menyebutkan Indonesia menempati peringkat 62, lebih tinggi ketimbang Ethiopia pada peringkat 91 [49,1], Filipina peringkat 64 [61] dan Pakistan peringkat 78 [56,8] dan India peringkat 72 [58,9].
Arif Satria mengakui sektor pertanian sejauh ini mampu membangkitkan ekonomi nasional dengan pertumbunan signifikan, yakni 2,59%. Angka tersebut dinilainya mengembirakan. karena pertumbuhan tersebut terjadi saat sektor lainya mengalami keterpurukan.
"Ini menggambarkan bahwa pertanian adalah sektor penyelamatan ekonomi nasional. Jadi pertanian adalah lokomotif ekonomi Indonesia, makanya kita semua harus bekerja bersama," katanya.
Arif juga mengaku bangga karena ekspor pertanian mengakami kenaikan hingga 15%, apalagi kenaikan tersebut terjadi ketika banyak negara di dunia mengalami krisis berkepanjangan akibat pandemi virus Covid-19.
"Ketahanan pangan harus kita wujudkan karena pertanian adalah tulang punggung," kata Rektor IPB.
Mengenai hal ini, Arif meminta seluruh dosen, peneliti, mahasiswa, para petani dan semua pihak yang terlibat dalam proses pembangunan bangsa untuk memberi kontribusi nyata terhadap kekuatan sektor pertanian.
"Saya berharap semua berlari mengejar ketertinggalan. Itulah kenapa mindset menjadi penting untuk membuat perubahan. Saya yakin untuk membangun pertanian menuju puncak perlu belajar, berlatih, mengatur strategi dan tekad kuat, karena itu pembangunan Agro Maritim 4.0 menjadi sangat penting," katanya.
Banda Aceh of Aceh [B2B] - Indonesian Agriculture Ministry considers the program of increase production of strategic food especially rice, corn and soybeans by the Indonesian government as the key factor of Indonesia´s rating go up in the 2019 Index Food Security Global [GFSI].