Bocah 9 Tahun Temukan Gigi Megalodon di Pantai Amerika
9 Year Old Girl Finds Five-Inch Megalodon Tooth while Hunting for Fossils at Maryland Beach
Editor : Taswin Bahar
Translator : Novita Cahyadi

PUBLISHED: Selasa, 17 Januari 2023 , 14:56:00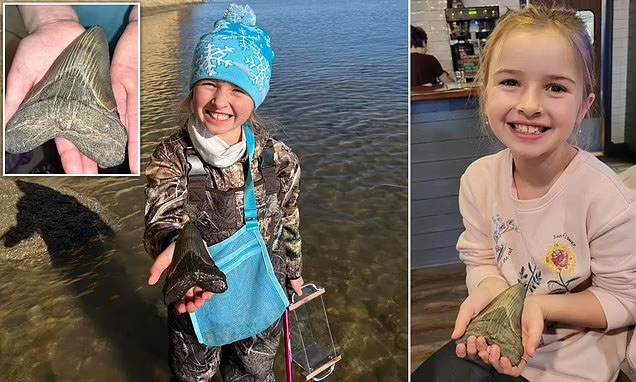 TEMUKAN FOSIL: Molly Sampson, 9, menemukan lebih dari 400 gigi, tetapi yang berukuran lima inci yang ditarik dari air bulan lalu adalah yang terbesar. (Foto: MailOnline)
SEORANG gadis muda menerima hadiah Natal 'sekali seumur hidup' ketika dia menemukan gigi megalodon besar saat menyisir pantai Maryland untuk mencari fosil.
Molly Sampson, 9, meminta ibunya, Alicia Sampson, agar sepasang penyeberang berinsulasi agar tetap hangat dalam cuaca 10 derajat saat dia mencari di perairan Teluk Chesapeake.
Sampson menjelaskan bahwa ketika putrinya pergi pagi itu, dia berkata, 'Saya akan mencari Meg.'
Artefak itu, lebih besar dari tangannya, pernah menjadi milik megalodon sepanjang 50 kaki yang hidup lebih dari 2,6 juta tahun lalu.
Sampson mengatakan putrinya menemukan lebih dari 400 gigi, tetapi yang berukuran lima inci yang ditarik dari air bulan lalu adalah yang terbesar.
'Hal utama yang benar-benar diinginkan Molly adalah penyeberang dada yang diisolasi sehingga dia bisa keluar ke dalam air saat cuaca dingin dan mencari gigi hiu.'
Sampson mengatakan dia tidak ada di sana untuk berburu, tetapi mendengar semua tentang penemuan itu ketika Molly, putrinya yang lain Natalie, 17, dan suaminya Bruce kembali ke rumah.
"Molly bilang dia ingin mulai berteriak ketika dia menemukan gigi itu karena dia sangat bersemangat!" dia berkata.
"Saya tidak ada di sana karena terlalu dingin untuk saya, tetapi suami saya berkata dia mulai menjerit, berkata, 'lihat apa yang saya temukan!'
"Ini adalah sesuatu yang selalu ingin dia temukan."
"Molly adalah anak yang sangat pemalu, jadi dia bukan orang yang menyukai sorotan, tapi dia juga tahu itu lebih tentang gigi yang luar biasa ini."
Gadis muda itu telah berburu hiu sejak dia bisa berjalan di pantai, tetapi dia selalu mengawasi 'Meg.'
Ini megalodon keenam yang ditemukan Molly, tapi ini yang terbesar, kata Sampson.
Molly telah menemukan lebih dari 400 gigi dari berbagai jenis.
Molly memberi tahu ibunya bahwa dia berharap anak-anak lain melihat betapa menyenangkannya menjelajah dan akan melakukan petualangan mereka sendiri.
Keluarga Sampson juga membagikan penemuan mereka di Facebook, seperti dilansir MailOnline.
A YOUNG girl received a 'once-and-a-life' Christmas gift when she stumbled upon a large megalodon tooth while combing a Maryland beach for fossils.
Molly Sampson, 9, asked her mother, Alicia Sampson, for a pair of insulated waders to stay warm in the 10-degree weather as she searched in the waters of the Chesapeake Bay.
Sampson told DailyMail.com that when her daughter left that morning, she said 'I was going to look for Meg.'
The artifact, larger than her hand, once belonged to a 50-foot-long megalodon that lived more than 2.6 million years ago.
Sampson said her daughter found over 400 teeth, but the five-inch one pulled from the water last month is the largest.
'The main thing that Molly really wanted was insulated chest waders so that she could go out in the water when it was cold and look for sharks' teeth.'
Sampson said she was not there for the hunt, but heard all about the discovery when Molly, her other daughter Natalie, 17, and her husband Bruce returned home.
'Molly said she wanted to start screaming when she found the tooth because she was so excited!' she said.
'I wasn't there because it was too cold for me, but my husband said she started shrieking, saying, 'look what I found!'
'This is something she's always wanted to find.'
'Molly is a super shy kid, so she isn't one to like the spotlight, but she also knows it's more about this amazing tooth.'
The young girl has been hunting for sharks since she could walk on the beach, but she always keeps an eye out for 'the Meg.'
This is the sixth megalodon Molly has found, but it is the largest, Sampson said.
Molly has found over 400 teeth of all different types.
Molly told her mother that she hopes other kids see how fun exploring is and will go on their own adventures.
The Sampson family also shared their discovery on Facebook.