Riset Harapan Hidup, Penduduk Spanyol Peringkat Teratas dari 194 Negara
Table of 195 Nations reveals Spanish People will Live the Longest in 22 Years` Time
Editor : Ismail Gani
Translator : Novita Cahyadi

PUBLISHED: Rabu, 17 Oktober 2018 , 21:19:00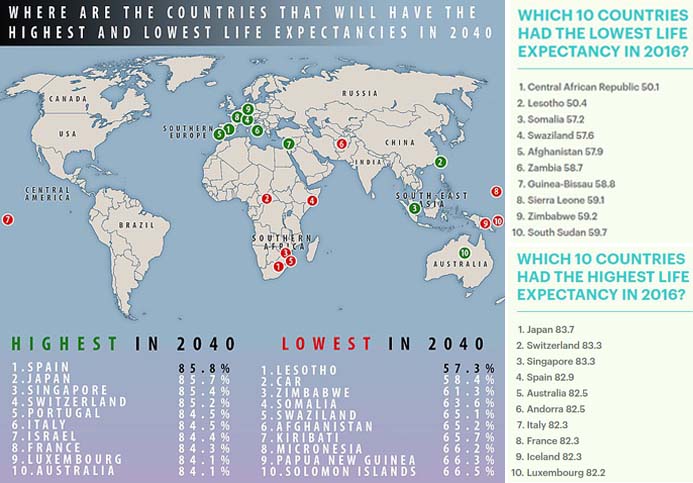 Tabel & Data: MailOnline
ILMUWAN dari Washington mengungkap tentang warga di 10 negara dengan harapan hidup tertinggi, dan harapan hidup terendah di 10 negara. Indonesia berada di peringkat 117 dengan perkiraan peluang hidup 76,7 tahun.

Spanyol berada di peringkat teratas, dengan penduduk yang lahir pada 2040 diperkirakan akan hidup hingga usia 85,8 tahun.

Sedangkan Lesotho, di Afrika Selatan, akan menjadi yang terendah, dengan harapan hidup rata-rata kemungkinan hanya sampai 57,3 tahun.

Inggris diperkirakan akan tetap di luar 20 besar, peringkat 23 dengan peluang hidup 83,3 tahun, dan AS turun dari peringkat 43 ke 64 - dengan peningkatan usia hanya satu tahun - klaim hasil penelitian tersebut.

Para ilmuwan mengatakan perbaikan generasi baru cenderung melambat karena masalah kesehatan seperti obesitas, diabetes, tekanan darah tinggi, alkohol dan tembakau.

Perkiraan kesehatan global dilakukan oleh para peneliti dari Institut Metrik dan Evaluasi Kesehatan di Universitas Washington.

Dalam penelitian yang dipublikasikan di jurnal medis The Lancet, mereka mengungkapkan penduduk di setiap negara di dunia cenderung hidup lebih lama di 2040 daripada yang mereka lakukan sekarang.

Namun para ilmuwan memprediksi akan ada peningkatan jumlah orang yang meninggal akibat penyakit tidak menular seperti kanker dan paru-paru serta penyakit ginjal.

Seberapa tingkat harapan hidup penduduk di setiap negara akan meningkat tergantung pada seberapa baik pemerintah menghadapi ancaman kesehatan yang semakin meningkat pula.

"Ketimpangan akan terus melebar," kata peneliti Dr Christopher Murray.

'Di sejumlah besar negara, tetap lebih banyak orang yang mendapatkan penghasilan yang relatif rendah, tetap berpendidikan rendah, dan mati sebelum waktunya.'

"Tetapi banyak negara dapat membuat kemajuan lebih cepat dengan membantu penduduk mengatasi risiko utama, terutama merokok dan pola makan yang buruk."

Spanyol di peringkat teratas seperti halnya Jepang, dengan harapan hidup

Beneath Spanyol di 10 besar akan Jepang, dengan harapan hidup kelahiran 2040 hingga 85,7 tahun, Singapura (85,4), Swiss (85,2), Portugal dan Italia (84,5), Israel (84,4), Prancis (84,3), dan Luksemburg dan Australia (84,1).

Semua negara berada di 10 besar saat ini untuk harapan hidup, kecuali Portugal dan Israel yang diperkirakan akan menggantikan Andorra dan Islandia, saat ini keenam dan kesembilan.

Negara-negara Afrika tetap memiliki tingkat kematian prematur terburuk dengan penduduk di Republik Afrika Tengah, Lesotho, Somalia dan Zimbabwe masih diperkirakan meninggal sebelum usia 65 tahun pada 2040.

10 negara terbawah pada 2040 akan terdiri dari Republik Afrika Tengah (58,4), Zimbabwe (61,3), Somalia (63,6), Swaziland (65,1), Afghanistan (65,2), Kiribati (65,7), Mikronesia (66,2), Papua New Guina ( 66.3) dan Kepulauan Solomon (66.5).

Masa hidup rata-rata di Inggris diperkirakan meningkat dari 80,8 tahun menjadi 83,3, menggeser Inggris ke atas tabel peringkat negara di dunia dari 26 ke 23.

Angka-angka dari Kantor Statistik Nasional bulan lalu menunjukkan hampir tidak ada perpanjangan harapan hidup antara 2015 dan 2017.

Ini adalah pertama kalinya sejak pengukuran modern diluncurkan hampir 40 tahun yang lalu bahwa harapan hidup stagnan.

Para peneliti dari Universitas Washington sedikit lebih optimis, memprediksi bahwa jika kecenderungan terus berlanjut seperti apa adanya, rata-rata orang di Inggris akan hidup setahun lebih lama dengan setiap dekade yang berlalu.

Namun harapan hidup rata-rata di AS, salah satu negara terkaya di dunia, diperkirakan meningkat hanya 1,1 tahun menjadi 79,8 tahun.

Para ahli menyarankan ini kemungkinan hasil dari penyakit yang berhubungan dengan obesitas, seperti penyakit jantung dan beberapa jenis kanker.

Penulis penelitian Dr Kyle Foreman mengatakan negara-negara dapat mengubah hasil mereka dengan inisiatif kesehatan masyarakat yang lebih baik.

Dia berkata: 'Masa depan kesehatan dunia tidak ditentukan sebelumnya, dan ada berbagai macam lintasan yang masuk akal.

'Tetapi apakah kita melihat kemajuan yang signifikan atau stagnan tergantung pada seberapa baik atau buruk sistem kesehatan menangani pendorong kesehatan utama.'

Untuk membuat prediksi, para ilmuwan melihat dampak dari 79 faktor kesehatan termasuk merokok, indeks massa tubuh (BMI), dan kurangnya air bersih dan sanitasi penyebab kematian di seluruh dunia.

Pada 2016 - terakhir kali penelitian dilakukan - empat dari 10 penyebab kematian dini adalah penyakit tidak menular dan cedera.

Perkiraan baru menunjukkan bahwa pada tahun 2040 angka ini meningkat menjadi delapan dengan penyakit jantung, stroke, penyakit paru-paru kronis, penyakit ginjal kronis, penyakit Alzheimer, diabetes, kanker paru-paru dan cedera kecelakaan jalan semuanya dalam 10 penyebab kematian dini pada tahun 2040 seperti dilansir MailOnline.
THE 10 COUNTRIES where life expectancy will be highest and lowest by 2040 have today been named by scientists.

Spain tops the charts, with people being born in 2040 expected to live until they are 85.8 years old.

Whereas Lesotho, within South Africa, will be worst off, with its average life expectancy likely to be just 57.3 years.

The UK is expected to remain outside of the top 20, ranking 23rd with a lifespan of 83.3, and the US will drop from 43rd to 64th place – with an increase of just one year – the study claims.

Experts say the improvements of recent generations are likely to slow down because of health problems like obesity, diabetes, high blood pressure, alcohol and tobacco.

The global health forecasts were made by researchers from the University of Washington's Institute for Health Metrics and Evaluation.

In research published in medical journal The Lancet, they revealed people in every country in the world are likely to live longer in 2040 than they do now.

But the scientists predict there will be a rise in the number of people dying from non-contagious diseases like cancer and lung and kidney disease.

How quickly countries' life expectancies rise will depend on how well governments deal with these growing health threats.

'Inequalities will continue to be large,' said researcher Dr Christopher Murray.

'In a substantial number of countries, too many people will continue earning relatively low incomes, remain poorly educated, and die prematurely.

'But nations could make faster progress by helping people tackle the major risks, especially smoking and poor diet.'

Beneath Spain in the top 10 will be Japan, with a 2040 life expectancy of 85.7 years, Singapore (85.4), Switzerland (85.2), Portugal and Italy (84.5), Israel (84.4), France (84.3), and Luxembourg and Australia (84.1).

All the countries are in the current top 10 for life expectancy, except Portugal and Israel which are predicted to replace Andorra and Iceland, currently sixth and ninth.

African countries continue to have the worst rates of premature death with people in the Central African Republic, Lesotho, Somalia and Zimbabwe still expected to die before the age of 65 by 2040.

The bottom 10 in 2040 will consist of the Central African Republic (58.4), Zimbabwe (61.3), Somalia (63.6), Swaziland (65.1), Afghanistan (65.2), Kiribati (65.7), Micronesia (66.2), Papua New Guina (66.3) and the Solomon Islands (66.5).

The average lifespan in the UK is set to increase from 80.8 years to 83.3, moving Brits up the world league table from 26th to 23rd.

Figures from the Office for National Statistics last month showed there was virtually no extension of life expectancy between 2015 and 2017.

It is the first time since modern measurements were launched nearly 40 years ago that life expectancy has stalled.

Researchers from the University of Washington are slightly more optimistic, predicting that if trends continue as they are, the average person in the UK will live a year longer with each decade that passes.

But average life expectancy in the US, one of the world's richest nations, is forecast to increase by only 1.1 years to 79.8.

Experts suggest this is likely the result of more obesity-related diseases, such as heart disease and several cancers.

Study author Dr Kyle Foreman said countries could change their outcomes with better public health initiatives.

He said: 'The future of the world's health is not pre-ordained, and there is a wide range of plausible trajectories.

'But whether we see significant progress or stagnation depends on how well or poorly health systems address key health drivers.'

To make the predictions, scientists looked at the impact of 79 health factors including smoking, body mass index (BMI), and lack of clean water and sanitation on causes of death around the world.

In 2016 – the last time the study was carried out – four of the top 10 causes of premature death were non-communicable diseases and injuries.

The new forecast shows that by 2040 this figure increases to eight with heart disease, stroke, chronic lung disease, chronic kidney disease, Alzheimer's disease, diabetes, lung cancer and road accident injuries are all in the top 10 causes of premature death in 2040.