Orientasi Kesejahteraan Petani, Mentan Instruksikan Peningkatan Layanan Publik
Indonesia`s Agricultural Development should Rely on Public Services: Minister
Reporter : Gusmiati Waris
Editor : Cahyani Harzi
Translator : Dhelia Gani

PUBLISHED: Sabtu, 24 Februari 2018 , 01:06:00 WIB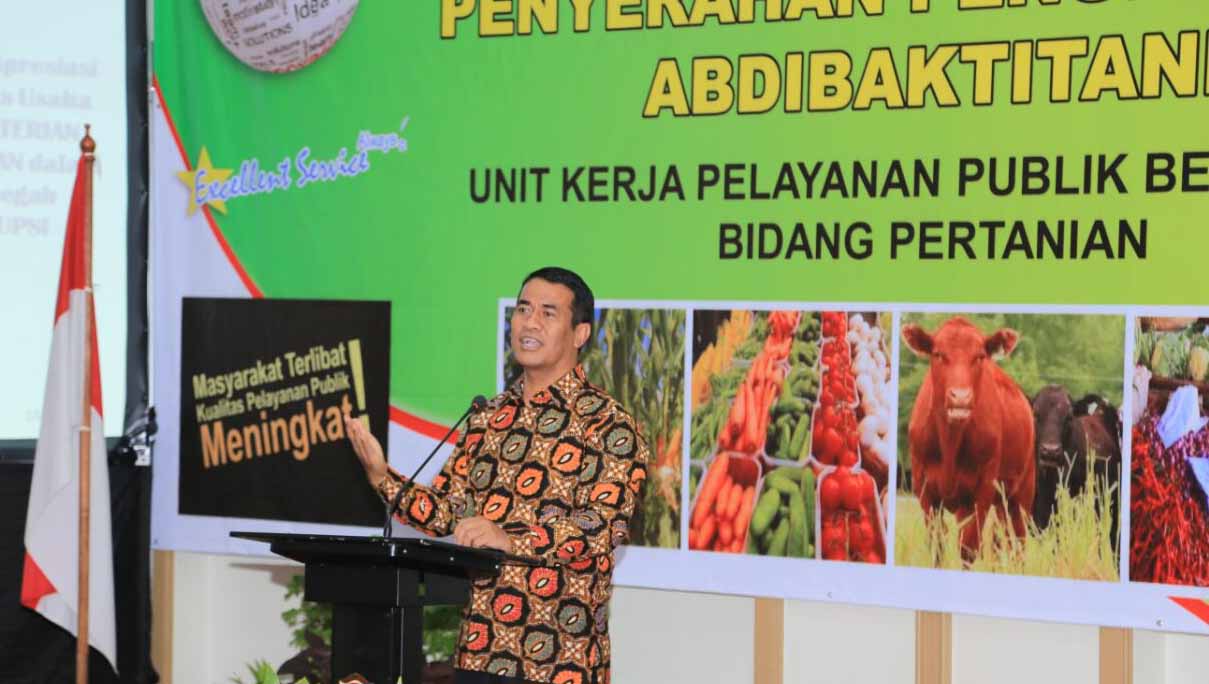 Menteri Pertanian RI Andi Amran Sulaiman pada pemberian penghargaan Abdibhakti Tani kepada UKPP bidang pertanian berprestasi dari seluruh Indonesia (Foto: Humas Kementan)
Jakarta (B2B) - Orientasi pelayanan publik di sektor pertanian menjadi penentu untuk mendorong peningkatan kesejahteraan petani, misalnya pemberian bibit unggul Japonika dan Basmati dan penerapan teknologi pertanian untuk meningkatkan hasil produksi pertanian hingga dua kali lipat dari yang biasanya diperoleh petani.

"Saya telah menginstruksikan seluruh pegawai Kementerian Pertanian, termasuk saya adalah pelayan rakyat, karena pelayanan publik adalah kunci keberhasilan sektor pertanian," kata Menteri Pertanian RI Andi Amran Sulaiman di Jakarta, Jumat (23/2) pada pemberian penghargaan Abdibhakti Tani kepada unit kerja pelayanan publik (UKPP) bidang pertanian berprestasi dari seluruh Indonesia.

Orientasi pelayanan publik akan mendorong peningkatan kesejahteraan petani, dengan penerapan teknologi pertanian modern yang dikembangkan Balai Pengkajian dan Penerapan Teknologi (BPTP) seperti pemberian bibit ayam kampung unggul dari Badan Penelitian dan Pengembangan Pertanian (Balitbangtan) yang dikenal dengan singkatan ayam KUB.

"BPTP sudah saya perintahkan untuk mengembangkan bibit unggul, kemudian dibagikan gratis kepada masyarakat. Anggaran juga sudah diberikan hingga Rp2 triliun untuk penelitian dan pengembangan agar bisa dimanfaatkan masyarakat," kata Mentan.

Mentan juga mendorong peningkatan ekspor dan investasi sebagai kunci pertumbuhan sektor pertanian, upaya hilirisasi juga tengah digalakkan untuk memperoleh nilai tambah dari hasil produksi pertanian sehingga dapat mendorong peningkatan kesejahteraan petani.

Terkait penghargaan Abdibhakti Tani, Kementan melakukan penilaian berdasarkan 14 indikator antara lain moto layanan, standar layanan, pengakuan kemanfaatan dari masyarakat, serta dukungan terhadap pembangunan sektor petanian.

Dari 66 unit kerja yang diajukan dan kemudian diverifikasi di lapangan, kemudian didapatkan 36 UKPP penerima penghargaan dalam kategori berprestasi percontohan seperti UKPP Si Brilian dari Dinas Tanaman Pangan, Holtikultura dan Perkebunan Kabupaten Malang, Jawa Timur; kategori berprestasi utama dan 17 penghargaan untuk kategori berprestasi madya.
Jakarta (B2B) - The orientation of public services in agriculture becomes the determinant to improve the welfare of Indonesian farmers, such as superior seeds and modern technology will encourage increased agricultural production, and improve the welfare of farmers, according to Indonesian minister.

"I have instructed the agriculture ministry civil servants, I am also a public servant, because public service is the key to success of the agricultural sector," said Agriculture Minister Andi Amran Sulaiman here on Friday (February 23).

The orientation of public services will encourage the improvement of farmer´s welfare, with the application of modern agricultural technology as developed by Assessment and Application Technology Center or the BPTP and and provide assistance of chicken breeds known as chicken KUB.

"I have ordered the BPTP to develop superior seeds, then distributed for free to farmers. I have provided the state budget of Rp2 trillion for the development of modern agricultural technology," minister Sulaiman said.

He also encourages increased exports and investment as a key growth of the agricultural sector, the downstream effort being a concern for the value added of agricultural products so as to encourage the improvement of farmers´ welfare.

Related to the Abdibhakti Tani award, the ministry has set 14 indicators including service motto, service standard, recognition of community benefits, and support for agricultural development.

Of the 66 work units submitted and then field verification, 36 award recipients with achievement category such as Si Brilian from agriculture and plantation office of Malang Regency, East Java; also the main categories and 17 awards for the middle category.