Rp32,13 Triliun, Nilai Ekspor Peternakan 3,5 Tahun Jokowi
Indonesian Govt Supports Farmers to Increase Exports of Livestock Products
Reporter : Gusmiati Waris
Editor : Cahyani Harzi
Translator : Dhelia Gani

PUBLISHED: Rabu, 09 Januari 2019 , 01:15:00 WIB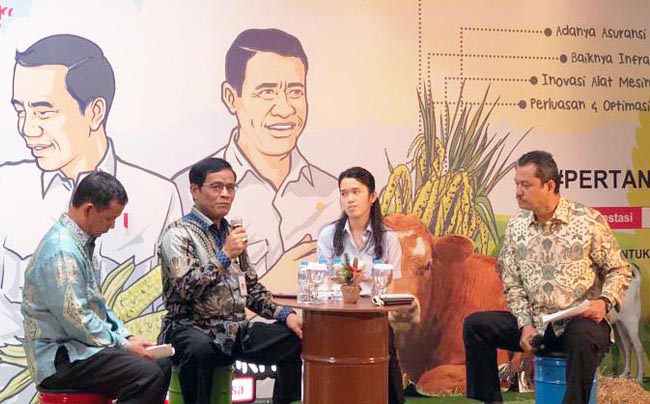 BINCANG `BAKPIA`: Dirjen PKH Kementan, I Ketut Diarmita menjawab pers pada diskusi capaian kinerja PKH era Jokowi - JK dengan sejumlah nara sumber (Foto: Humas Kementan)
Jakarta (B2B) - Nilai ekspor peternakan dan kesehatan hewan selama 3,5 tahun, 2015 hingga semester I 2018 - mencapai Rp32,13 triliun dengan kontribusi terbesar obat hewan Rp21,58 triliun, Kementerian Pertanian RI mendorong peternak di seluruh Indonesia meningkatkan produksi melalui program ´upaya khusus sapi indukan wajib bunting´ disingkat Upsus Siwab, mengembangkan integrasi peternak dengan pakan ternak dan pengendalian penyakit.
Dirjen Peternakan dan Kesehatan Hewan (PKH) I Ketut Diarmita mengatakan capaian ekspor PKH mencapai Rp32,13 triliun, ekspor obat hewan sebagai kontribusi terbesar Rp21,58 triliun. Berdasarkan data realisasi rekomendasi ekspor Ditjen PKH, volume ekspor subsektor peternakan sejak Januari hingga November 2018 mencapai 229.180 ton, nilainya US$578.402.448.
"Pada Januari hingga November 2017, volume ekspor naik 9,67 persen atau 208.965 ton, nilai ekspor meningkat 3,19 persen sebesar 569, juta dolar AS," kata I Ketut Diarmita kepada pers di Jakarta, Selasa (8/1) pada kegiatan Bincang Asyik Pertanian (Bakpia).
Menurutnya, kunci sukses meningkatnya produksi dan ekspor PKH adalah kebijakan Kementan dalam memudahkan sistem perizinan terbukti mampu meningkatkan nilai investasi yang bermuara pada peningkatan ekspor.
Dia menambahkan, Ditjen PKH sedang menyasar dua provinsi, Jawa Tengah dan Jawa Barat sebagai sentra produksi sapi berkualitas, karena selama ini masih bertumpu pada Jawa Timur.
"Ditjen PKH ingin memperbaiki capaian dan tidak ingin cepat puas dengan hasil yang dicapai saat ini. Pemerintah menginginkan petani bukan beternak sebatas kegiatan sambilan, tetapi sumber mata pencaharian utama sehingga akan mendorong peningkatkan produksi ternak dan daging," kata Diarmita.
Jakarta (B2B) - The export value of livestock and animal health for 3.5 years, 2015 to semester I 2018 reached IDR 32.13 trillion, the highest contribution of veterinary medicines IDR 21.58 trillion, the Indonesian Agriculture Ministry encourages farmers across the country through special effort program of increase cattle production or the Upsus Siwab.
Director General of Livestock and Animal Health I Ketut Diarmita said export reached IDR 32.13 trillion, the highest contributor is veterinary medicines IDR 21.58. Based on data on export recommendation realization, the volume of livestock exports in January to November 2018 reached 229,180 tons or US $ 578,402,448.
"In January to November 2017, the export volume rose 9.67 percent or 208,965 tonnes, the value of exports increased 3.19 percent or 569 million dollars," Diarmita told the press here on Tuesday (January 8).
According to him, the key to success in increasing livestock production and exports is government policy facilitate a licensing system that has proven to be successful for increasing value of investments that drives increased exports.
He added, the government is targeting two provinces, Central Java and West Java as centers for cattle production, because so far only relying on East Java.
"The directorate general wants to improve performance and is not satisfied with the current achievements. The government wants farmers to raise livestock not as part-time jobs, but the main livelihood encourages an increase in livestock and meat production," Diarmita said.