Gandeng BUMN, Peternak Blitar Didukung PT Berdikari Distribusi Telur Ayam
Indonesian Govt Support Distribution Chicken Eggs to Stabilize the Price
Reporter : Gusmiati Waris
Editor : Cahyani Harzi
Translator : Dhelia Gani

PUBLISHED: Selasa, 19 Mei 2020 , 04:47:00 WIB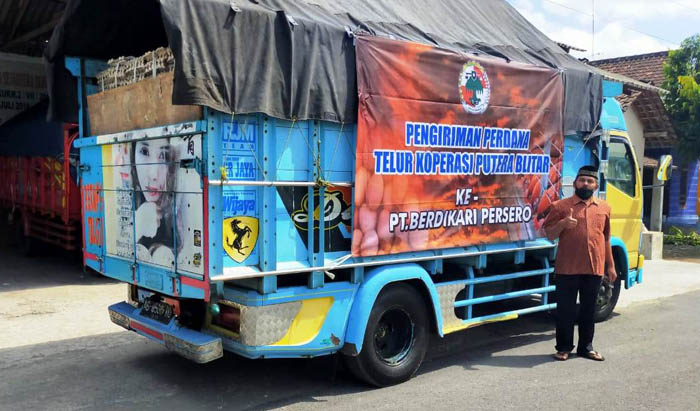 DISTRIBUSI: sebelumnya harga telur ayam di Blitar di kisaran Rp15.000 per kg, namun PT Berdikari bersedia membeli Rp16.500 per kg, setelah transaksi, harga telur ayam naik ke Rp16.000 per kg
Blitar, Jatim [B2B] - Pandemi Covid-19 yang berdampak pada aturan Pembatasan Sosial Berskala Besar [PSBB] di berbagai wilayah yang berakibat turunnya permintaan telur dari Provinsi DKI Jakarta dan Jawa Barat, mendorong para peternak ayam petelur Blitar melalui Koperasi Putera Blitar menggandeng salah satu BUMN, PT Berdikari untuk mendukung kegiatan distribusi dan penjualan.
Sukarman, salah seorang peternak ayam petelur dan juga Ketua Koperasi Putera Blitar mengakui dampak PSBB terhadap penjualan telurnya memaksa penurunan harga di bawah harga pokok produksi [HPP] di Blitar. Hal itu diperparah dengan beredarnya telur tetas infertil di pasar tradisional.
Sukarman bersyukur bahwa salah satu BUMN, PT Berdikari bersedia membantu peternak memasarkan telur ayam mereka untuk diserap pasar, sehingga dapat mengangkat harga telur di tingkat produsen/peternak.
"Untuk yang pertama, kita kirim 5.040 Kg. Semoga kerja sama ini lancar dan terus berlanjut," harap Sukarman, belum lama ini.
Dia menambahkan bahwa sebelumnya harga telur ayam di Blitar di kisaran Rp15.000 per kg, namun PT Berdikari bersedia membelinya seharga Rp16.500 per kg, dan setelah setelah transaksi tersebut, harga telur ayam di Blitar kini merangkak naik ke Rp16.000 per kg.
"Ke depan, harapan kami adalah harga telur normal kembali sesuai Permendag, dengan batas bawah Rp19.000 dan batas atas Rp21.000 per kg," tambahnya.
Sementara itu, Direktur Jenderal Peternakan dan Kesehatan Hewan (Dirjen PKH), I Ketut Diarmita, menyambut baik bentuk kerjasama seperti ini, dan bersedia terus mendampingi dan fasilitasi aneka terobosan yang mempermudah distribusi dan penjualan produk-produk peternakan.
Menurutnya, hal tersebut sudah sejalan dengan arahan Menteri Pertanian RI Syahrul Yasin Limpo untuk memastikan produksi dan distribusi pangan tetap terjaga dengan baik.
Ketut Diarmita menambahkan bahwa Ditjen PKH akan terus fokus memastikan ketersediaan pangan asal hewan dan juga mengamankan jalur distribusinya. "Apalagi protein hewani seperti telur ayam yang sangat diperlukan masyarakat untuk meningkatkan ketahanan tubuh."
Blitar of East Java [B2B] - Indonesian government anticipates the spike in prices of chicken eggs to stabilize prices at the producer consumer level in East Java especially Blitar district, according to senior official of agriculture ministry.