Magang ke Jepang, 47 Petani Muda 14 Provinsi Ikuti Pelatihan PPMKP Ciawi
47 Young Indonesian farmers will apprentice farming in Japan
Editor : M. Achsan Atjo
Translator : Dhelia Gani

PUBLISHED: Rabu, 04 April 2018 , 01:35:00 WIB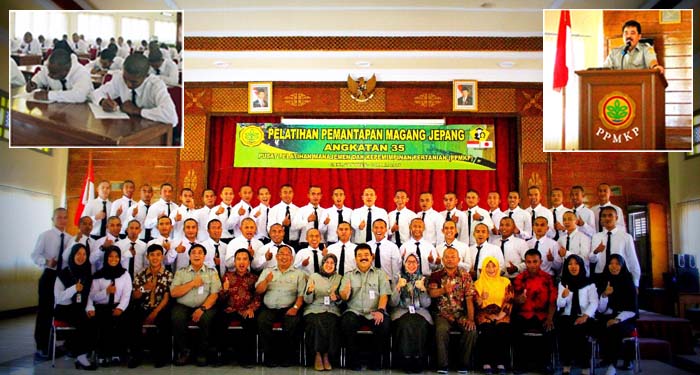 PELATIHAN 112 JAM: Kepala Puslatan Widi Hardjono (inset kanan) memberikan arahan dan foto bersama 47 petani muda magang ke Jepang, dan kegiatan pelatihan (inset kiri) Foto2: Humas BPPSDMP Kementan/Pito
Ciawi, Jabar (B2B) - Sekitar 47 petani muda dari 14 provinsi mengikuti kegiatan magang yang digelar oleh Badan Penyuluhan dan Pengembangan Sumber Daya Manusia Pertanian (BPPSDMP) Kementerian Pertanian RI dengan Asosiasi Petani Jepang/the Japan Agricultural Exchange Council (JAEC), dan hingga saat ini 1.278 petani muda dari seluruh Indonesia sudah mengikuti pelatihan magang di Jepang.

Mereka mengikuti pelatihan selama 112 jam di Pusat Pelatihan Manajemen dan Kepemimpinan Pertanian - PPMKP Ciawi di bawah koordinasi Pusat Pelatihan Pertanian - Puslatan BPPSDMP Kementan. Usai pelatihan, lima petani muda akan magang di Niigata Agricultural Exchange Council - NAEC Niigata selama delapan bulan; 18 magang di JAEC Tokyo selama satu tahun; dan 24 magang di International Agricultural Exchange Assosiation - IAEA di Gunma selama dua hingga tiga tahun.

"Program magang Jepang ini sangat penting khususnya bagi program regenerasi pertanian, diharapkan para peserta magang memiliki niat untuk maju, mandiri, dan berpikir apa yang harus dikerjakan seusai magang nanti," kata Kepala Puslatan, Widi Hardjono saat membuka ´Pelatihan Pemantapan Magang Jepang di PPMPKP Ciawi, belum lama ini.

Dia mengharapkan 47 petani muda jangan mudah mengeluh, jadikan sebagai tantangan bahwa kita bisa melakukannya, karena banyak hal yang bisa ditiru atau dicontoh dari petani Jepang maka peserta magang harus jeli melihat bagaimana para petani Jepang melakukan usaha tani.

"Salah satu bentuk inovasi yang bisa ditiru dari para petani Jepang adalah cara mereka menanam tomat yang penyerbukannya menggunakan lebah. Hasilnya, tomat terasa lebih manis," kata Widi.

Dia mengingatkan para petani magang di Jepang untuk membangun networking, mendokumentasikan kegiatan sehari-hari selama di Jepang dalam bentuk catatan, foto dan video merupakan salah satu bekal yang akan bermanfaat ketika kembali ke tanah air.

Petani Muda
Puslatan BPPSDMP Kementan menyebutkan kegiatan petani muda magang di Jepang dituangkan dalam memoranda kesepahaman (MoU) dengan JAEC dan sudah 1.278 petani muda sudah ´lulus´ dari Jepang.

Widi Hardjono menambahkan, 47 petani muda merupakan hasil rangkaian seleksi di daerah dan pusat. Mereka berasal dari 14 provinsi: Jawa Barat, Banten, Jawa Tengah, Jawa Timur, Sumatera Utara, Jambi, Riau, Lampung, Sulawesi Utara, Sulawesi Tenggara, Sulawesi Selatan, Kalimantan Barat, Kalimantan Tengah, dan Kalimantan Timur.

Sebelum ke Jepang, mereka ´dikarantina´ selama 14 hari, 28 Maret hingga 10 April 2018 di PPMKP Ciawi untuk pelatihan 112 jam yang disampaikan oleh pejabat struktural dan praktisi berkompeten dari Puslatan, widyaiswara PPMKP Ciawi, Sensei alumni Ikatan Keluarga Alumni Magang Jepang - Ikamaja, praktisi bahasa dan budaya Jepang, dan institut terkait lainnya.

Wahyu Indra dari Kabupaten Indramayu, Jabar mengaku termotivasi ikut magang ke Jepang untuk menambah wawasan, jaringan, ilmu dan pengalaman di negara Jepang, dan berharap setelah magang dapat mengembangkan sektor pertanian khususnya subsektor peternakan sapi dan domba.

"Saya termotivasi untuk menambah wawasan di bidang pertanian dan juga menambah relasi, karena program ini diikuti oleh banyak petani muda dari seluruh Indonesia, dengan pengalaman usaha tani yang beragam, dan diharapkan dapat mempermudah usaha mengembangkan pertanian" kata Istirahayu dari Kabupaten Magelang, Jateng.

Istirahayu bertekad mengembangkan peternakan mulai dari ternak sapi, dan sistem pertanian terpadu dengan konsep nihil limbah atau zero waste.

Muchlis Musiran, alumni angkatan 15 dari Manado, Sulawesi Utara mengaku mendapatkan hal positif ketika menjadi pemuda tani dan merasa sangat beruntung dapat mengikuti program magang ke Jepang.

"Usai magang akan terbentuk kemandirian dan improvisasi untuk kehidupan atau tidak bergantung kepada orang lain. Bahkan bisa menciptakan bagaimana kita bisa membantu orang lain di sektor pertanian," kata alumni magang Jepang 1998-1999 dari program Kumamoto bidang tanaman buah jeruk.

Di akhir sambutannya, Widi Hardjono mengingatkan para peserta magang senantiasa bersemangat. "Jangan lupa beribadah sebaga rasa syukur atas karunia dari Tuhan. Kalau terus bersyukur akan semakin banyak nikmat dari Tuhan YME."
Ciawi of West Java (B2B) - At least 47 Indonesian young farmers of 14 provinces attended an apprenticeship held by the Director General of Agency for Agricultural Extension and Human Resources Development or BPPSDMP at the Agriculture Ministry or the BPPSDMP with the Japan Agricultural Exchange Council (JAEC), and 1,278 young farmers from across the country have followed the apprenticeship training in Japan, according to senior official.

They attended the 112-hour training at the Bogor´s Ciawi Agricultural Management and Leadership Training Center or PPMKP Ciawi under the department of agricultural training center or Puslatan. After the training, five young farmers will be apprenticed at Niigata Agricultural Exchange Council - NAEC Niigata for eight months; 18 at JAEC Tokyo for one year; and 24 at the International Agricultural Exchange Association - IAEA in Gunma for two to three years.

"The Japanese internship program is very important especially for the agricultural regeneration program, it is expected that the apprentices have the intention to go forward, independently and think what to do after the apprenticeship," said Director of the Agricultural Training Center of the BPPSDMP, Widi Hardjono while opened the training here recenlty.

He expects 47 young farmers do not complain, make it a challenge that we can do it, because many things can be imitated or emulated from Japanese farmers, then the apprentices should be keen to see how the Japanese farmers do farming.

"One of the innovations that can be emulated from Japanese farmers is the way they grow tomatoes, pollination using bees then the taste of tomatoes is sweeter," Mr Hardjono said.

He reminded apprentice farmers in Japan to develop networking, documentation of daily activities while in Japan in notebooks, photos and videos, which would be useful in Indonesia.

Young Farmers
The Ministry of Agriculture of Indonesia said the young apprentice farmers are set in a memorandum of understanding (MoU) with JAEC and already 1,278 young Indonesian farmers have been apprenticed in Japan.

Mr Hardjono added 47 young farmers who passed the selection process in the regions and centers. They are from 14 provinces: West Java, Banten, Central Java, East Java, North Sumatra, Jambi, Riau, Lampung, North Sulawesi, Southeast Sulawesi, South Sulawesi, West Borneo, Central Borneo and East Borneo.

Prior to Japan, for 14 days, 28 March to 10 April 2018, they attended the 112 hour training in PPMKP Ciawi, training materials are provided by structural officials and competent practitioners from the agriculture ministry, Sensei from Japan internship alumni association or Ikamaja, Japanese language and cultural practitioners, and other relevant institutes.

Wahyu Indra from Indramayu district of West Java province admitted that he is motivated to take part in an apprenticeship to Japan to add insight, network, science and experience in Japan, and hope after apprenticeship can develop agriculture sector especially cattle and sheep breeding sub-sector.

"I am motivated to open insights about agriculture, and open networks, followed by many young farmers from across the country, with a diverse farming experience," said Istirahayu from Magelang subdistrict of Central Java province.

Istirahayu intends to develop cattle, and integrated farming system with the concept of zero waste.

Muchlis Musiran, a 15-year-old alumnus from Manado, North Sulawesi, admitted to being positive when he became a youth farmer, and admitted to being very lucky to join an the apprentice program in Japan.

"After the apprentice will not dependent on others. Even able to help others develop Indonesian agriculture," said Mr Musran alumni of 1998-1999 program in Kumamoto program, special citrus plant.

Mr Hardjono reminded the apprentice participants to keep the spirit. "Do not forget to worship as a gratitude for God´s grace, if you are grateful for more and more favors from God Almighty."