Capai Kedaulatan Pangan, RI Tetap Konsisten Patuhi Aturan WTO
Indonesia Remains Consistent with the WTO Rules: Ministry
Reporter : Gusmiati Waris
Editor : Cahyani Harzi
Translator : Dhelia Gani

PUBLISHED: Sabtu, 18 Agustus 2018 , 02:21:00 WIB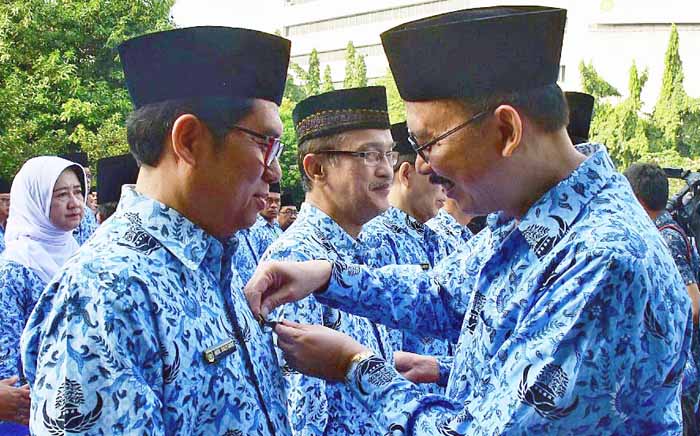 SATYA LENCANA: Sekjen Kementan Syukur Iwantoro (kanan) menyematkan Satya Lencana pada Kapus PPMKP Ciawi, Heri Suliyanto pada peringatan HUT Kemerdekaan RI ke-73 di kapus Kementan (Foto: Humas Kementan)
Jakarta (B2B) - Indonesia tetap konsisten mematuhi dan melaksanakan ketentuan Organisasi Perdagangan Internasional (WTO) sebagai bagian dari warga global, namun usaha dan upaya Indonesia tidak boleh berhenti untuk mencapai kemandirian dan kedaulatan pangan.
"Indonesia konsisten ikuti aturan WTO, dan kita sudah melakukan pembenahan, selama ini memang banyak regulasi yang tidak langsung kita padukan dengan ketentuan WTO, namun bukan berarti Indonesia tidak mematuhi WTO," kata Sekjen Kementerian Pertanian RI Syukur Iwantoro kepada pers di Jakarta, Jumat (17/8) usai memimpin upacara bendera memperingati HUT Kemerdekaan RI ke-73.
Menurutnya, Kementan sudah melakukan berbagai pendekatan dengan Kementerian Perdagangan dan Perwakilan Tetap RI di WTO, termasuk melakukan diskusi dengan Dirjen WTO.
"Yang pasti kita akan tetap konsisten pada ketentuan WTO, mengikuti aturan-aturan WTO, kecuali kita keluar dari keanggotaan WTO, hal itu pasti kurang baik juga untuk Indonesia," kata Syukur.
Dia menambahkan, Kementan mengeluarkan regulasi untuk membangun sistem produksi di tingkat petani, dan meningkatkan kesejahteraan petani termasuk manajemen produksi lebih efisien agar komoditas pertanian RI bersaing di pasar global.
"Apa pun alasannya, kita terus upayakan agar pembangunan pertanian Indonesia tetap menargetkan kedaulatan pangan bangsa untuk rakyat," katanya lagi.
Jakarta (B2B) - Indonesia consistently implements the provisions of the International Trade Organization as part of global citizens, but Indonesia´s efforts and efforts must not stop to achieve food independence and sovereignty.
"Indonesia is consistent with WTO rules, and we have made improvements, so far some regulations are not integrated with the WTO rules, but that does not mean Indonesia is not compliant with the WTO," Secretary General of Agriculture Ministry, Syukur Iwantoro told the press here on Friday (August 17) after presiding over the flag ceremony to commemorate the 73rd anniversary of Indonesia´s independence.
According to him, the agriculture ministry has approached the trade ministry and the Indonesian Permanent Representative at the WTO, including discussions with the Director General of the WTO.
"We are consistent with the WTO, obey the rules of the WTO," said Mr Iwantoro.
He added, the ministry issued a regulation to build a production system at the farm level, and improve the welfare of farmers so that Indonesian agricultural commodities remain competitive in the global market.