Mekanisasi, Brigade Alsintan Paling Tepat Optimalisasi Lahan Rawa Sumsel
Agricultural Mechanization Support Increased Indonesian Food Production
Editor : M. Achsan Atjo
Translator : Dhelia Gani

PUBLISHED: Kamis, 29 Agustus 2019 , 00:23:00 WIB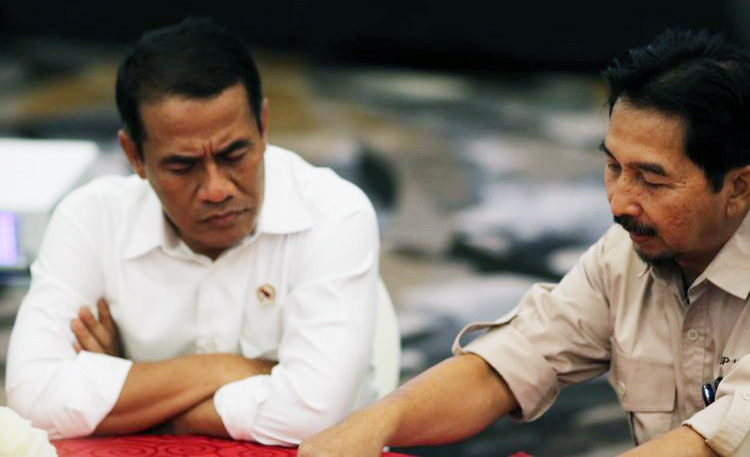 Mentan Amran Sulaiman diskusi dengan Dirjen PSP Kementan, Sarwo Edhy [kanan]
Musi Banyuasin, Sumsel [B2B] - Bantuan ekskavator dari Kementerian Pertanian RI untuk optimalisasi lahan rawa di Provinsi Sumatra Selatan harus digunakan secara berkelompok melalui Brigade Alsintan [alat dan mesin pertanian] lebih maksimal dengan biaya yang lebih hemat, idealnya menurut Mentan Amran Sulaiman adalah enam ekskavator untuk mengerjakan satu lokasi sekaligus.
"Satu lokasi kerjakan dengan lima ekskavator sekaligus, sehingga cepat bergeraknya. Kalau satu lokasi hanya satu mesin, beda spiritnya. Dalam satu brigade lebih cepat dan juga usahakan alsintan ini bekerja 24 jam. Jika selama ini Alsintan bekerja satu shift, buat jadi tiga shift agar target 200 ribu hektar lahan yang digarap di Sumsel tercapai hingga Oktober nanti," kata Mentan Amran Sulaiman saat meninjau progres program Serasi di Muara Padang, Kabupaten Banyuasin, Sumatra Selatan, Rabu [28/8].
Dengan optimalisasi lahan sawah rawa, Amran optimistis Sumsel akan menjadi salah satu tumpuan untuk pemenuhan kebutuhan pangan nasional. Bahkan bukan tidak mungkin Sumsel menjadi lumbung pangan nasional, seperti yang selama ini dicita-citakan.
Mentan Amran sendiri sangat serius menjadikan Sumatra Selatan sebagai lumbung pangan nasional lewat optimalisasi lahan rawa. Ada 3 kabupaten yang dipacu luas tambah tanamnya, yakni Banyuasin, Ogan Komering Ilir (OKI) dan Musi Banyuasin.
"Untuk mendukungnya, Kita sudah siap 118 eksavator yang untuk Provinsi Sumatera Selatan, jika target tercapai maka eksavator akan ditambah lagi. Dengan target Serasi untuk Sumatra Selatan, pada 2021, program ini akan membawa Sumatra Selatan berada di peringkat pertama penyumbang pangan nasional," tegas Amran.
Brigade Alsintan yang diprogramkan Kementan dinilai sangat membantu para petani. Alasannya, untuk meminjam sewa alsintan dari Brigade Alsintan ini banyak keuntungannya. Petani juga dipersilakan memanfaatkan alsintan yang tersimpan di Dinas Pertanian atau Kodim setempat. Petani tinggal membuat surat permohonan melalui Gabungan Kelompok Tani (Gapoktan) di wilayah masing-masing.
Di Brigade Alsintan sendiri sudah tersedia berbagai alat pertanian modern. Seperti excavator, traktor roda dua, traktor roda empat, transplanter (penanam) dan pompa air serta excavator atau backhoe dan semuanya dalam kondisi baru. Alsintan tersebut sengaja dititipkan Kementan untuk membantu petani dalam rangka mewujudkan swasembada pangan. [Sur]
Musi Banyuasin, Sumsel [B2B] - Indonesian government uses potential of swamp land for agriculture, especially in South Borneo province through the #Serasi Program it is targeted to 257,300 hectares. Realization of irrigation construction until May 2019 is 2,143 hectares, ready to be cultivated by farmers 160,481 hectares, realization of survey 43,188 hectares and realization of design of 38,121 hectares.