LTT Juli 2018, PJ Upsus Kebumen Optimistis Target 376 Hektar Tercapai
Indonesian`s Local Govt Support the Farmers Increase Rice Production
Editor : M. Achsan Atjo
Translator : Dhelia Gani

PUBLISHED: Kamis, 19 Juli 2018 , 02:46:00 WIB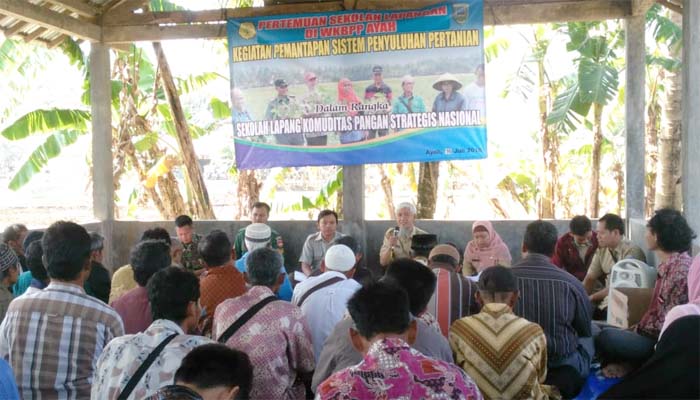 LO Upsus Pajale Kebumen dari STPP Magelang, Kodrat Winarno memimpin rapat koordinasi LTT di Kecamatan Ayah (Foto: Humas STPP Jurluhtan Yogyakarta)
Yogyakarta, DIY (B2B) - Penanggung Jawab Upsus Kabupaten Kebumen, Provinsi Jawa Tengah mengharapkan dukungan para petani, dinas pertanian, dan para pemangku kepentingan di Kebumen untuk mengoptimalkan target luas tambah tanam (LTT) padi seluas 376 hektar untuk Juli 2018 di musim tanam ketiga (MT 3), dan Kecamatan Ayah dinilai paling potensial dari 26 kecamatan di Kebumen, karena potensi LTT-nya mencapai 200 hektar di lima desa.
Hal itu dikemukakan oleh PJ Upsus Pajale Kebumen, Ali Rachman; Liaison Officer (LO) Upsus dari Sekolah Tinggi Penyuluhan Pertanian - STPP Magelang untuk Kebumen, Kodrat Winarno; dan Koordinator PJ Optimalisasi Alsintan di wilayah Korem 072 Pamungkas, Irwan Johan Sumarno; koordinator penyuluh pertanian dari BPP Ayah; para ketua kelompok tani; dan Babinsa dari Koramil 22/Ayah.
"Dari hasil inventarisasi di lapangan, Kecamatan Ayah punya potensi untuk mengejar target 376 hektar, sehingga telah dilaksanakan musyawarah dengan seluruh kelompok taninya," kata Ali Rachman dalam arahan yang disampaikan oleh Kodradi pada rapat koordinasi LTT Kecamatan Ayah, Kebumen pada Senin (16/7).
Dia menambahkan rapat LTT di Kecamatan Ayah merupakan tindak lanjut dari hasil pertemuan rapat koordinasi (Rakor) Upsus Pajale di Solo pada pekan lalu (13/7) yang digelar oleh Direktorat Jendral Tanaman Pangan (Ditjen TP). Dalam Rakor di Solo tersebut, Kebumen mendapat target LTT Juli seluas 376 hektar.
"Kami siap untuk mensukseskan program pemerintah. Kami harapkan benih dan sarana produksi lainnya dapat segera diturunkan oleh pemerintah," kata Kodradi mengutip arahan Ali Rachman.
Yogyakarta (B2B) - Person in Charge of increased production of food crops or Upsus Pajale for Kebumen district of Central Java province expect the support of farmers, agricultural offices, and stakeholders in Kebumen to optimize the extension target of 376 hectares of rice crops for July 2018, and Ayah subdistrict considered the most potent than 26 districts in Kebumen.
It was stated by Person in Charge of Upsus Pajale Kebumen, Ali Rachman; Liaison Officer of the district, Kodrat Winarno; Team Coordinator of the STPP Yogyakarta, Irwan Johan Sumarno; coordinator of agriculture extensionist; the heads of farmer groups; and the village counselor.
"From the field inventory, Ayah districts have the potential to pursue the target of 376 hectares," said Mr Rachman in his speech was quoted by Mr Winarno in coordination meeting in Kebumen on Monday (July 16).
He said that the coordination meeting in Ayah subdistrict is a follow up of Upsus Pajale meeting in Solo last week (July 13).
"We are ready to succeed the government program, we expect seeds and other production facilities to be immediately provided by the government," Mr Winarno quoted Mr Rachman.