Kunjungi Bavas - BBPP Lembang, Agenda Utama Press Tour BPPSDMP 2018
Indonesian Agriculture Ministry Develops Onsite Training Model
Reporter : Gusmiati Waris
Editor : Cahyani Harzi
Translator : Dhelia Gani

PUBLISHED: Kamis, 12 Juli 2018 , 03:23:00 WIB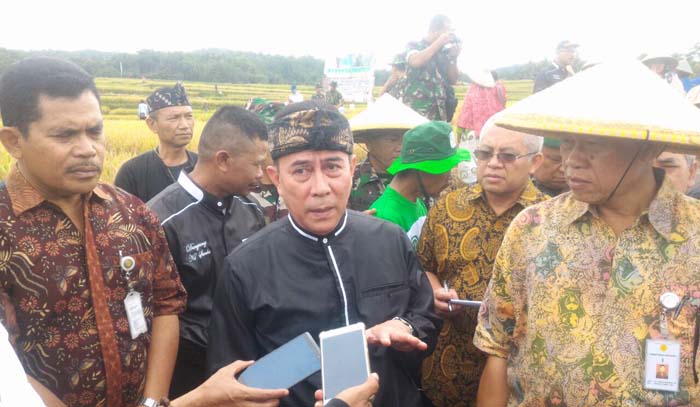 Kepala BBPP Lembang, Bandel Hartopo (kiri) mendampingi Kepala BPPSDMP Kementan, Momon Rusmono (kanan) kunjungan kerja ke Kabupaten Purwakarta (Foto: Humas BPPSDM Kementan/Eka Saputra)
Bandung, Jawa Barat (B2B) - Peserta Kunjungan Pers (Press Tour 2018) dari Badan Penyuluhan dan Pengembangan SDM Pertanian (BPPSDMP) Kementerian Pertanian RI di Bandung, Provinsi Jawa Barat bersama sejumlah jurnalis pada Kamis pagi (12/7) akan mengunjungi Bandung Vegetable Station (Bavas) yang dikembangkan oleh Balai Besar Pelatihan Pertanian - BBPP Lembang didukung Taiwan Technical Mission (TTM) dari Taiwan.
Kepala BBPP Lembang, Bandel Hartopo mengatakan Bavas adalah model pelatihan berbasis outcome, yang menerapkan metode Onsite Training Model (OTM) bekerjasama dengan TTM Taiwan untuk program pemberdayaan petani selama tiga tahun terakhir.
"OTM adalah model pelatihan berbasis outcome, yang menggunakan pola integrasi mulai proses perencanaan hingga pendampingan dan evaluasi. Pelatihan dilaksanakan dalam dua sesi yakni sesi tatap muka dan sesi penerapan teknologi," kata Bandel Hartopo kepada pers di Bandung, Rabu malam (11/7) didampingi Kabag Evaluasi dan Pelaporan BPPSDMP Kementan, Titin Gartini.
Menurutnya, BBPP Lembang dan TTM menginisiasi pembentukan korporasi petani bernama Bavas, sebagai sarana mengaplikasikan ilmu yang diperoleh peserta pada saat pelatihan dari hulu hingga hilir. Sementara pemasaran produk membidik pasar domestik melalui pasar tradisional dan swalayan, serta pasar ekspor.
"Bavas sudah menggandeng buyers dari Singapura. Kegiatan ekspor sudah dilakukan dua kali dalam seminggu. Kapasitas ekspor untuk buncis Kenya 500 kg dan petai 200 kg dalam satu kali pengiriman," kata Bandel Hartopo usai membuka Press Tour 2018 mewakili Sekretaris BPPSDMP Kementan, Andriko Noto Susanto.
Titin Gartini mengatakan setelah di Bavas - BBPP Lembang, rombongan Press Tour 2018 akan mengunjungi Pusat Pelatihan Pertanian dan Pedesaan Swadaya (P4S) Lembang Agri.
P4S adalah lembaga pelatihan pertanian dan pedesaan yang didirikan, dimiliki, dikelola oleh petani secara swadaya baik perorangan maupun berkelompok dan diharapkan dapat secara langsung berperan aktif dalam pembangunan pertanian melalui pengembangan sumber daya manusia.
Bandung of West Java (B2B) - Participants of the 2018 Press Tour of the Directorate General of Indonesia´s Agricultural Extension and Agricultural Human Resources or the BPPSDMP with journalists in Bandung, West Java province on Thursday morning (July 12) will visit the Bandung Vegetable Station or Bavas who was developed by Lembang´s Agriculture Training Center or BBPP Lembang and Taiwan Technical Mission (TTM).
Director of BBPP Lembang, Bandel Hartopo said the Bavas is an outcome-based training model, which applies the Onsite Training Model method or the OTM in cooperation with TTM for support the farmer empowerment program for the last three years.
"The OTM is an outcome-based training model, which uses integration patterns from the planning process to mentoring and evaluation. The training was held in two sessions: face-to-face sessions and application of technology," Mr Hartopo told the press here in Wednesday night (11/7) accompanied by the BPPSDMP´s spokesman, Titin Gartini.
According to him, BBPP Lembang and TTM initiated a farmer corporation named Bavas, as a means of applying the knowledge gained by participants during training from upstream to downstream. Meanwhile, product marketing targets the domestic market through traditional and supermarket markets, as well as export markets.
"Bavas is supported by buyers from Singapore, export activities have been done twice a week. Export capacity for Kenya beans 500 kg and petai 200 kg in one shipment," Mr Hartopo said.
Titin Gartini said after the Bavas in Lembang, the 2018 Press Tour entourage will visit the Agricultural and Rural Development Training Center (P4S) Lembang Agri.
The P4S is an agricultural and rural training institute established, owned, managed by farmers by individuals or groups, and is expected to directly play an active role in agricultural development through the development of human resources.