Sosialisasi Asuransi Tani, Dirjen PSP Sosialisasi AUTP untuk Kesejahteraan Petani
Indonesian Farm Insurance Prevents Farmers of Losing Money
Reporter : Gusmiati Waris
Editor : Cahyani Harzi
Translator : Dhelia Gani

PUBLISHED: Sabtu, 17 Agustus 2019 , 00:47:00 WIB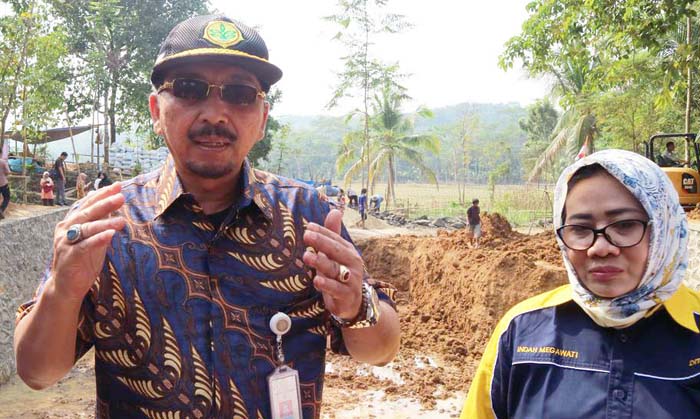 SUBSIDI PEMERINTAH: Dirjen Prasarana dan Sarana Pertanian [PSP Kementan] Sarwo Edhy [kiri] dan Direktur Pembiayaan Ditjen PSP Kementan, Indah Megawati [Foto: Humas]
Lebak, Banten [B2B] - Petani di Kabupaten Lebak, Provinsi Banten tidak harus merugi akibat gagal panen karena ribuan hektar sawah mengalami puso karena kekeringan, kalau mereka menjadi peserta Asuransi Usaha Tanaman Padi [AUTP] maka kerugian petani akan ditanggung oleh perusahaan asuransi.
Dirjen Prasarana dan Sarana Pertanian [PSP Kementan] Sarwo Edhy mengatakan AUTP sangatlah penting bagi petani, karena bermanfaat pada musim kering seperti saat ini. khususnya petani di Kabupaten Lebak.
"Preminya murah karena dapat subsidi dari pemerintah, jadi hanya Rp36 ribu per hektar dari aslinya Rp180 ribu. Sayang sekali kalau petani tidak ikut. Karena jika mereka gagal panen, kan ada uang yang akan cair sebesar Rp 6 juta per hektar. Ini kan sangat membantu petani," kata Sarwo Edhy di depan para petani saat kunjungan kerja di Desa Haurgajruk, Kecamatan Cipanas kabupaten Lebak, Rabu [14/8].
Mendapati banyak petani Lebak yang belum ikut AUTP, Dirjen PSP Kementan meminta Kepala Dinas Pertanian Kabupaten Lebak Dede Supriatna untuk rajin mensosialisasikan AUTP kepada para petani. "Tolong AUTP ini terus disosialisasikan kepada petani di sini karena sangat bermanfaat buat petani. Tolong ya pak kepala dinas."
Menanggapi permintaan Dirjen PSP, Dede pun berjanji untuk lebih intens lagi mensosialisasikan AUTP kepada para petani di Lebak. Ia mengakui masih banyak petani Lebak yang belum tergabung dalam asuransi pertanian yang bekerjasama dengan Jasindo itu. "Ya ke depan kami berharap para petani di Lebak ikut semua dalam AUTP ini sehingga di saat musim kering dan gagal panen petani bisa mendapatkan manfaat dari AUTP ini," kara Dede.
Untuk lebih meningkatkan pelayanan dan sosialisasi AUTP kepada petani Lebak, Direktur Pembiayaan Kementan Indah Megawati menyarankan agar Jasindo sebagai rekanan dalam kerjasama AUTP ini membuka anak cabang di Lebak.
"Karena selama ini kan kantor cabangnya baru ada di Serang. Jadi memang cukup jauh. Saya rasa kalau ada anak cabang di Lebak akan lebih mudah baik sosialisasi maupun pelayanan," kata Indah.
Menurutnya, jika petani atau kelompok tani yang di awal musim telah terdaftar dalam program AUTP bisa mengajukan klaim saat padinya puso atau gagal panen akibat bencana kekeringan. "Saat ini baru untuk komoditas padi. Klaimnya sebesar 6 juta per hektare. Jadi sayang kalau petani di Lebak ini belum terdaftar dalam program AUTP ini."
Mengenai asuransi ini, kata Indah, untuk preminya, dari Rp180.000, 20% ditanggung oleh petani atau sebesar Rp36.000 dan selebihnya disubsidi pemerintah. [Sur]
Lebak of Banten [B2B] - Indonesian Agriculture Ministry suggests that many farmers in Lebak district of Banten province have not yet utilized rice farming insurance, the Director General of Agriculture Infrastructure and Facilities [Dirjen PSP] Sarwo Edhy encouraged the Head of the Lebak Agriculture Service Office, Dede Supriatna to socialize the benefits of farmer insurance to farmers, because it was very profitable for farmers.