Pangkas Rantai Pasok Jagung, Mentan Inisiasi Kontrak Jual Beli Lamongan & Blitar
Indonesian Minister Initiated the Purchase of Corn in Harvested Land
Reporter : Gusmiati Waris
Editor : Cahyani Harzi
Translator : Dhelia Gani

PUBLISHED: Kamis, 07 Februari 2019 , 00:50:00 WIB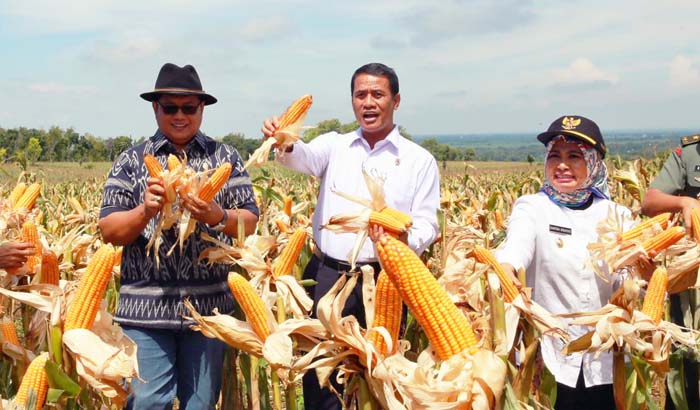 DUA KABUPATEN: Mentan Amran Sulaiman (tengah) panen jagung di lahan 496 hektar di Lamongan didampingi Wakil Bupati Kartika Hidayati (kanan) Foto: Humas Kementan
Lamongan, Jatim (B2B) - Menteri Pertanian RI Andi Amran Sulaiman menjadi inisiator kontrak pembelian jagung antara dua kabupaten di Provinsi Jawa Timur; Lamongan dan Blitar, untuk memangkas rantai pasok jagung dari hasil panen petani Lamongan dan memenuhi kebutuhan pakan ternak Blitar, yang dilaksanakan ´dengan cara seksama dan dalam tempo sesingkat-singkatnya´ di tengah lahan panen jagung seluas 496 hektar di Desa Mojorejo, Kecamatan Modo, Kabupaten Lamongan, Rabu (6/2).
"Ini model baru. Tidak usah pulang ambil stempel. Kertas kesepakatan ini tolong masing-masing dibawa pulang. Traktor dan mesin dryer kami kirim ke sini. Hasil panen jagung kirim ke Blitar. Ini semua untuk rakyat. Bukan untuk tengkulak. Kami tidak ingin dipermainkan. Ini solusi konkret dan permanen," kata Mentan Amran Sulaiman didampingi Wakil Bupati Kartika Hidayati usai teken kontrak pembelian jagung Lamongan untuk peternak ayam Blitar.
Mentan mengingatkan, kesepakatan kontrak pembelian jagung akan menjembatani kepentingan kedua belah pihak, dan Bulog berada di tengah untuk mengatur penyerapan jagung dan pasokan dari Lamongan ke Blitar.
Untuk mendukung kontrak kedua kabupaten ke depan, Mentan memutuskan menyiapkan bantuan minimal 20 mesin pengering jagung (corn dryer machine) berkekuatan 10 ton per delapan jam, 10 unit traktor roda empat, dan lima unit mesin panen jagung.
"Kami ucapkan terimakasih pada Mentan, petani Lamongan tahun lalu banyak dibantu mengembangkan jagung. Hasilnya memuaskan, harga jagung per kg di tingkat petani berkisar 2.200 untuk tongkol, pipil basah Rp3.800, dan pipil kering Rp5.000," kata Kartika H.
Kementan pada 2018 memberi bantuan 17 unit pengolah pupuk organik senilai Rp2,5 miliar, 10 unit mesin pengering (Rp1,87 miliar), rice milling unit modern seharga Rp500 juta.
Dinas Tanaman Pangan, Hortikultura dan Perkebunan Lamongan memperkirakan panen jagung hingga pekan ketiga Februari 2019 mencapai 11.395 hektar meliputi tujuh kecamatan: Modo, Bluluk, Ngimbang, Sambeng, Sukorame, Mantup dan Solokuro. Sementara potensi luas lahan di Kecamatan Modo 1.627 hektar yang dimiliki beberapa kelompok tani, rata-rata kepemilikan 0,5 hektar per orang.
Lamongan of East Java (B2B) - Indonesian Agriculture Minister Andi Amran Sulaiman initiates a contract for the sale and purchase of districts in East Java province: Lamongan and Blitar, to cut the corn supply chain of harvested crops in Lamongan and fulfill Blitar´s animal feed needs, which took place in a corn harvest area of 496 hectares in Mojorejo village, Modo sub-district, Lamongan district, Wednesday (February 6).
"This is a new model of sale and purchase contract. No need for company stamps. Enough with the signature of the buyer and seller. Purchase contract for corn farmers. Not for middlemen," Minister Sulaiman said accompanied by Deputy Regent Kartika Hidayati after signing a Lamongan corn purchase contract for Blitar chicken farmers.
Minister Sulaiman warned that contract agreements would bridge the interests of both parties, and the Indonesian Logistics Agency regulates the purchase of Lamongan corn for supply to Blitar.
To support the two districts´ contracts going forward, Minister Sulaiman will prepare assistance for 20 units of 10-ton per eight-hour corn dryer machines, 10 units of four-wheel tractors, and five units of corn harvesting machines.
"We say thank you to Minister Sulaiman for last year´s assistance for Lamongan corn farmers," Hidayati said.
The agriculture ministry last year provided assistance of 17 organic fertilizer processing units worth IDR2.5 billion, 10 drying machines of IDR 1.87 billion, and IDR500 million for modern rice milling units.
The Lamongan Agriculture Service estimates that the corn harvest area until the third week of February 2019 around 11,395 hectares, covering seven sub-districts: Modo, Bluluk, Ngimbang, Sambeng, Sukorame, Mantup dan Solokuro.