Protani NTB, Itjentan Sokong Petani Bangkit Pasca Gempa Lombok
Indonesia Seeks to Prevent Corruption in the Agricultural Sector
Editor : M. Achsan Atjo
Translator : Dhelia Gani

PUBLISHED: Minggu, 11 November 2018 , 05:11:00 WIB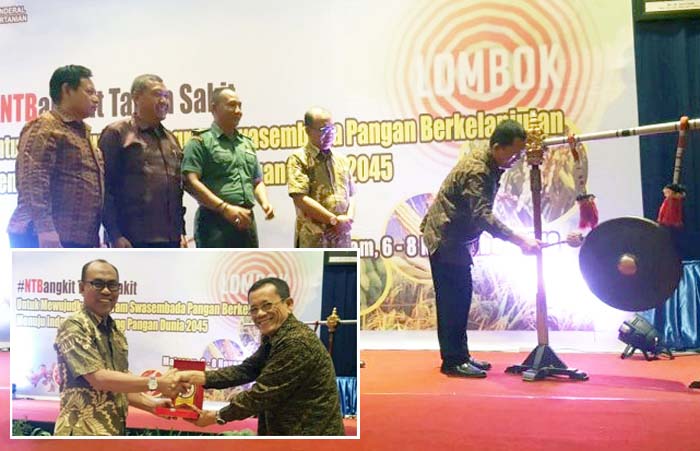 NTBANGKIT TANPA SAKIT: Inspektur Investigasi Itjen Kementan, Sotarduga Hutabarat memukul gong pembukaan Protani 2018 di Mataram (Foto2: Humas Itjentan/Eko Irenk)
Mataram, NTB (B2B) - Sedikitnya 200 orang menghadiri pembinaan tekad antikorupsi, Protani yang digelar Inspektorat Jenderal Kementerian Pertanian RI (Itjentan) di Mataram, Nusa Tenggara Barat (NTB), belum lama ini, untuk menyamakan persepsi pemerintah pusat dan daerah dalam pemanfaatan dana bantuan pemerintah untuk perbaikan infrastruktur, sarana dan prasarana pertanian yang terdampak gempa bumi di Lombok dan sekitarnya.
Inspektur Investigasi Itjen Kementan, Sotarduga Hutabarat mengatakan bahwa kegiatan Protani di NTB bertujuan mencegah penyelewengan dan penyalahgunaan dalam pemanfaatan dana bantuan pemerintah untuk sektor pertanian.
"Kami tidak ingin para aparatur dan petugas pertanian akan berurusan dengan aparat penegak hukum atau menjadi pesakitan," kata Sotarduga dalam arahannya pada pembukaan Protani di Mataram.
Pembinaan Tekad Antikorupsi di Mataram bertema ´NTB Bangkit Tanpa Sakit untuk Mewujudkan Program Swasembada Pangan Berkelanjutan Menuju Lumbung Pangan Dunia 2045´. Diikuti oleh pimpinan satuan kerja provinsi/kabupaten/kota yang membidangi pertanian, pengurus dan anggota dari Kontak Tani Nelayan Andalan (KTNA) dan Gabungan Kelompok Tani (Gapoktan), unit pelaksana teknis (UPT) Kementan, dan bintara pembina desa (Babinsa).
Sotarduga menambahkan seluruh materi Protani fokus untuk mendorong dan mewujudkan pengelolaan dan pemanfaatan dana bantuan pemerintah untuk NTB secara efektif, transparan, akuntabel, tepat sasaran, dan diterima petani untuk kembali hidup layak pasca bencana alam.
"Kegiatan pembinaan Protani juga untuk memotivasi kepada seluruh aparatur dan petani di seluruh NTB untuk bersama bangkit dan semangat kembali meningkatkan produksi pertanian," katanya.
Itjen Kementan melibatkan sejumlah narasumber dari Tim Pengawal dan Pengaman Pemerintahan dan Pembangunan Daerah (TP4D), Ombudsman Republik Indonesia (ORI), Badan Pengawasan Keuangan dan Pembangunan (BPKP) Provinsi NTB, Komisi Pemberantasan Korupsi (KPK), motivator dan narasumber dari internal Kementan.
"Itjentan memandang perlu terus mendorong dibentuknya komite integritas yang akan bersama dengan Itjentan untuk mereproduksi tunas-tunas integritas sebanyak mungkin di Kementan, yang diberdayakan untuk mengikis dan mencegah terjadinya pungli di Kementan. Protani mengusung tagline #TIPS atau Tunas Integritas - Pungli Stop," kata Sotarduga.
Mataram of West Nusa Tenggara (B2B) - At least 200 people attended the anti-corruption determination program, Protani, held by the Inspectorate General of Indonesian Agriculture Ministry or the Itjentan here recently, to equate the perception of central and local government in the use of government funds for infrastructure, agricultural facilities and infrastructure affected by earthquakes in Lombok and its surroundings.
The Investigation Inspector at Itjentan, Sotarduga Hutabarat said that Protani activities in NTB aimed to prevent misuse of government aid funds for the agricultural sector.
"We do not want the apparatus and agricultural officials to deal with law enforcement officials or become prisoners," Sotarduga said in his direction at the opening of Protani here.
Mr Hutabarat added that all Protani material was focused on encouraging and realizing the management and utilization of government aid funds for NTB effectively, transparently, accountably and on target.
"The Protani activities are also to motivate all state apparatus and farmers in all provinces to rise and enthusiasm to increase agricultural production again," he said.
The Itjentan involved a number of speakers from the ministry´s special anti-corruption team, Indonesian Ombudsman, Financial and Development Supervisory Agency or the BPKP, Indonesia Anti-graft Commission (KPK), motivators and speakers of the ministry.
"It encourages the establishment of an integrity committee with Itjentan to prevent abuse of authority and illegal levies in the ministry," Mr Hutabarat said.