Auditor 4.0, SPIP ItJenTan Harus Faham Pertanian dan Kuasai IT
Indonesian Govt Auditors Anticipate the Challenges of the 4.0 Industrial Revolution
Editor : M. Achsan Atjo
Translator : Dhelia Gani

PUBLISHED: Jum'at, 07 Desember 2018 , 06:35:00 WIB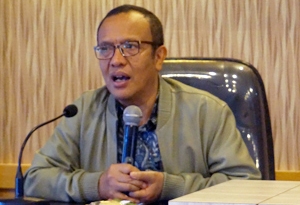 Irjen Kementan, Justan Siahaan (Foto: istimewa)
Depok, Jabar (B2B) - Inspektorat Jenderal Kementerian Pertanian RI disingkat ItJenTan mengantisipasi Revolusi Industri 4.0 (RI 4.0), dengan menyiapkan Auditor untuk Sistem Pengendalian Intern Pemerintah atau SPIP yang memahami pertanian dan menguasai teknologi informasi teknologi informasi (IT), untuk mengendalikan risiko kerugian negara atas pelaksanaan tugas dan fungsi serta program/kegiatan, sehingga mampu melakukan deteksi dini adanya penyimpangan.
"Kementan melalui ItJen membentuk auditor 4.0 yang harus faham pertanian dan teknologi informasi. Auditor harus belajar pertanian, bukan cuma faham akuntansi. Auditor ke depan harus faham keduanya sesuai tupoksinya sebagai auditor di ItJenTan," kata Inspektur Jenderal Kementan, Justan Siahaan pada Forum Nasional SPIP di Depok, Jabar pada Rabu (5/12).
Semua sektor di era RI 4.0 dituntut untuk mengikuti perubahan dengan cepat, tidak terkecuali ItJenTan dengan menyiapkan auditor 4.0. Gejala transformasi RI 4.0 sudah terjadi di tengah kita saat ini, misal bergesernya pola berbelanja konvensional menjadi model bisnis market place dengan maraknya belanja online melalui internet. Transportasi konvensional mulai tergeser menjadi moda online, untuk pesan taksi atau ojek cukup menggunakan smartphone Android.
Bagaimana dengan auditor ItJenTan ke depan? "Ya harus mengikuti perkembangan teknologi dan tuntutan zaman. Sudah selayaknya, kita mencerdaskan diri agar mampu berkompetisi dengan," kata Justan S.
Dia mengakui tantangan SPIP ke depan makin berat lantaran adanya peraturan baru, perubahan model bisnis, strategi baru, ancaman cyber security, privasi, tantangan keuangan dan perkembangan teknologi.
"Perlu difahami bahwa satuan pengawasan intern disingkat SPI merupakan sistem pengendalian intern yang dibangun untuk mengendalikan risiko kegagalan dan kerugian. SPIP diharapkan mampu memberikan keyakinan yang memadai bagi pimpinan, bahwa seluruh kebijakan dan prosedur yang ditetapkan telah diimplementasikan sepenuhnya sebagai acuan dan standar pelaksanaan kegiatan," kata Justan S.
Depok of West Java (B2B) - Inspectorate General of Indonesian Agriculture Ministry or ItJenTan anticipates Industrial Revolution 4.0 or RI 4.0, by preparing Auditor of Government Internal Control System or SPIP who understand agriculture and information technology, to control the risk of state losses for the implementation of duties and functions as well as programs and activities, for early detection of state financial irregularities.
"The ministry through the inspectorate general prepare the 4.0 Auditor who must understand agriculture and information technology. The auditor must learn agriculture, not just accounting. The future auditor must understand both according to his duties at the ministry," said Inspector General Justan Siahaan here on Wednesday (December 12).
All sectors in the industrial revolution era 4.0 are required to follow changes quickly, including ItJenTan by preparing auditors 4.0. This phenomenon has occurred in our midst today, for example the shifting of conventional shopping patterns into a market place business model with the rise of online shopping through the internet. Conventional transportation began to shift into online mode, to order taxi by Android smartphone.
What about the auditor in the future? "Yeahh, you have to keep up with technology. As appropriate, we educate ourselves to compete," Mr Siahaan said.
He acknowledged the severe challenges of SPIP due to new regulations, changes in business models, new strategies, cyber security threats, privacy, financial challenges and technological developments.
"It should be understood that the internal control unit or SPI is an internal control system that is built to control the risk of failure and loss. The SPIP is expected to convince the leadership, that all policies and procedures have been carried out as a reference and standard for implementing activities," Mr Siahaan said.