Kunker Kalbar, Dirjen PSP Evaluasi Potensi Pertanian di Kabupaten Landak
Indonesian Govt Evaluates the Agricultural Potential of West Borneo
Editor : M. Achsan Atjo
Translator : Dhelia Gani

PUBLISHED: Minggu, 14 Juli 2019 , 01:00:00 WIB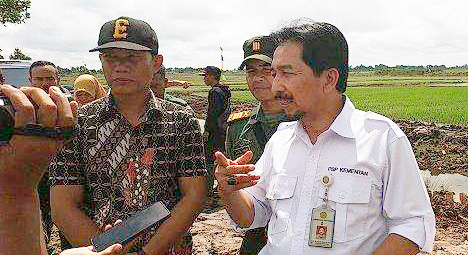 ASURANSI PERTANIAN: Dirjen PSP Kementan, Sarwo Edhy koordinasi dengan pihak terkait di daerah tentang infrastruktur pertanian maupun dukungan Saprodi dan asuransi pertanian untuk petani [Foto: Humas Ditjen PSP]
Landak, Kalbar [B2B] - Kementerian Pertanian RI mendorong Pemkab Landak melakukan pemetaan wilayah potensi pertanian di seluruh kabupaten untuk diajukan ke Jakarta, sehingga dapat mendukung peningkatan hasil produksi sekaligus mengembangkan produk pertanian unggulan di daerah.
"Kementan meminta Pemkab Landak dalam hal ini dinas pertanian untuk melakukan pemetaan wilayah di setiap kecamatan. Apa potensinya dan diketahui kendalanya untuk diajukan ke Kementan, untuk mendukung peningkatan hasil produksi sekaligus menciptakan brand unggulan," kata Direktur Jenderal Prasarana dan Sarana Pertanian - Dirjen PSP Kementan, Sarwo Edhy kepada pers di Ngabang, Jumat [12/7].
Pada kunjungan tersebut, Dirjen Sarwo Edhy menguraikan beberapa hal terkait program pertanian khususnya sarana dan prasarana, salah satunya adalah program asuransi gagal panen lahan pertanian akibat kekeringan, hama dan banjir.
"Sekarang sudah ada program asuransi gagal panen lahan pertanian. Cukup membayar Rp36 ribu per musim per hektar, dan sisanya sebesar Rp144 ribu dibayar oleh pemerintah atau disubsidi," katanya.
Apabila petani mengalami gagal panen, katanya, pihak asuransi dalam hal ini Asuransi Jasa Indonesia [Jasindo] akan mengganti kerugian sebesar Rp6 juta per hektar, dan Dirjen PSP Kementan mengharapkan Dinas Pertanian, Perikanan dan Ketahanan Pangan [DKPP] Kabupaten Landak segera mengoordinasikan dan mengajukan ke Kementan.
Menanggapi hal itu, Bupati Landak, Karolin Margret Natasa mengakui potensi pertanian di Landak cukup baik didukung anggaran yang memadai untuk pertanian serta menciptakan brand tersendiri, khususnya beras lokal untuk menembus pasar.
"Landak termasuk salah satu kabupaten di Kalbar yang hasil panen padinya berlimpah dan lahan cukup luas, didukung anggaran dari pemerintah daerah. Ke depan, akan dilakukan pemetaan potensi pertanian di setiap kecamatan untuk dikembangkan menjadi sentra produksi padi, jagung dan produk pertanian lainnya," kata Bupati Karolin MN. [Sur]
Landak of West Borneo [B2B] - Indonesian Agriculture Ministry encourages the Landak district government to develop maps of potential agricultural areas across the distric then submit to Jakarta, so that it can support increased agricultural production and develop regional superior products.