Surplus 37 ribu ton, Indonesia Berpeluang Ekspor Itik ke Mancanegara
Surplus Production, Indonesia has the Opportunity to Export Ducks Abroad
Reporter : Gusmiati Waris
Editor : Cahyani Harzi
Translator : Dhelia Gani

PUBLISHED: Selasa, 27 Agustus 2019 , 10:22:00 WIB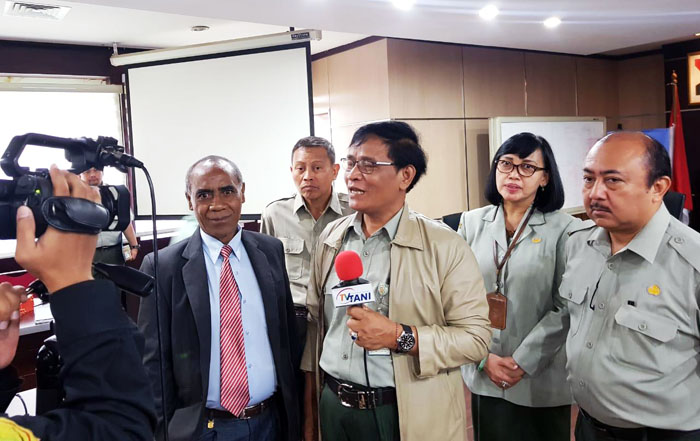 DOOR STOP: Dirjen PKH I Ketut Diarmita menjawab pers usai bertemu tim IRA Timor Leste didampingi Direktur Kesehatan Hewan, Fadjar Sumping TR [kanan] dan Direktur Pakan, Sri Widayati [tengah belakang] Foto: Humas
Jakarta [B2B] - Indonesia saat ini surplus daging itik sekitar 37,739 ton mengacu kebutuhan nasional 2017 hanya 265 ton, sedangkan produksi daging itik 2018 mencapai 38,04 ribu ton sehingga terbuka peluang ekspor ke mancanegara dari selisih produksi dan konsumsi daging itik.
Data Statistik Peternakan menyebutkan bahwa populasi itik tahun 2018 lebih dari 51,23 juta ekor, sementara populasi itik 2014 - 2018 meningkat 13,19%, pertumbuhan rata-rata per tahun 3.16%.
"Saat ini Indonesia memiliki surplus yang cukup besar, kebutuhan nasional hanya 265 ton untuk 2017, sedangkan produksi daging itik 2018 sebesar 38,04 ribu ton, sehingga masih terbuka peluang ekspor ke mancanegara," kata Dirjen PKH Kementan, I Ketut Diarmita di Jakarta, Senin [26/8] saat menerima Tim IRA dari Timor Leste.
Populasi terbanyak pengembangan itik berada di provinsi Jawa Barat sebesar 10,52 juta ekor; 6,26 juta ekor di Sulawesi Selatan; 5,69 juta ekor di Jawa Timur; 5,21 juta ekor di Jawa Tengah; dan 4,23 juta ekor di Kalimantan Selatan mengacu pada data Direktorat Jenderal Peternakan dan Kesehatan Hewan - Kementerian Pertanian RI [Ditjen PKH Kementan].
"Itik pedaging merupakan salah satu komoditas ternak yang akan terus dikembangkan di Indonesia, karena makin hari konsumen daging itik terus meningkat, dan diyakini mampu mengangkat ekonomi masyarakat peternak" kata Ketut Diarmita.
Jakarta [B2B] - Indonesia currently has a surplus of 37,739 tons of duck meat refers to national needs in 2017 only 265 tons, while 2018 duck meat production reached 38.04 thousand tons so that there are opportunities for exports abroad of the difference between production and consumption, according to senior official of the agriculture ministry.
Statistical data on livestock mentions that the population of ducks in 2018 was more than 51.23 million, while population of ducks in 2014 to 2018 increased by 13.19%, the average growth per year was 3.16%.