KUR dan Asuransi Ternak, Dukungan Kementan Lindungi Aset Peternak
Indonesian Govt Support Cattle Insurance for Farmers across the Country
Reporter : Gusmiati Waris
Editor : Cahyani Harzi
Translator : Dhelia Gani

PUBLISHED: Selasa, 14 April 2020 , 10:54:00 WIB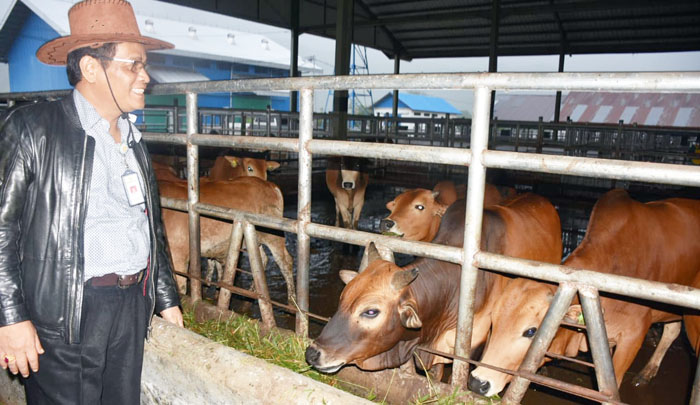 PETERNAKAN SAPI: Dirjen PKH Kementan I Ketut Diarmita di sentra produksi ternak [Foto: Humas Ditjen PKH]
Jakarta [B2B] - Kementerian Pertanian RI berupaya meningkatkan motivasi peternak mengembangkan usaha ternaknya, dengan fasilitasi pembiayaan usaha melalui Kredit Usaha Rakyat [KUR] sektor pertanian untuk subsektor peternakan, dan untuk memastikan usahanya berkelanjutan maka peternak mendapat subsidi premi asuransi ternak sapi dan kerbau betina produktif.
"Kementan mendorong peternak memiliki daya saing usaha dan meningkatkan motivasi beternak dengan KUR pertanian. Untuk memastikan usahanya berkelanjutan, kita bantu juga mereka untuk premi asuransi ternak sapi dan kerbau betina produktif," kata Dirjen Peternakan dan Kesehatan Hewan [PKH] I Ketut Diarmita di Jakarta, Minggu [12/4].
Semua fasilitasi tersebut, kata Dirjen PKH, didasari pemahaman bahwa peternak sering dihadapkan pada permasalahan dan berbagai risiko usaha, seperti fluktuasi harga, kekurangan modal, kemampuan manajemen usaha, dan kemungkinan kematian ternak yang mengakibatkan kerugian.
Menurut Ketut Diarmita, bantuan premi asuransi untuk ternak sapi dan kerbau betina produktif (induk) dari pemerintah sebesar Rp160.000 per ekor atau 80% dari premi asuransi Rp 200.000. Artinya dengan membayar Rp40.000 per ekor, peternak akan mendapat uang pertanggungan maksimal Rp10 juta.
"Premi tersebut untuk masa pertanggungan satu tahun dari risiko kematian ternak karena penyakit, beranak, kecelakaan, dan kehilangan karena pencurian," kata Dirjen PKH Kementan, Ketut Diarmita.
Fini Murfiani selaku Direktur Pengolahan dan Pemasaran Hasil Peternakan - Ditjen PKH Kementan mengungkapkan bahwa dengan adanya pertanggungan asuransi, peternak dapat membeli ternak kembali saat terjadi risiko usaha [kematian dan kehilangan] sehingga menjamin keberlanjutan usahanya.
"Hal penting yang perlu diingat, ternak yang akan diasuransikan harus sehat, dan setelah diasuransikan, peternak tetap menerapkan tatacara beternak yang baik untuk menghindari penyakit akibat keteledoran pemeliharaan," kata Fini Murfiani.
Dia juga menjelaskan persyaratan aspek kesehatan akan diperketat, dan keterangan sehat ternak sapi atau kerbau dari dokter hewan atau petugas yang ditunjuk dinas harus tersedia.
Jakarta [B2B] - Indonesian Agriculture Ministry seeks to increase the motivation of farmers to develop their livestock businesses, by facilitating business financing through the People's Business Credit [KUR] agricultural sector for the livestock subsector, and to ensure that their business is sustainable, farmers receive subsidies for livestock insurance premiums according to senior official of the ministry.