Mitigasi Kekeringan, Dirjen PSP Optimalkan Pompa Air dan Embung
Indonesia Optimizes Water Pumps to Anticipate Dry Season
Reporter : Gusmiati Waris
Editor : Cahyani Harzi
Translator : Dhelia Gani

PUBLISHED: Selasa, 09 Juli 2019 , 01:00:00 WIB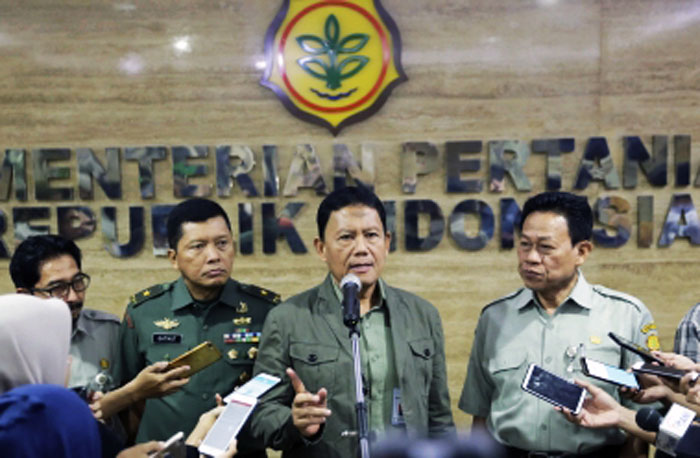 Kiri ke kanan: Dirjen PSP Kementan, Sarwo Edhy; Wakil Aster Kasad Brigjen TNI Gathut SU; Dirjen Tanaman Pangan, Gatot IS; dan Plt Sekjen Kementan, Momon Rusmono menjawab pers [Foto: Humas Kementan]
Jakarta [B2B] - Sekitar 102.654 hektar terdampak kekeringan dan 9.940 hektar mengalami puso tersebar di 100 kabupaten/kota di Pulau Jawa, Bali dan Kepulauan Nusa Tenggara seperti dilaporkan Badan Meteorologi, Klimatologi, dan Geofisika (BMKG), yang mengeluarkan ´status awas´ di beberapa provinsi: Jawa Barat, DI Yogyakarta, Jawa Timur, Bali dan Nusa Tenggara Timur [NTT].
BMKG juga merilis ´status waspada´ untuk Banten, DKI Jakarta, Jawa Tengah dan Nusa Tenggara Barat [NTB], sementara provinsi lain belum mendapat peringatan waspada kekeringan dari BMKG.
"Sebagian besar wilayah Jawa, Bali dan Nusa Tenggara sudah tidak mengalami hujan lebih dari 30 hari. Kementan telah melakukan mitigasi kekeringan melalui pembangunan 11.654 unit embung pertanian dan 4.042 unit irigasi pemompaan sejak 2015," kata Dirjen Prasarana dan Sarana Pertanian [PSP Kementan] Sarwo Edhy pada Rapat Koordinasi Mitigasi Kekeringan di Jakarta, Senin pagi [8/7].
Menurut Sarwo Edhy, Kementan telah menyalurkan bantuan pompa air mencapai 93.860 unit pada 2018, dan pemerintah daerah telah mengusulkan permintaan 20 ribu unit pompa air tahun ini, dengan kedalaman 20 sampai 25 meter untuk menghasilkan air serta daya tampung 1500 m3 dan mengairi lahan kering maksimal 70 hektar.
"Tentu kita berharap dengan berbagai bantuan ini semua pemanfaatan sumber air yang ada bisa kita atasi dengan mudah," katanya.
Dirjen Tanaman Pangan, Gatot Irianto Sumarjo mengatakan bahwa penggunaan pompa merupakan salah satu pemanfaatan teknologi yang mampu menumbuhkan luas lahan baru dan mengkompensasi lahan busuk menjadi produktif. Panen yang dihasilkan juga lebih bermutu karena optik organisme pengganggu tanaman relatif lebih kecil.
Dia memastikan bahwa dampak kekeringan 2019 relatif bisa diatasi mengingat area yang dulu kekeringan sudah menjadi sumber air dengan pemanfaatan teknologi.
"Kementan ingin memastikan bahwa pendekatan mitigasi dan adaptasi kekeringan kali ini berbeda dengan sebelumnya. Kalau sekarang kita manfaatkan wilayah yang dulunya kering menjadi sumber air," kata Dirjen Gatot.
Mobilisasi pompa air, kata Dirjen TP, bahwa mobilisasi mesin pompa plus infrastruktur dan pipanisasi seperti arahan Mentan Amran Sulaiman, harus siap di daerah yang terdampak kekeringan. "Kementan juga menyiapkan benih unggul yang mampu adaptasi di lahan terdampak kekeringan."
Jakarta [B2B] - At least 102,654 hectares of rice fields were affected by drought and 9,940 hectares of crop failure in 100 districts/cities across Indonesia including Java, Bali and the Nusa Tenggara Islands as reported by the Meteorology, Climatology and Geophysics Agency [BMKG] which issued 'alert status' in several provinces: West Java, Yogyakarta, East Java, Bali and East Nusa Tenggara.