Dirjen Sarwo Edhy Tinjau Program #Serasi di Kabupaten Banjar
Indonesian Senior Official Reviews Development of Swamps for Agriculture in Borneo
Editor : M. Achsan Atjo
Translator : Dhelia Gani

PUBLISHED: Sabtu, 15 Juni 2019 , 01:21:00 WIB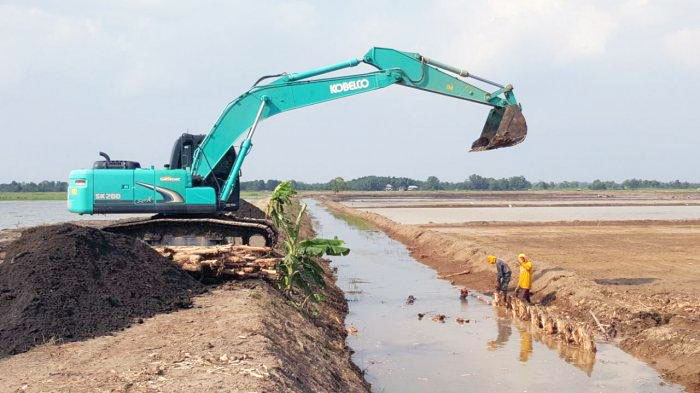 LAHAN RAWA: Lahan tidur seluas 807 hektar di Desa Simpang Lima diubah menjadi areal pertanian dengan anggaran Rp3,4 miliar [Foto: Humas Ditjen PSP Kementan]
Banjar, Kalsel [B2B] - Dirjen PSP Kementan, Sarwo Edhy meninjau lokasi program Selamatkan Rawa Sejahterakan Petani #Serasi di Kabupaten Banjar, Provinsi Kalimantan Selatan untuk memantau pemanfaatan bantuan infrastruktur pertanian dari Kementerian Pertanian RI untuk mengoptimalkan lahan rawa menjadi kawasan pertanian terpadu di Desa Simpang Lima, Kecamatan Cintapuri Darussalam pada Jumat [14/6].
"Di lokasi #Serasi sudah terlihat alat berat bekerja, terpantau benih padi sudah ditanam dan hamparan luas lahan tidur sudah mulai dibuka. Setiap sisinya terlihat dibuat saluran air untuk pengairan. Di Desa Simpang Lima ini ada lahan tidur seluas 807 hektar yang diubah menjadi areal pertanian," kata Dirjen Sarwo Edhy saat meninjau lokasi $Serasi didampingi Direktur Perluasan dan Perlindungan Lahan, Indah Megahwati.
Menurutnya, untuk program #Serasi di Desa Simpang Lima dianggarkan sekitar Rp3,4 miliar, sementara anggaran untuk seluruh Kalsel yang mencakup luas 150 ribu hektar sekitar Rp600 miliar.
Dirjen PSP Kementan memantau lokasi #Serasi seraya melihat dan memeriksa data-data dari tim Ditjen PSP kemudian memberikan arahan kepada kelompok tani [Poktan] yang bertanggung jawab pada areal tersebut.
Dikatakannya, anggaran yang diterima Kalsel menjadi terbanyak kedua dari tiga provinsi penerima bantuan #Serasi untuk 2019. Anggaran terbesar dikucurkan untuk Sumatera Selatan sekitar Rp800 miliar sementara Sulawesi Selatan hanya ratusan juta.
"Anggaran yang dikucurkan sesuai dengan luasan lahan yang dikelola, setiap hektar dianggarkan Rp4,3 juta. Sumatera Selatan anggarannya paling besar, karena lahan yang diolah juga luas sekitar 200 ribu hektare," katanya. [Sur]
Banjar of South Borneo [B2B] - The Director General of Indonesian Agricultural Infrastructure and Facilities, Sarwo Edhy, reviewed the swampland development location into an agricultural area in the South Borneo district of Banjar to monitor the use of agricultural infrastructure assistance of Agriculture Ministry to optimize wetlands into integrated farming region in in Simpang Lima village of Cintapuri Darussalam subdistrict on Friday [June 14].