Auditor Intern Pemerintah, AAIPI Mengacu Standar Internasional dari IPPF
Indonesian Govt Set Up the Conceptual Framework of Internal Audit`s IPPF
Editor : M. Achsan Atjo
Translator : Dhelia Gani

PUBLISHED: Senin, 17 September 2018 , 12:25:00 WIB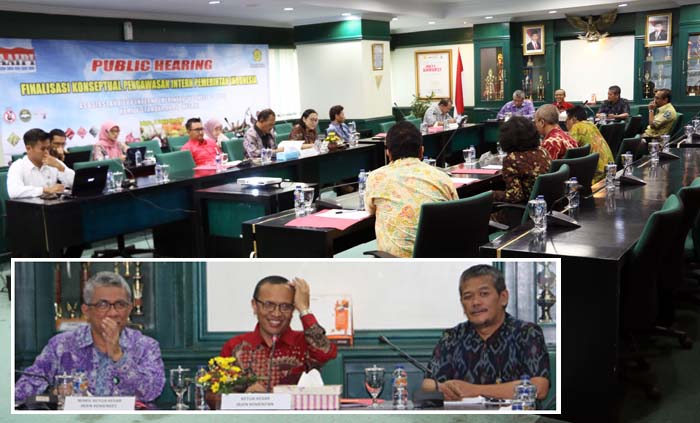 PUBLIC HEARING: Rapat rutin AAIPI di Kementan dipimpin Irjentan Justan Riduan Siahaan (batik merah) dan Irjenkes Oscar Primadi sebagai moderator didampingi Sesitjen Suprodjo Wibowo (Foto2: Humas Itjentan/Irfan)
Jakarta (B2B) - Inspektorat Jenderal Kementerian Pertanian RI (Itjentan) kembali menjadi tuan rumah rapat bulanan dari Asosiasi Auditor Intern Pemerintah Indonesia disingkat AAIPI membahas peningkatan kapasitas Aparat Pengawasan Intern Pemerintah (APIP) mengacu pada praktik pengawasan APIP yang berlaku internasional, International Professional Practices Framework (IPPF) sebagai acuan internal audit.

Irjen Kementan, Justan Riduan Siahaan selaku Ketua Komite Standar Audit (Kesar) memimpin public hearing tentang ´FInalisasi Konseptual Pengawasan Intern Pemerintah Indonesia´ di Jakarta, Jumat petang (14/9) didampingi Wakil Ketua Kesar, Oscar Primadi yang bertindak selaku moderator sementara Ketua AAIPI, Sumiyati tidak hadir. Tampak hadir Sekretaris Itjen Kementan, Suprodjo Wibowo; Inspektur II Itjentan, Bambang Pamuji; dan Inspektur IV Itjentan, IGMN Kuswandhana.

"Kegiatan public hearing hari ini merupakan tindak lanjut penyusunan kerangka konseptual tugas dan fungsi pengawasan intern yang menjadi tupoksi dari APIP di kementerian, lembaga, dan instansi pemerintah mengacu pada pedoman IPPF sebagai standar audit internasional," kata Justan RS.

Dia menambahkan AAIPI masih membuka ruang diskusi publik, untuk memperbaiki konseptual kerangka kerja (framework) sesuai target 2018 untuk penyusunan ´pedoman pemeriksaan investigasi dan audit kinerja´ merujuk pada Pasal 53 Ayat 1 PP No 60/2008 dan International Professional Practices Framework (IPPF) sebagai acuan layanan internal audit.

Justan mengatakan IPPF merupakan kerangka kerja Auditor Pemerintah dalam melakukan layanan internal audit, sementara IPPF dikeluarkan oleh Institute of Internal Auditor (IIA).

Oscar Primadi mengatakan Pedoman IPPF meliputi Pedoman Wajib sebagai mandatory guidance seperti definisi internal audit, kode etik, standar dan prinsip-prinsip utama. Panduan Implementasi dan Panduan Tambahan masuk kategori sebagai Pedoman yang Disarankan.

"Peran internal audit adalah assurance berupa audit, pemantauan, review, sedangkan consulting belum didefinisikan secara spesifik. Sesuai UU maka audit keuangan oleh Badan Pemeriksa Keuangan atau BPK yang merupakan assurance. Hal itu mengacu pada pilar audit internal yakni risiko, pengawasan dan governance," kata Oscar Primadi yang juga menjabat Irjen Kementerian Kesehatan.

Profil AAIPI
AAIPI adalah organisasi profesi yang beranggotakan perorangan dan unit kerja APIP yang telah memenuhi persyaratan keanggotaan sebagaimana diatur di dalam anggaran rumah tangga (ART).

Unit kerja APIP merupakan instansi pemerintah yang dibentuk dengan tugas melaksanakan pengawasan intern di lingkungan pemerintah pusat dan/atau pemerintah daerah, yang terdiri dari Badan Pengawasan Keuangan dan Pembangunan (BPKP), inspektorat jenderal/inspektorat/unit pengawasan intern pada kementerian/kementerian negara, inspektorat utama/inspektorat lembaga pemerintah non kementerian, inspektorat/unit pengawasan intern pada kesekretariatan lembaga tinggi negara dan lembaga negara, inspektorat provinsi/kabupaten/kota, dan unit pengawasan intern pada badan hukum pemerintah lainnya sesuai dengan peraturan perundang-undangan.

AAIPI didirikan di Jakarta pada 30 November 2012 melalui rapat pleno pembentukan AAIPI di Aula Gandhi kantor BPKP Pusat Jl Pramuka 33 Jakarta Timur.

Dengan terbentuknya AAIPI, maka Forum Bersama (Forbes) APIP Pusat dan Daerah serta organisasi APIP dengan nama lain meleburkan diri dan menjadi anggota AAIPI. Pengurus Forbes APIP di daerah menjadi pengurus AAIPI di wilayah provinsi yang bersangkutan.
Jakarta (B2B) - Inspectorate General of the Indonesian Agriculture Ministry host monthly meetings of Association of Indonesian Government Internal Auditors or the AAIPI to discuss capacity building the government´s internal control apparatus or APIP referring to international standard internal audits, International Professional Practices Framework (IPPF) as the reference for internal audit.

Inspector General of the Agriculture Ministry, Justan Riduan Siahaan as Chairman of the Audit Standards Committee or Kesar lead the public hearing here on Friday (September 14) accompanied by Deputy Chair Kesar, Oscar Primadi as moderator while the Chairperson of AAIPI, Sumiyati was not present. Also attended several related officials.

"Today´s public hearing activity is a follow-up to the drafting of the conceptual framework and the internal supervisory function which is the main function of APIP in the ministries and government agencies "refers to the IPPF guidelines as an international audit standard," said Mr Siahaan.

He said that AAIPI still opens the opportunity for public discussion, to improve the framework according to the 2018 target for the preparation of ´guidelines for investigation and performance audit´ referring to refer to government regulations and the International Professional Practices Framework (IPPF) as a reference for internal audit services.

Mr Siahaan said the IPPF is a government auditor´s framework conduct internal audit services, while IPPF is issued by the Institute of Internal Auditors (IIA).

Mr Primadi said the IPPF Guidelines are Mandatory Guidance such as the definition of internal audit, code of ethics, standards and key principles. Implementation Guidance and Supplemental guidance as the Strongly Recommended Guidance.

"Internal audit as assurance, monitoring, review, while consulting has not been specifically defined. In accordance with the law, a financial audit by the Supreme Audit Agency or BPK which is an assurance. It refers to internal audit pillars such as risk, supervision and governance, "said Mr Primadi who also served as the Inspector General of Indonesian Health Ministry.

AAIPI Profile
AAIPI is a professional organization composed of individuals and APIP work units, which meet membership requirements as set out in the organization´s requirements.

The APIP work unit is a government agency formed with the task of implementing internal control within the central and/or regional governments, comprising auditors of financial and development supervisory bodies, inspectorates general/inspectorate/internal control unit at ministries/ministries of state, main inspectorate/inspectorate of non-ministerial government institution, inspectorate/internal supervision unit on secretariat of state and state institutions, provincial/regency/municipal inspectorate, and internal control unit of other government legal entity in accordance with the laws and regulations.

AAIPI was established in Jakarta on 30 November 2012 through a plenary meeting in East Jakarta.

The establishment of AAIPI, a joint forum of APIP at the central and regional levels, and other organizations become AAIPI members. The governing board of APIP in the region becomes the AAIPI board in the provinces.