Efisiensi Produksi 48%, Capaian Ditjen PSP Kementan di Era Jokowi
Modernization of Indonesian Agriculture Supports Production Efficiency 48%
Reporter : Gusmiati Waris
Editor : Cahyani Harzi
Translator : Dhelia Gani

PUBLISHED: Sabtu, 24 November 2018 , 12:29:00 WIB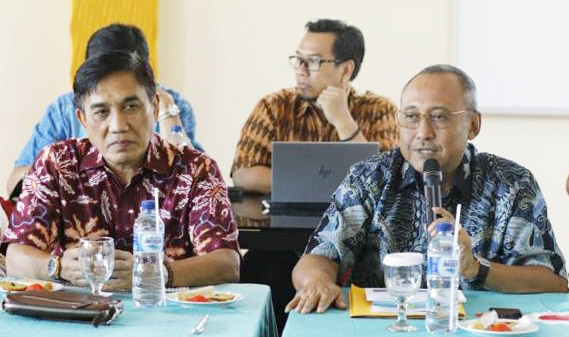 MEKANISASI PERTANIAN: Dirjen PSP Kementan, Pending Dadih Permanan (kanan) menjawab pers didampingi Sekretaris Ditjen PSP, Mulyadi Hendiawan (Foto: B2B/Mya)
Jakarta (B2B) - Selama empat tahun terakhir, kebijakan dan program Direktorat Jenderal Prasarana dan Sarana Pertanian (Ditjen PSP) Kementerian Pertanian RI fokus mendukung peningkatan produksi subsektor tanaman pangan, hortikultura, perkebunan, dan peternakan sehingga mampu meningkatkan efisiensi produksi pertanian hingga 48% di era Pemerintahan Joko Widodo - Jusuf Kalla.
"Dukungan tersebut diimplementasikan melalui pengelolaan air, sistem pembiayaan usaha pertanian, mekanisasi pertanian, fasilitasi pupuk bersubsidi, peluasan dan perlindungan lahan," kata Dirjen PSP Pending Dadih Permana kepada pers di Jakarta, Jumat (23/11).
Menteri Pertanian RI Andi Amran Sulaiman terus mendorong modernisasi kegiatan budidaya pertanian secara keseluruhan. Mulai dari olah lahan, olah tanam, panen hingga pasca panen untuk mengantisipasi keterbatasan tenaga kerja di sektor pertanian.
"Langkah modernisasi melalui mekanisasi pertanian juga bertujuan menarik minat generasi muda kembali ke pertanian sebagai sumber mata pencaharian di era milenium," kata Dirjen Pending DP pada kegiatan Bincang Asyik Pertanian Indonesia disingkat Bakpia, yang dihadiri Sekretaris Ditjen PSP, Mulyadi Hendiawan.
Menurutnya, kebijakan Kementan di bawah kendali Amran Sulaiman menyadari kecenderungan global atas menurunnya minat generasi muda ke sektor pertanian, sehingga harus didorong dan diantisipasi dengan mekanisasi pertanian.
Bahkan Jepang yang dikenal sebagai negara maju yang tetap mengedepankan sektor pertanian juga menghadapi kendala serupa, seperti diuraikan oleh direktur di Kementerian Pertanian, Perikanan dan Kehutanan Jepang (MAAF) Takahashi Hiranaka saat menerima kunjungan dari tim Kementan dipimpin oleh Staf Ahli Menteri bidang Mekanisasi, Sam Herodian pada akhir Oktober lalu.
"Saat ini ada kecenderungan secara global, tidak hanya di Indonesia, tenaga kerja pertanian berkurang, minat generasi muda juga semakin menurun. Tentunya kita harus genjot modernisasi pertanian," kata Dirjen Pending DP.
Dalam upaya pengembangan mekanisasi pertanian, Kementan melalui Ditjen PSP telah menyalurkan bantuan alat mesin pertanian (Alsintan) sebanyak 423.197 unit sejak 2014 hingga saat ini, atau meningkat 1.526% dari 2013.
Alsintan tersebut meliputi traktor roda dua (TR2), traktor roda empat (TR4), pompa air, rice transplanter kecil maupun sedang dan besar, mesin pengering, excavator, cultivator dan lainnya untuk mendukung peningkatan produksi tanaman pangan, hortikultura, perkebunan, dan peternakan.
"Bantuan diberikan langsung kepada kelompok tani atau melalui dinas pertanian provinsi hingga kabupaten dan kota untuk mendukung program unit pelayanan jasa Alsintan atau UPJA dan Brigade Alsintan," kata Pending DP.
Jakarta (B2B) - Over the past four years, policies and programs of Indonesian Agriculture Ministry The Directorate General for Agriculture Infrastructure or the Ditjen PSP focus on increasing the production of the food crops, horticulture, plantation and livestock subsectors so that agricultural production is efficient up to 48% in Joko Widodo´s administration.
"The support is implemented through water management programs, agricultural business financing systems, agricultural mechanization, subsidized fertilizer, expansion and protection of agricultural land," Director General of PSP Pending Dadih Permana told the press here on Friday (November 23).
Indonesian Agriculture Minister, Andi Amran Sulaiman continue to encourage agricultural modernization for cultivation, planting, harvesting until post-harvest to anticipate lack of manpower in the agricultural sector.
"Modernization through agricultural mechanization also aims to attract young people back to agriculture as the livelihood in the millennium era," said Mr Permana who was accompanied by Secretary of the Directorate General of PSP, Mulyadi Hendiawan.
According to him, the ministry´s policy anticipates global trends the decline in interest of the younger generation into the agricultural sector, so it must be anticipated by agricultural mechanization.
Even Japan, known as a developed country but still prioritizing the agricultural sector also faces similar obstacles, as described by the director at the Ministry of Agriculture, Japanese Fisheries and Forestry (MAAF) Takahashi Hiranaka to the team of Indonesian Agriculture Ministry who visited Japan recently.
"At present there is a global trend, not only in Indonesia, agricultural labor decreases, interest of the younger generation also declined. Of course we have to push agricultural mechanization," Mr Permana said.
In development of agricultural mechanization, the ministry has distributed agricultural machinery as much as 423 197 units since 2014 to the present, an increase of 1,526% from 2013.
The assistance of agricultural machinery includes two-wheel tractors, four-wheel tractors, water pumps, rice transplants, drying machines, excavators, cultivators and others to support the production of food crops, horticulture, plantations and livestock.
"Agricultural machinery assistance is given directly to farmer groups or through the agricultural service office," Mr Permana said.