Dirjen PSP Minta Petani Brebes Pakai Pupuk dan Pestisida secara Tepat
Senior Indonesian Officials Asked Farmers to Use Fertilizer Properly
Editor : M. Achsan Atjo
Translator : Dhelia Gani

PUBLISHED: Senin, 29 Juli 2019 , 01:27:00 WIB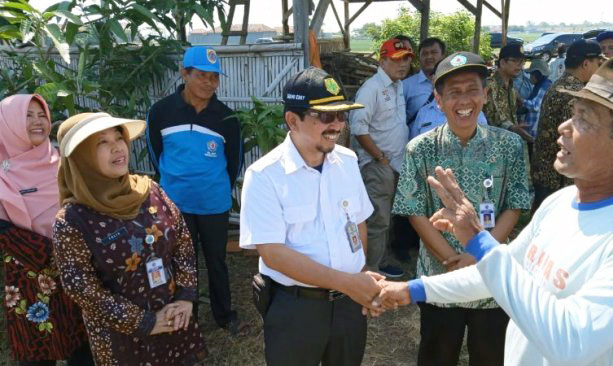 APRESIASI PETANI: Dirjen PSP Kementan, Sarwo Edhy [kemeja putih] menyambut hangat kehadirannya dalam kunjungan kerja di Brebes [Foto: istimewa]
Brebes, Jawa Tengah [B2B] - Kementerian Pertanian RI mendorong dan mendukung petani bawang di Kabupaten Brebes, Provinsi Jawa Tengah untuk menjaga sifat biologi dan struktur tanah melalui penggunaan pupuk dan pestisida secara tepat dan benar, mengingat potensi lahan dan kesuburan tanah Brebes untuk produksi komoditas tanaman pangan, hortikultura dan perkebunan.
"Kunjungan kami di Brebes saat ini, fokus pada penggunaan pupuk dan pestisida, karena biasanya penggunaannya berlebihan sehingga merusak sifat biologi maupun struktur tanah. Nah, mulai sekarang harus difikirkan bagaimana kita dapat menyehatkan tanah di Brebes agar subur kembali, khususnya penggunaan pupuk berimbang," kata Dirjen Prasarana dan Sarana Pertanian [PSP Kementan] Sarwo Edhy di Brebes, belum lama ini.
Dia menambahkan bahwa Kementan mengharapkan struktur tanah di Brebes secara bertahap dapat diperbaiki, kembali subur dengan menggunakan pupuk yang berimbang, sehingga tidak memboroskan untuk untuk membeli pestisida.
"Tujuan kami ke Brebes juga untuk memantau keberhasilan menggunakan pupuk organik yang memang diperlukan oleh tanah, dan mengurangi pestisida secara bertahap," kata Sarwo Edhy.
Kepala Dinas Pertanian Kabupaten Brebes Yulia Hendrawati mengapresiasi kunjungan Ditjen PSP Kementan untuk melihat secara langsung kegiatan budidaya tanaman pangan dan hortikultura.
"Alhamdulillah hasilnya baik. Tadi disampaikan Pak Dirjen tentang harapan produktivitas tinggi, tapi yang perlu diingat oleh petani adalah penggunaan pestisida yang benar. Baik secara dosis maupun kapasitas pemakaian," kata Yulia Hendrawati. [Sur]
Brebes of Central Java [B2B] - Indonesian Agriculture Ministry encourages and supports shallot farmers in Brebes district of Central Java province to maintain the biological nature and structure of the land through proper and correct use of fertilizers and pesticides.