Irjentan Optimistis Cianjur Tambah Luas Tanam Padi pada Juni
Indonesia Food Security is the Country`s Defense Anticipate Covid-19
Editor : M. Achsan Atjo
Translator : Dhelia Gani

PUBLISHED: Minggu, 14 Juni 2020 , 01:30:00 WIB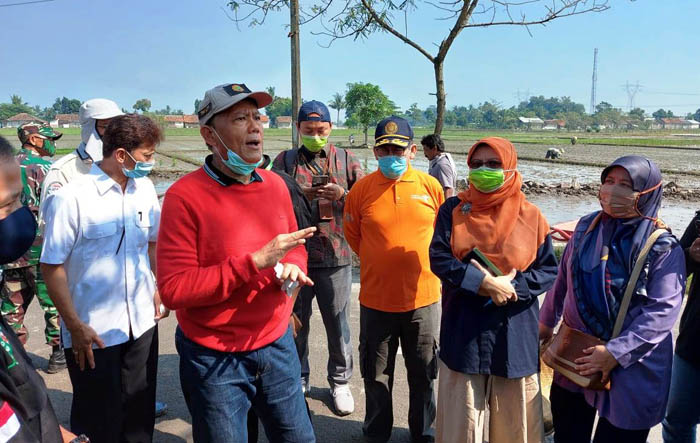 GPOT CIANJUR: Irjentan Gatot Irianto [kaos merah] melakukan koordinasi dengan pihak terkait dan para pemangku kepentingan di Cianjur usai pencanangan GPOT [Foto: Humas Itjentan]
Cianjur, Jabar [B2B] - Sasaran luas tanam pada musim kemarau hingga September 2020 seluas 5,6 juta hektar telah dicanangkan Menteri Pertanian RI Syahrul Yasin Limpo di Cilacap, Sabtu [13/6]. Strategi serupa dilakukan Inspektur Jenderal Kementerian Pertanian RI [Irjentan] Gatot Irianto mendukung target Mentan saat menghadiri gerakan percepatan olah tanah [GPOT] Kabupaten Cianjur yang dipusatkan di Desa Hagar Manah Kecamatan Bojong Picung, Sabtu [13/6].
"Kementan akan terus menggencarkan gerakan percepatan tanam padi di sejumlah daerah agar jadwal tanam tidak mundur, termasuk di Cianjur. Langkah strategis ini juga untuk mengantisipasi krisis pangan di tengah pandemi Covid-19," kata Irjentan Gatot Irianto.
Menurutnya, pilihan paling tepat mengantisipasi kekurangan stok pangan di masa pandemi Covid-19, dengan mempercepat proses tanam pada lahan produktif yang telah selesai panen.
"Pelaksanaan tanam tidak boleh mundur dari jadwal tanam. Pihak dinas pertanian dapat menyasar lahan kering untuk dimanfaatkan menanam padi. Harus ada tambahan signifikan agar kebutuhan pangan pada masa pandemi Covid-19 tidak terganggu," kata Gatot Irianto.
Kepala Dinas Pertanian, Perkebunan, Pangan dan Hortikultura Kabupaten Cianjur, Mamad Nano mengaku optimistis target tanam Kabupaten Cianjur pada Juni 2020 seluas 15.000 hektar dapat tercapai.
"Kami sedang berupaya keras memenuhi target tanam Juni 2020 seluas 15.000 hektar, khususnya untuk areal sawah yang teraliri air irigasi, salah satunya dengan kegiatan GPOT pada Sabtu [13/6] seluas 224 hektar," kata Mamad Nano.
Dia menambahkan bahwa pihaknya melakukan upaya perluasan tanam pada areal kering. "Mudah-mudahan dapat tercapai seluas 7.000 hektar."
Mamad Nano mengakui bahwa potensi lahan kering di kabupaten Cianjur masih cukup luas untuk mendukung perluasan tanam, dari areal seluas 66.934 hektar sawah, hanya 45.000 hektar yang teraliri irigasi dengan baik.
Kegiatan GPOT di Kabupaten Cianjur juga dihadiri oleh Luthfi Halide; Staf Khusus Mentan, Inspektur II Tin Latifah; Sekretaris Ditjen Tanaman Pangan Bambang Pamuji; sejumlah penyuluh dan POPT Kabupaten Cianjur. [Rin]
Cianjur of West Java [B2B] - Indonesian Agriculture Ministry immediately formulate strategic policy of food security and nutrition, as one of the efforts to support President Joko Widodo in formulating food policy, because food security is identical to the country's security anticipate coronavirus, according to the Minister Syahrul Yasin Limpo.