Penyuluh Trenggalek Wajib Dampingi Petani Jagung Hadapi Panen Raya
Indonesian Agricultural Extentionists Must Accompany Farmers to Face Corn Harvest
Reporter : Gusmiati Waris
Editor : Cahyani Harzi
Translator : Dhelia Gani

PUBLISHED: Minggu, 03 Maret 2019 , 13:15:00 WIB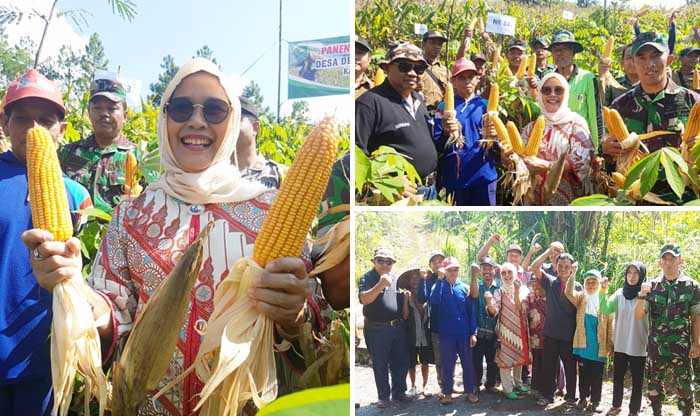 PJ UPSUS PAJALE: Direktur Pembiayaan Pertanian Ditjen PSP, Sri Kuntarsih Trenggalek(kiri) panen dengan Kadistan Joko Surono dan Dandim 0806/Trenggalek, Letkol Inf Dodik Novianto (Foto2: Humas Ditjen PSP)
Trenggalek, Jatim (B2B) - Penyuluh pertanian diwajibkan mendampingi petani Trenggalek di Provinsi Jawa Timur menghadapi panen raya jagung hingga akhir Maret 2019, mengingat peran strategis penyuluh dalam peningkatan pengetahuan petani akan teknologi maupun informasi-informasi pertanian yang baru untuk meningkatkan kesejahteraan petani.
Hal itu dikemukakan oleh Sri Kuntarsih, Direktur Pembiayaan Pertanian - Direktorat Jenderal Prasarana dan Sarana Pertanian, Kementerian Pertanian RI (Ditjen PSP Kementan); Kepala Dinas Pertanian Pemkab Trenggalek, Joko Surono; dan Dandim 0806/Trenggalek, Letkol Inf Dodik Novianto usai panen jagung di Desa Dermosari, Kecamatan Tugu, belum lama ini.
Sri Kuntarsih mengatakan untuk mendukung produksi jagung diperlukan upaya meningkatkan produktivitas dengan memberikan penyuluhan. Peranan penyuluhan dalam memberikan pengetahuan kepada petani dapat berfungsi sebagai proses penyebarluasan informasi, fungsi penerangan atau memberikan penjelasan, fungsi perubahan perilaku petani dan fungsi pendidikan.
"Penyuluh wajib mengembangkan kemampuan petani secara bertahap agar pengetahuannya meningkat, mengakses informasi, dan kemampuan mengaplikasikan teknologi yang dibutuhkan sehingga petani dapat memecahkan masalah serta mengambil keputusan yang terbaik untuk usaha taninya," kata Sri Kuntarsih, yang juga menjabat Penanggung Jawab Program Upsus Pajale Karesidenan Madiun.
Panen jagung tersebut berlangsung di lahan kering milik Perum Perhutani, yang dimanfaatkan petani dari Poktan Tani Makmur memanfaatkan benih jagung swadaya petani.
"Produktivitas hasil panen kami mencapai 6,3 ton per hektar dari luasan 300 hektar. Harga jagung belum lama ini masih Rp4.100 kg tapi terus turun sehingga kami mengharapkan bantuan pemipil jagung untuk pengolahan pasca panen. Kami jual setelah harga jagung kembali normal," kata Muhaji, Ketua Poktan Tani Makmur.
Kadistan Joko Surono menambahkan, penyuluh pertanian berperan strategis sebelum petani menanam jagung hingga pasca panen. Mulai dari pemilihan benih, pengolahan tanah, penanaman, pemupukan, pemeliharaan, pengendalian hama penyakit, panen hingga pasca panen.
"Itulah peran penyuluh sebagai edukator, sementara sebagai fasilitator tugasnya mendukung pembuatan RDKK pupuk bersubsidi, pembuatan demplot, proposal, kios Saprodi, rencana usaha tani, penumbuhan kelompok tani, dan alternatif solusi tiap masalah yang dihadapi petani," katanya.
Letkol Inf Dodik Novianto memastikan bahwa bintara pembina desa (Babinsa) di tiap komando rayon militer (Koramil) di tiap kecamatan di Trenggalek siap melakukan pendampingan dan pengawalan kepada penyuluh untuk mengoptimalkan peran dan fungsi penyuluhan.
"Babinsa di seluruh Trenggalek siap dikerahkan mendukung petani dan penyuluh meningkatkan produksi jagung dan kesejahteraan petani," katanya.
Trenggalek of East Java (B2B) - Agricultural extensionists are required to support farmers in Trenggalek district of East Java province facing the corn harvest until the end of March 2019, considering the strategic role of increasing farmers´ knowledge of technology and new agricultural information to improve the welfare of farmers.
It was stated by Sri Kuntarsih, Director of Agricultural Financing at the Directorate General of Agricultural Infrastructure and Facilities of Indonesian Agriculture Ministry; Head of the Trenggalek Agriculture Office, Joko Surono; and the Commander of Trenggalek´s Military Resort, Lt. Col. Inf Dodik Novianto after corn harvest in Dermosari village of Tugu subdistrict, recently.
Sri Kuntarsih said that to support corn production efforts were needed to increase productivity with agricultural extension. Its role, to provide knowledge to farmers for information dissemination, the function of disseminating information, the function of changing farmer behavior and the function of education.
"Agricultural extensionists must develop the ability of farmers to increase farmers´ knowledge, access to information, application of technology so that farmers can solve problems, and make the best decisions for farmers," said Sri Kuntarsih.
The corn harvest takes place on dry land owned by Indonesian forestry SOEs, the farmers of the Tani Makmur farmer group.
"The productivity of our corn harvest reaches 6.3 tons per hectare. The price of corn recently was still IDR4,100 kg but continued to fall so we expect government-assisted corn shelling machines for post-harvest processing," said Muhaji, Chair of the Tani Makmur farmer group.
Joko Surono said the agricultural extensionists play a strategic role before farmers plant corn until the post-harvest process. Starting of seed selection, tillage, planting, fertilizing, maintenance, pest control, and harvesting to post-harvest.
"That is the role of an educator, while as a facilitator support farmers to get subsidized fertilizer, making demonstration plots, proposals, kiosks for production facilities, farming plans, developing farmer groups, and solutions to problems faced by farmers," he said.
Lt. Col. Inf Dodik Novianto ensured that his soldiers were in each military district command acrosst the Trenggalek ready to provide assistance and escort to agricultural extensionists to optimize the extension function.
"The village supervisors across the Trenggalek are ready to be deployed to support farmers and agricultural extensionists to increase corn production and farmers´ welfare," he said.