Asuransi Ternak, Ditjen PSP Gelar Bimtek SIAP Kelompok Peternak Sumut
Indonesian Agriculture Ministry Socializes Livestock Insurance in North Sumatra
Reporter : Gusmiati Waris
Editor : Cahyani Harzi
Translator : Dhelia Gani

PUBLISHED: Rabu, 06 Maret 2019 , 13:26:00 WIB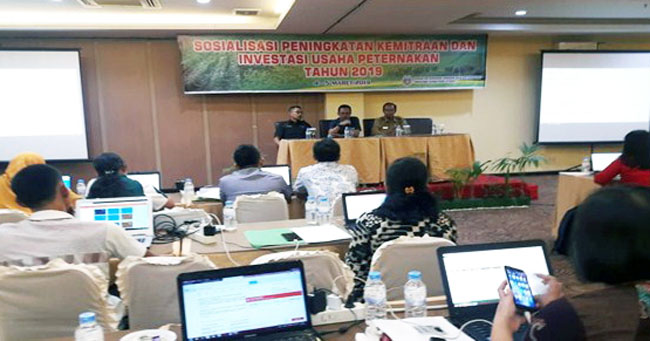 SOSIALIASI ONLINE: Ditjen PSP Kementan menggelar Bimtek Asuransi Ternak di Medan, Sumut (Foto: Humas Ditjen PSP)
Medan, Sumut (B2B) - Kementerian Pertanian RI menggelar ´bimbingan teknis asuransi usaha ternak sapi/kerbau´ disingkat Bimtek AUTS/K pada kelompok peternak di Sumatera Utara, yang mendapat bantuan lebih 2.500 ekor sapi dan kerbau dari pemerintah provinsi dari APBD tahun anggaran 2019.
Kegiatan Bimtek bertujuan sosialisasi peningkatan kemitraan dan investasi usaha peternakan dan penggunaan aplikasi online Sistem Informasi Asuransi Pertanian (SIAP), dan sedikitnya 550 ekor sapi/kerbau dari Kabupaten Batubara dan Serdang Bedagai sudah di-input SIAP sampai proses penerbitan polis ternak.
Kegiatan Bimtek SIAP yang digelar oleh Direktorat Jenderal Prasarana dan Sarana Pertanian (Ditjen PSP) di Medan dibuka oleh Kabid Peternakan Dinas Pertanian Pemprov Sumut, Nurdin Effendi. Hadir Kasubdit Pemberdayaan Permodalan dan Asuransi Pertanian, Waluyo mewakili Direktur Pembiayaan Pertanian Ditjen PSP Kementan, Sri Kuntarsih dan Kepala Cabang Jasindo Medan, Sitorang sebagai pelaksana pelatihan aplikasi online SIAP dengan mengerahkan sejumlah instruktur IT dari Jasindo Medan pada Bimtek yang berlangsung dua hari, 5 - 6 Februari 2019 di Medan yang diikuti oleh perwakilan dari masing-masing dinas peternakan kabupaten/kota di seluruh Sumut.
"Kami berharap kegiatan Bimtek Aplikasi SIAP dapat mempercepat pendaftaran para peternak penerima bantuan ternak sapi dan kerbau, sehingga target pelaksanaan perlindungan asuransi ternak di Sumut segera terealisasi," kata Nurdin Effendi.
Kasubdit Waluyo mewakili Direktur Sri Kuntarsih yang hadir sebagai narasumber dari Ditjen PSP Kementan memberikan dukungan dan motivasi bagi para pemangku kepentingan pelaku bisnis peternakan Sumut.
"Kita semua tahu bahwa risiko berusaha dibidang peternakan begitu rentan. Misalnya sapi terkena penyakit yang menyebabkan kematian, rawan pencurian, sehingga perlu ada upaya khusus untuk melindungi peternak dan keberlangsungan usaha ternak," kata Waluyo.
Hal itu mengacu pada UU Perlindungan dan Pemberdayaan Petani No 19/2013 dan Permentan No 40/2015 tentang Asuransi Pertanian.
Sebagaimana diberitakan, Ditjen PSP Kementan meluncurkan aplikasi online SIAP di Bogor, Rabu (23/1) untuk mendukung digitalisasi layanan asuransi usaha tanaman pangan (AUTP) dan AUTS dengan aplikasi Android yang didesain secara sederhana dan simpel, agar mudah digunakan oleh petani/peternak untuk proses administrasi dan pembayaran premi asuransi pertanian.
Sitorang mengatakan bahwa Jasindo sebagai pelaksana di lapangan berkewajiban untuk memastikan peng-input-an pendaftaran peserta dengan aplikasi online, dan dapat digunakan dengan baik dan lancar, "karena hampir semua petugas peternakan sudah terkoneksi internet."
Peserta pelatihan, Suliha, petugas peternakan dari Kabupaten Batubara mengakui aplikasi SIAP sangat memudahkan peternak untuk mendaftar karena berbasis online, sehingga input data peserta asuransi ternak bisa dilakukan dimana saja via ponsel Android.
Sulihan pun langsung membawa daftar calon peserta asuransi peternakan dari kabupatennya, total ada 550 ekor sapi/kerbau yang di-input dari Kabupaten Batubara dan Serdang Bedagai.
Medan of North Sumatera (B2B) - Indonesian Agriculture Ministry held ´livestock insurance technical guidance´ to farmers in North Sumatra province after they got livestock assistance more than 2,500 cows and buffaloes from the provincial government through the 2019 regional government budget.
Technical guidance activities as livestock business socialization and online application of Agricultural Insurance Information System or the SIAP, and at least 550 cattle and buffaloes of Batubara and Serdang Bedagai districts became the SIAP participants.
Technical guidance of livestock insurance held by the Directorate General of Agricultural Infrastructure and Facilities in Medan was opened by head of the provincial livestock office, Nurdin Effendi. Junior official of Ditjen PSP, Waluyo represents the Director of Agricultural Finance, Sri Kuntarsih and Head of the Medan Jasindo Branch, Sitorang by deploying number of IT instructors of Jasindo Medan.
"We hope that the Bimtek application of the SIAP can accelerate the registration of farmers who receive cattle and buffalo assistance, so that target of livestock insurance socialization in the province will be realized," said Nurdin Effendi.
Waluyo, who was present as the resource person of the ministry, provided support and motivation for stakeholders of livestock in the province.
"We know the risk of livestock business is high, such as disease and theft, so it needs insurance, and the continuity of livestock business," he said.
It refers to the Law on the Protection and Empowerment of Farmers Number 19/2013 and Agriculture Ministry Regulation Number 40/2015 of Agricultural Insurance.
As reported, the Ditjen PSP launches SIAP online application in Bogor on Wednesday (January 23) to support digitalization of agricultural insurance services with an Android application so that it is easy to use by farmers for administrative processes and payment of agricultural insurance premiums.
Sitorang said that Jasindo as an insurance company must ensure participant registration input with an online application, and can be used well and smoothly.
Suliha, officer of Batubara district livestock office admitted the SIAP application makes it easy for farmers to register livestock insurance because it is based online, so that data input can be done anywhere and anytime via an Android smartphone.
Sulihan registered prospective livestock insurance participants from his district, total of 550 cows and buffaloes participated in livestock insurance from Batubara and Serdang Bedagai districts.