Manfaat Tambahan, Petani Harus Faham UPJA Dukung Ekonomi Pedesaan
Indonesian Farmers Optimize Agricultural Machinery
Editor : M. Achsan Atjo
Translator : Dhelia Gani

PUBLISHED: Jum'at, 27 September 2019 , 13:35:00 WIB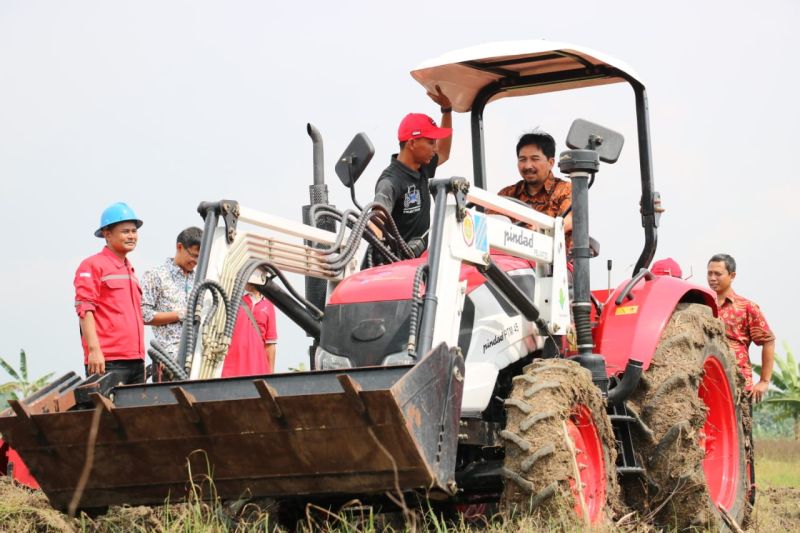 UJI COBA ALSINTAN: Dirjen PSP Kementan, Sarwo Edhy menguji coba Alsintan setelah meresmikan UPJA di daerah [Foto: Humas Ditjen PSP]
Jakarta [B2B] - Kementerian Pertanian RI mengizinkan Unit Pelayanan Jasa Alat dan Mesin Pertanian [UPJA] untuk menyewakan Alsintan sebagai ´sumber penghasilan´ bagi UPJA untuk membeli spare part [suku cadang] dan biaya maintenance [perawatan] namun tetap memprioritaskan kepentingan petani melakukan olah lahan, tanam dan panen.
"Alsintan yang dikelola secara khusus oleh UPJA, hasil sewanya bisa digunakan untuk membeli sparepart dan biaya perawatan. Bahkan, kalau hasil sewanya banyak, pengelola UPJA dapat membeli Alsintan untuk mengembangkan usahanya," kata Direktur Jenderal Prasarana dan Sarana Pertanian - Kementerian Pertanian RI [PSP Kementan] Sarwo Edhy pada Rabu [25/9].
Menurutnya, apabila Alsintan dikelola dengan baik akan mendorong dan mempercepat terwujudnya pertanian modern. Petani yang memanfaatkan Alsintan pun dapat lebih cepat dalam mengolah lahan, tanam dan panen.
"Petani yang sudah memanfaatkan alsintan produksi pertanamannya pun meningkat. Dari sebelumnya dua kali per tahun setelah menggunakan Alsintan bisa tanam tiga kali per tahun, sehingga indeks pertanaman pun meningkat," katanya.
Kementan melalui Ditjen PSP pun berupaya mempermudah aplikasi alsintan sampai ke tingkat petani, pemerintah bersama penyedia jasa alsintan terus melakukan pelatihan langsung cara mengoperasikan alsintan di sejumlah kelompok tani [Poktan] dan gabungan kelompok tani [Gapoktan].
"Ada juga pelatihan cara merakit Alsintan untuk para operator dan ada juga pelatihan tata cara pengoperasian alsintan," ujarnya.
Sarwo Edhy juga mengatakan, sampai saat ini sejumlah pengelola alsintan di desa-desa tak ada masalah dengan sparepart. Sebab, penyedia alsintan sudah menyiapkannya. Bahkan, penyedia alsinta memberi garansi selama setahun.
"Di sejumlah UPJA juga sudah ada yang mengintegrasikan usahanya dengan usaha perbengkelan. Kami juga sudah menyiapkan mobil service alsintan yang keliling di sejumlah daerah meski jumlahnya tak banyak," papar Sarwo Edhy.
Apabila di satu desa atau kecamatan ada alsintan yang berlebih bisa dimanfaatkan ke daerah lainnya. "Sebab setelah kami lakukan evaluasi memang ada beberapa desa yang penggunaan alsintannya kurang maksimal. Sehingga alsintan tersebut bisa dioptimalkan ke daerah lain," tutur Sarwo. [Sur]
Jakarta [B2B] - Indonesian Agriculture Ministry expects agricultural machinery rental in the subdistrict or UPJA as job opportunities for youth in rural areas, which encouraged their interest in agricultural machinery or Alsintan technology agricultural machinery will make them the most teenagers to work hard to build their village so no need to go to town to find work because they are proud to work on UPJA, according to the senior official of agriculture ministry.