Strategi Pengawasan, ItJenTan Ubah dari Intern ke Jaminan Mutu Terbatas
Inspector General of Indonesian Agriculture Ministry Changed the Strategy
Editor : M. Achsan Atjo
Translator : Dhelia Gani

PUBLISHED: Sabtu, 08 Desember 2018 , 13:45:00 WIB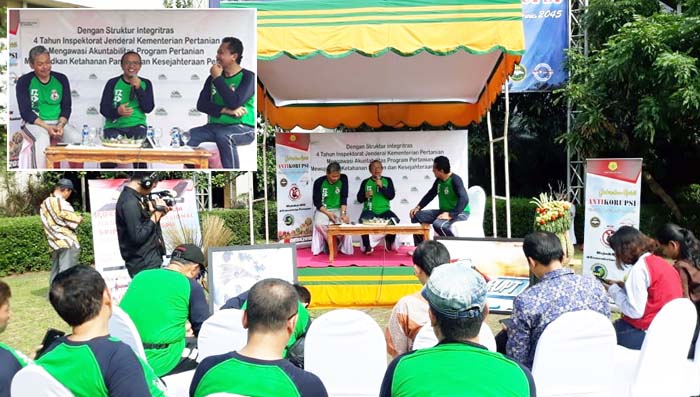 BAKPIA ITJENTAN: ItJenTan gelar konferensi pers bak ´garden party´ di Kementan, dipimpin Irjentan Justan Siahaan bersama Deputi Polhukam BPKP Ernadhi Sudarmanto (Foto2: Humas ItJenTan/Irfan Arnando)
Jakarta (B2B) - Inspektorat Jenderal di Kementerian Pertanian RI atau ItJenTan mengubah kebijakan dan strategi, dari pengawasan intern berubah menjadi pemberian jaminan mutu terbatas (assurance and consultacy). Tujuannya, meningkatkan akuntabilitas pembangunan dalam bentuk audit, evaluasi, pemantauan, dan pengawalan program dan kegiatan serta review ´laporan keuangan´ dan Rencana Kerja & Anggaran - Kementerian/Lembaga atau RKA-KL.
"ItJenTan mengubah strategi pengawasan bertujuan mendukung keberhasilan program yang ditetapkan menteri pertanian. Kedaulatan pangan dan agroindustri merupakan agenda utama pembangunan nasional di sektor pertanian," kata Inspektur Jenderal Kementan, Justan Siahaan kepada pers di Jakarta pada kegiatan ´Bincang Asyik Pertanian Indonesia´ disingkat Bakpia terkait capaian 4 Tahun ItJenTan, Jumat pagi (7/12).
Tahun 2015 merupakan tonggak perubahan ItJenTan untuk lebih berperan sebagai assurance dan consultant, hal itu tampak pada visi baru, sebelumnya ´lembaga pengawasan yang profesional dalam menegakkan pemerintahan yang baik dan bebas dari KKN di Kementerian Pertanian, menjadi ´mitra proaktif pemilik program dalam mewujudkan kedaulatan pangan dan kesejahteraan petani.
Pada kurun waktu empat tahun, Kabinet Kerja dari Presiden RI Joko Widodo telah menghasilkan capaian positif antara lain peningkatan produksi pangan strategis, stop impor beras, hemat devisa, modernisasi pertanian, bangkitnya investasi sektor pertanian, kesejahteraan petani membaik, dan ketersediaan pangan.
"Menteri Pertanian Andi Amran Sulaiman menetapkan target kinerja untuk mencapai kedaulatan pangan, dengan target produksi komoditas pangan strategis seperti padi, jagung, kedelai, tebu, daging sapi, cabai, bawang merah, kelapa sawit, karet dan kopi. Target tersebut akan dicapai melalui segenap kegiatan strategis di kementerian," kata Justan Siahaan didampingi Deputi Badan Pengawasan Keuangan dan Pembangunan (BPKP) bidang Polhukam, Ernadhi Sudarmanto.
Selain itu dalam rangka peningkatan kapabilitas internal, ItJenTan juga melakukan upaya-upaya melalui penyusunan dan penyempurnaan pedoman pelaksanaan, petunjuk teknis, standar operasional prosedur (SOP) dan kebijakan pengawasan. ItJenTan juga menyusun SPI kegiatan, perencaanan berbasis risiko, audit universe, dan membangun pengawasan berbasis online disingkat Go-Was.
Tampak hadir Sekretaris ItJenTan, Suprodjo Wibowo; Inspektur I, Susanto MM; Inspektur III Bambang Pamuji; Inspektur IV, IGMN Kuswandana; Inspektur Investigasi, Sotarduga Hutabarat; sementara Inspektur II, Tin Latifah berhalangan datang. Hadir pula Kabag Organisasi, Kepegawaian, Hukum dan Humas (OKKH) Edi Puspito Nagara dan Kasubbag Humas, Eko Supriyanto. (Ri2n)
Jakarta (B2B) - Inspectorate General at the Indonesian Agriculture Ministry locally known as the ItJenTan changing policies and strategies, from internal supervision turned into assurance and consultacy. The goal, to improve development accountability through the audit, evaluation, monitoring, and oversee programs and activities and review of ´financial statements´ and Ministry Work Plan and Budget or RKA-KL.
"The ItJenTan changed its supervision strategy to support the success of the program set by the agriculture minister. Food sovereignty and agro-industry are the main agenda of national development in the agricultural sector," told Inspector General Justan Siahaan to the press here on Friday (December 7).
The 2015 is a milestone for ItJenTan´s change to play a role as assurance and consultant, it appears in the new vision, of ´professional supervisory institutions in enforcing good governance and free of corruption in the ministry of agriculture, being a ´proactive partner to realize food sovereignty and farmers´ welfare´.
In the past four years, Joko Widodo administration has positive achievements in the agricultural sector such as increased strategic food production, stop imports of rice, saving foreign exchange, modernizing agriculture, investing in the agricultural sector, improving farmer welfare, and food availability.
"Agriculture Minister Andi Amran Sulaiman sets performance targets to achieve food sovereignty, with production targets for strategic food commodities such as rice, corn, soybeans, sugar cane, beef, chili, shallots, oil palm, rubber and coffee. The target will be achieved through all strategic activities at the ministry," Mr Siahaan said.
In addition to increasing internal capabilities, ItJenTan also makes efforts through the preparation and improvement of implementation guidelines, technical instructions, operational standard procedures and supervision policies. The ItJenTan also composes risk-based planning, universe audits, and online or Go-Was supervision.