Sarwo Edhy: Indonesia Perlu Tingkatkan Keragaman Jenis Pupuk
Indonesia Needs to Increase the Diversity of Fertilizer Types
Editor : M. Achsan Atjo
Translator : Dhelia Gani

PUBLISHED: Kamis, 15 Agustus 2019 , 01:36:00 WIB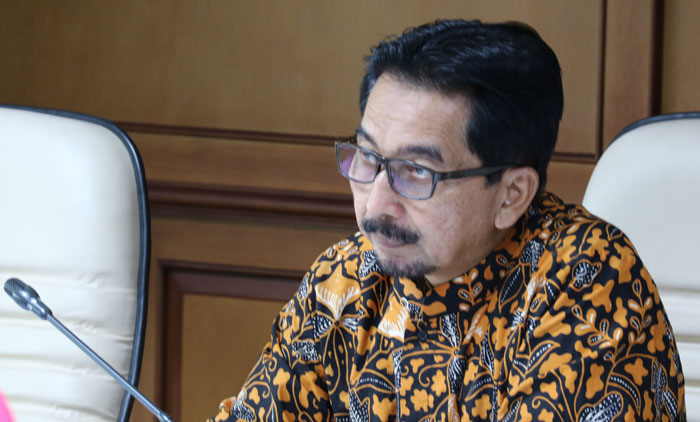 Dirjen PSP Kementan, Sarwo Edhy [Foto: Humas Ditjen PSP Kementan]
Jakarta [B2B] - Dirjen Prasarana dan Sarana Pertanian - Kementerian Pertanian RI [PSP Kementan] Sarwo Edhy menyatakan Indonesia perlu meningkatkan keragaman produk, khususnya dengan pendekatan pada karakteristik lahan seperti sawah, lahan kering, rawa pasangsurut, dan rawa lebak.
"Satu jenis pupuk tidak mungkin bisa untuk semuanya, karena setiap tanaman, setiap lahan, dan setiap musim itu unik. Pupuk merupakan kunci kemajuan pertanian di era modern," kata Dirjen Sarwo Edhy melalui pernyataan tertulis, Rabu [14/8].
Selain itu, Kementan menilai pupuk merupakan kunci kemajuan pertanian di era modern. Hasil penelitian menunjukkan, pupuk menyumbang 20% sampai 40% dalam meningkatkan produktivitas tanaman pertanian, turut membantu para petani dengan menghadirkan pupuk bersubsidi.
Menurutnya, pupuk bersubsidi ini bermacam-macamjenisnya, masing-masing memiliki manfaat tersendiri. Contohnya pupuk urea yang terbuat dari campuran gas amoniak dan gas asam arang. Pupuk bersubsidi urea ini menjadi salah satu paling banyak digunakan petani baik untuk lahan pertanian maupun budidaya.
"Pupuk ini memiliki kadar air yang cukup tinggi sehingga mempercepat pertumbuhan tanaman. Adanya kandungan air juga membuat tanaman akan tumbuh hijau," kata Dirjen PSP.
Pupuk selanjutnya adalah SP-36 yang memiliki manfaat menambah unsur hara fosfor pada tanaman, dengan pupuk ini buah yang dihasilkan akan lebih banyak dan kualitas biji jadi lebih baik. "Begitu juga dengan pemasakan buah menjadi lebih cepat."
Selain itu, Kementan juga menyiapkan perangkat untuk mendukung kebutuhan kualitas pupuk yang beredar di seluruh wilayah Indonesia melalui perangkat pendaftaran pupuk yang akan diedarkan secara komersial di Indonesia secara online.
"Kementan memberikan kemudahan sejak 2014 melalui pendaftaran secara elektronik yang dapat dipantau secara transparan," kata Sarwo Edhy.
Kementan juga menyiapkan dasar hukum untuk pendaftaran pupuk dan pembenah tanah di Indonesia seperti Peraturan Menteri Pertanian [Permentan] No 36/2017 untuk pupuk anorganik dan Permentan No 01/2019 untuk pupuk organik, pupuk hayati, dan pembenah tanah. [Sur]
Jakarta [B2B] - Indonesia needs to increase product diversity, especially with approaches to land characteristics such as rice fields, dry land and swamp land, according to the senior official of the ministry.