Surplus 11.219 Ton, Daging Sapi dan Kerbau Jelang Natal dan Tahun Baru 2019
Indonesia Overcomes Beef Shortages by Imports ahead of the New Year 2019
Reporter : Gusmiati Waris
Editor : Cahyani Harzi
Translator : Dhelia Gani

PUBLISHED: Jum'at, 23 November 2018 , 01:36:00 WIB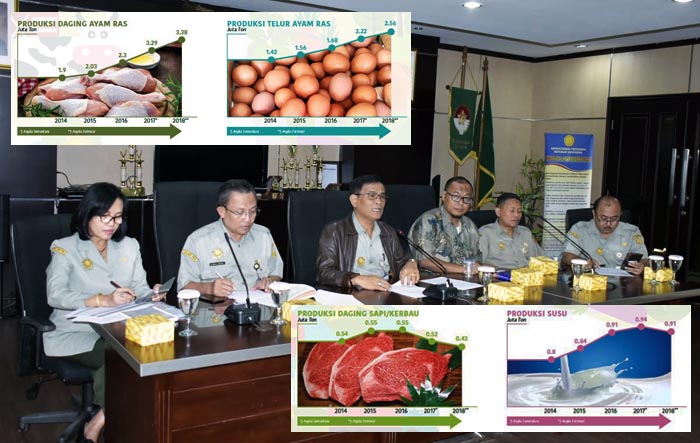 KEBUTUHAN KONSUMEN: Dirjen PKH I Ketut Diarmita (jaket coklat) menjawab pers didampingi Dirut Dharma Jaya Johan Ramadhon, dan tabel produk hewan dan turunannya empat tahun terakhir dalam juta ton (Tabel: PKH Kementan)
Jakarta (B2B) - Pemerintah RI menjamin ketersediaan daging sapi dan kerbau jelang Natal dan Tahun Baru 2019 surplus 11.219 ton, suplai produksi sapi lokal 35.845 ton dari kebutuhan 55.305 ton maka kekurangan diatasi dari impor sapi dan daging 30.679 ton. Kementerian Pertanian RI juga memastikan suplai daging ayam berpotensi surplus 466.445 ton dengan rataan per bulan 38.870 ton, begitu pula telur surplus 795.071 ton per tahun dari kebutuhan 66.256 ton per bulan.
"Perlu kami sampaikan, produksi sapi lokal 35.845 ton, sedangkan kebutuhan daging sapi 55.305 ton. Kekurangan disediakan melalui impor sapi dan daging sebanyak 30.679 ton, impor sapi bakalan 18.217 ton, setara sapi 91.543 ekor dan komponen impor daging sapi dan kerbau sebanyak 12.462 ton, setara sapi 62.623 ekor," kata Dirjen Peternakan dan Kesehatan Hewan (PKH) I Ketut Diarmita kepada pers di Jakarta, Kamis (22/11).
Ketersediaan daging ayam menjelang Natal dan Tahun Baru 2019 juga surplus, mengacu pada ketersediaan dan kebutuhan yang berpotensi surplus 466.445 ton dengan rataan per bulan sebanyak 38.870 ton.
"Berdasarkan potensi ketersediaan dan proyeksi kebutuhan telur ayam ras, maka terdapat potensi surplus telur sebanyak 795.071 ton per tahun atau 66.256 ton per bulan," kata Ketut yang didampingi sejumlah direktur di Ditjen PKH dan Direktur Utama Dharma Jaya, Johan Ramadhon.
Johan Ramadhon mengatakan kebutuhan daging sapi dan kerbau di DKI Jakarta untuk Natal hingga Tahun Baru 2019 masih relatif aman. Pasokan daging ayam ke pasar-pasar di DKI Jakarta sebagian besar dipasok dari peternak mandiri dari Jawa Timur, Jawa Tengah, Banten, Jawa Barat dan Lampung.
"Kami sekarang ini menyediakan kebutuhan daging dan ayam untuk program pangan bersubsidi yaitu masyarakat penerima bantuan pangan bersubsidi. Untuk kebutuhan pasar pun kami jamin sesuai dengan kemampuan pasok yang dimiliki," katanya.
Jakarta (B2B) - Indonesian government guarantees beef supply ahead of Christmas and New Year surplus of 11,219 tons, local cattle production supply 35,845 tons of consumer needs 55,305 tons the shortfall was overcome from imports of 30,679 tons. The Agriculture Ministry ensures chicken meat supply has a potential surplus of 466,445 tons, chicken eggs also surplus 795,071 tons per year by the needs of 66,256 tons per month.
"We need to say, local cattle production is 35,845 tons, while beef needs are 55,305 tons. Supply shortages were overcome through 30,679 tons of beef and meat imports," Director General of Livestock and Animal Health, I Ketut Diarmita told the press here on Thursday (November 22).
Chicken meat supply ahead of Christmas and New Year 2019 is also surplus, referring to the supply and needs of consumers, the potential surplus is 466,445 tons.
"Based on the potential availability and projections of race chicken egg needs, the potential for egg surplus is 795,071 tons per year or 66,256 tons per month," Mr Diarmita said.
Mr. Ramadhon said the need for beef and buffalo in Jakarta until the end of the year was relatively sufficient. The supply of chicken meat to markets in Jakarta is mostly supplied from independent farmers from East Java, Central Java, Banten, West Java and Lampung.
"We provide meat and chicken needs for subsidized food programs for people receiving subsidized food assistance. While the market needs are guaranteed according to supply capacity," he said.