#Serasi Sumsel, Kementan Dorong Petani jadi Peserta Asuransi Tani
Indonesian Govt Developing of Swamp Land in Sumatera for Agriculture
Editor : M. Achsan Atjo
Translator : Dhelia Gani

PUBLISHED: Selasa, 20 Agustus 2019 , 01:04:00 WIB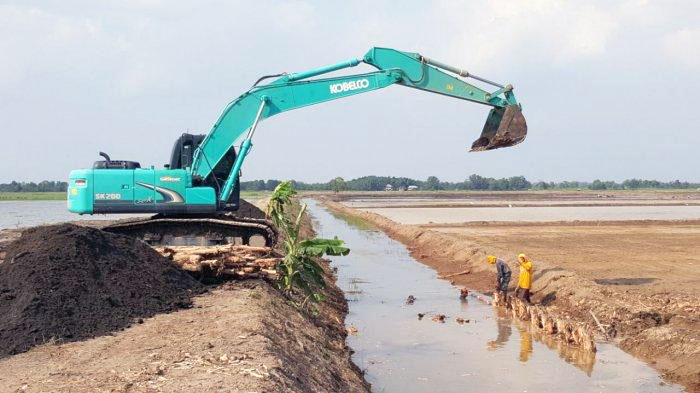 LAHAN RAWA: Kementan dan pemerintah daerah mengikutkan petani program #Serasi dalam program AUTP sebagai strategi untuk mencapai target kepesertaan di Sumsel yang saat ini masih 29% [Foto: Humas Ditjen PSP]
Palembang, Sumsel [B2B] - Kementerian Pertanian RI mengikutsertakan para petani di kawasan pengembangan ´Selamatkan Rawa Sejahterakan Petani´ disingkat #Serasi pada program Asuransi Usaha Tani Padi (AUTP) sebagai langkah penting mendukung pengembangan program Serasi di Provinsi Sumatera Selatan.
"Kita upayakan semua petani, kelompok tani yang ikut program Serasi, kita himbau untuk ikut asuransi program pemerintah," kata Dirjen PSP Kementan, Sarwo Edhy pada kegiatan ´Apresiasi Pemberdayaan Permodalan dan Asuransi Pertanian´ di Palembang, Senin [19/8].
Dijelaskannya, program asuransi pertanian yang dilaksanakan Kementerian Pertanian saat ini adalah menjalankan amanat UU No 19/2013 tentang Perlindungan dan Pemberdayaan Petani.
"Dalam Pasal 37, diamanahkan kepada pemerintah dan pemerintah daerah untuk melindungi usaha petani dalam bentuk asuransi pertanian," tambahnya.
Dalam AUTP, petani padi hanya membayar premi Rp36.000, dengan subsidi pemerintah Rp144.000 per hektar per musim, maka kalau ada musibah baik itu banjir di musim hujan atau kekeringan di musim kemarau, atau terkena hama penyakit akan mendapat penggantian Rp6 juta per hektar.
"Artinya ketika petani mengalami musibah dia bisa bangkit kembali dengan uang Rp 6 juta sebagai modal awal untuk budidaya padi kembali," katanya.
"Siap ikut AUTP," tanya Dirjen PSP Sarwo Edhy kepada para peserta Apresiasi yang diikuti sekitar 135 perwakilan petani #Serasi di Sumsel.
Mereka menjawab serempak, "Siaaap!" Kepala Dinas Tanaman Pangan dan Hortikultura Sumsel Antoni Alam mengatakan program AUTP di lahan Serasi sangat diperlukan petani.
"Kalau di daerah Serasi, untuk asuransi ini saya pikir tepat untuk dijaminkan usaha mereka, karena disini, selain karena kelembagaannya lebih bagus dan kita sedang hangat-hangatnya kita bina, mudah mudahan dari petani petani peserta Serasi ini bisa meningkatkan target kepesertaan asuransi AUTP di Sumsel," tambahnya.
Direktur Pembiayaan Pertanian Kementan Indah Megahwati menambahkan upaya pemerintah dan pemerintah daerah mengikutkan petani program Serasi dalam program AUTP merupakan salah satu strategi untuk mencapai target kepesertaan AUTP di Sumsel yang saat ini masih sekitar 29 persen.
"Kami inginkan pada akhir Agustus dengan adanya kerjasama program Serasi di 3 propinsi yakni Kalsel, Sumsel, dan Sulsel, insya Allah akan dapatkan sekitar 60 persen yang ikut asuransi," tambah Indah Megahwati. [Sur]
Palembang of South Sumatera [B2B] - The optimization of Indonesia´s swamp land through #Serasi is the first focus of the five main focus policies for the 2019 budget year. The second focus, opening new fields related to NawaCita targets and evaluating their implementation. Indonesia´s swamp land potential reaches 33.4 million hectares, 23.05 million hectares of tidal land and dry swamps of 10.35 million hectares, and 10.90 hectares potential for agricultural land.