Calon PNS Itjentan Jaman Now Harus `Passion` pada Petani, Ini Maksud Justan Siahaan
Indonesia`s Bureaucrats of Agriculture Ministry also Determine the food Self-sufficiency
Reporter : Gusmiati Waris
Editor : Cahyani Harzi
Translator : Dhelia Gani

PUBLISHED: Kamis, 01 Februari 2018 , 14:35:00 WIB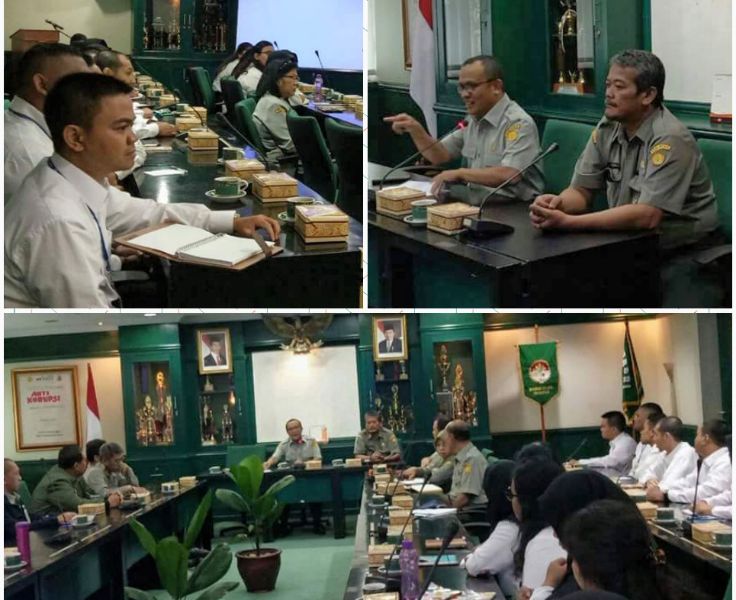 ORIENTASI CPNS ITJENTAN: Inspektur Jenderal Kementan, Justan Siahaan didampingi Sekretaris Itjentan, Suprodjo Wibowo bertemu dan memberi pembekalan pada 31 CPNS Itjentan. (Foto2: Humas Itjentan)
Jakarta (B2B) - 346 calon pegawai negeri sipil (CPNS) hasil seleksi nasional ditempatkan di Kementerian Pertanian RI, dan 31 di antaranya mengabdi untuk Inspektorat Jenderal (Itjentan), dan hari ini (1/2) diterima oleh Irjen Justan Siahaan yang mengingatkan mereka sebagai ´CPNS jaman now´ harus memiliki ´passion´ atau gairah dan semangat pada kepentingan petani mendukung produksi pangan nasional.

"Kita semua adalah abdi negara, kita harus curahkan seluruh tenaga dan fikiran untuk dapat melayani petani, karena di jaman now kita perlu pemimpin yang mempunyai passion kepada petani untuk mewujudkan komitmen Indonesia sebagai Lumbung Pangan Dunia 2045," kata Justan Siahaan yang didampingi Sekretaris Itjentan, Suprodjo Wibowo.

Pertemuan dan perkenalan dengan 31 CPNS Itjentan berlangsung di ruang rapat SPIP lantai dua Gedung B di komplek kantor pusat Kementan di kawasan Ragunan, Jakarta Selatan. Hadir seluruh inspektur satu hingga empat, investigator, para kepala bagian (Kabag) dan kepala subbagian (Kasubbag) lingkup Itjentan.

Kalian semua harus bekerja penuh semangat, tidak boleh banyak mengeluh dalam bekerja setelah kalian berusaha keras untuk lolos seleksi sebagai abdi negara," kata Justan.

Irjentan mengharapkan 31 CPNS bekerja maksimal mendukung Itjen dapat membangun success plan di lingkungan kerja untuk melahirkan pimpinan yang berintegritas melalui CPNS.

Kegiatan orientasi CPNS Itjentan akan dilanjutkan dengan orientasi lapang yang di laksanakan di Gedung B Itjentan dan pembekalan di masing-masing unit kerja.

Sebelumnya diberitakan, Sekitar 80.306 orang melamar untuk bersaing mendapat 475 formasi calon pegawai negeri sipil (CPNS) di Kementerian Pertanian RI. Dari jumlah tersebut, 71.730 atau 76,89% lulus verifikasi online dan 18.576 (23,11%) dinyatakan gagal lantaran kualifikasi pendidikan tidak cocok dengan jabatan dan indeks prestasi kumulatif (IPK) yang ditetapkan pemerintah.

Proses tes berlangsung sejak 25 Oktober hingga 5 November 2017 untuk tahap seleksi kompetensi bidang (SKB), kemudian 10 - 14 November dilakukan integrasi nilai seleksi kompetensi dasar (SKD) dengan seleksi kompetensi bidang (SKB). Tiga hari kemudian diumumkan kelulusan akhir via online, dan 18 November hingga 19 Desember adalah jadwal pemberkasan yang dinyatakan lulus hingga tahap akhir.
Jakarta (B2B) - At least 346 Indonesian civil servant candidates of national selection are placed in the agriculture ministry, and 31 of them served for the ministry´s inspectorate general, and today (February 1) they met with inspector general Justan Siahaan which reminds them of having passion for farmers to support national food production.

"We are all state servants, we must devote all our energy and mind to serving the peasants, and now we must have passion to the farmers to realize commitment of Indonesia as the 2045 world food barn," said Mr. Siahaan who was accompanied by Secretary of Inspectorate General, Suprodjo Wibowo.

The meeting took place in the 2nd floor of Building B at the ministry´s headquarters complex in Ragunan area of South Jakarta. It was attended by one to four inspectors, investigators, section heads and subsection heads.

Mr Siahaan expects them to work maximally support achievement of success plan in the work environment to become a leader with integrity.

The activity continued with week of work environment orientation and debriefing in each work unit.

Previously reported, at least 80,306 scholars participate in selection and examination to become candidates for civil servants of Indonesian agriculture ministry, which requires 475 scholars. From the initial selection, 71,730 or 76.89% passed the online verification and 18,576 (23.11%) did not pass, because the educational qualification did not match the position, and the cumulative index set by the central government, according to senior official.

The test process from October 25 to November 5 for the selection of field competencies, then November 10 to 14 conducted integration of the results of basic competence selection and selection of field competencies. Three days later the graduation announcement via online, and November 18 to December 19, participants who pass the exam submit the document.