Protein Hewani, Ditjen PKH Kementan Tambah Populasi Kambing Saanen
Indonesian Govt Socialize Goat Meat as an Alternative of Animal Protein
Reporter : Gusmiati Waris
Editor : Cahyani Harzi
Translator : Dhelia Gani

PUBLISHED: Sabtu, 28 Maret 2020 , 01:45:00 WIB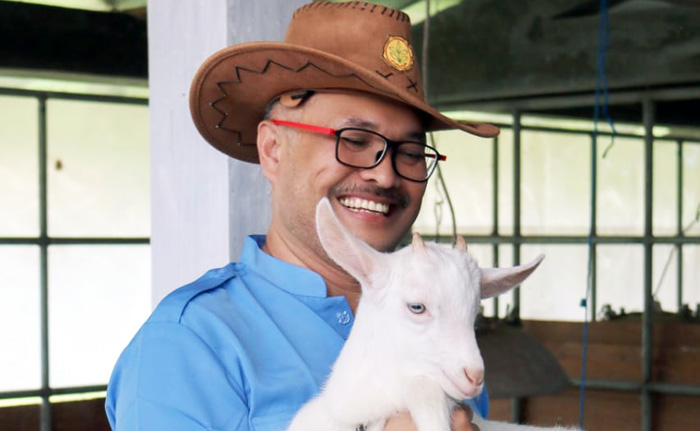 KAMBING PERAH: Kepala Balai Besar Perbibitan Ternak Unggul dan Hijauan Pakan Ternak [BBPTUHPT] Baturaden, Sintong Hutasoit [Foto: Humas Ditjen PKH Kementan}
Jakarta [B2B] - Kementerian Pertanian khususnya Direktorat Jenderal Peternakan dan Kesehatan Hewan [Ditjen PKH] berupaya memenuhi kebutuhan protein hewani bagi masyarakat. Langkah yang ditempuh antara lain menambah populasi bibit kambing saanen di salah satu unit pelaksana teknis [UPT] yakni Balai Besar Perbibitan Ternak Unggul dan Hijauan Pakan Ternak [BBPTUHPT] Baturaden.
"Pada akhir 2019, BBPTUHPT Baturaden mendatangkan kambing saanen dari Australia sebanyak 207 ekor, terdiri dari 16 ekor kambing jantan dan 191 ekor kambing betina," kata Dirjen PKH Kementan I Ketut Diarmita di Jakarta, Jumat [27/3].
Menurutnya, langkah tersebut untuk memenuhi permintaan peternak mengingat selama ini, BBPTUHPT Baturaden baru dapat memenuhi 25% permintaan. Pengadaan ini diharapkan meningkatkan jumlah populasi dan produksi bibit yang dihasilkan BBPTU-HPT Baturaden sehingga mampu memenuhi permintaan bibit kambing saanen.
"Sejalan dengan arahan Mentan Syahrul Yasin Limpo, kita terus giatkan pemenuhan kebutuhan produksi ternak, agar dapat memenuhi kebutuhan masyarakat," kata Dirjen Ketut Diarmita.
Sementara Kepala BBPTUHPT Baturraden, Sintong Hutasoit menjelaskan bahwa kambing saanen adalah jenis kambing perah yang memiliki tubuh besar. Ternak jantan maksimal mencapai bobot 90 kg dan betina 60kg. Kambing saanen betina dapat memproduksi susu sampai 3,8 liter per hari, dengan kandungan lemak susu mencapai 2,5% hingga 3%.
"Kambing saanen ini dipelihara sebagai kambing perah yang semakin popular di Indonesia. Per tahun, kambing saanen betina menghasilkan anak satu hingga dua ekor," kata Sintong Hutasoit.
Dia menambahkan dalam beberapa tahun terakhir, minat masyarakat beternak kambing perah meningkat, baik dari peternak yang baru mencoba membuka usaha, atau menambah populasi dari peternak yang sudah berkembang.
"Saat ini sudah banyak perkawinan sedarah atau inbreeding antar kambing saanen dan PE, sehingga perlu ada penggantian kambing saanen untuk grading up dan meningkatkan efisiensi usaha ternak kambing," ucapnya.
Sintong berharap dengan pengadaan kambing saanen tersebut diharapkan terjadi peningkatan mutu bibit kambing perah, khususnya saanen sekaligus mengurangi terjadinya inbreeding. Ia mengungkapkan bahwa populasi kambing saanen yang dimiliki BBPTUHPT Baturaden sebanyak 577 ekor terdiri atas 130 ekor kambing jantan dan 447 ekor kambing betina.
"Kami sudah mulai melakukan seleksi afkir terhadap kambing saanen. Kambing yang diafkir akan digantikan dengan kambing yang baru tersebut," lanjutnya. Dengan demikian hanya kambing terseleksi yang berkualitas unggul saja yang digunakan sebagai produsen bibit ternak.
Sintong mengakui tidaklah mudah mengembangbiakkan kambing saanen di lingkungan beriklim tropis, mengingat kambing ini dari daerah subtropis, maka BBPTUHPT Baturaden harus melakukan manajemen pemeliharaan untuk kenyamanan kambing saanen sehingga produktifitasnya baik.
Jakarta [B2B] - Indonesian government to socialize goat meat and lamb as an alternative source of of animal protein, according to senior official of agriculture ministry.