Kekeringan Ponorogo, Ditjen PSP Kementan Atasi dengan Pompanisasi
Indonesian Develops Small Farm Reservoir to Anticipate Drought Season
Editor : M. Achsan Atjo
Translator : Dhelia Gani

PUBLISHED: Minggu, 06 Oktober 2019 , 01:04:00 WIB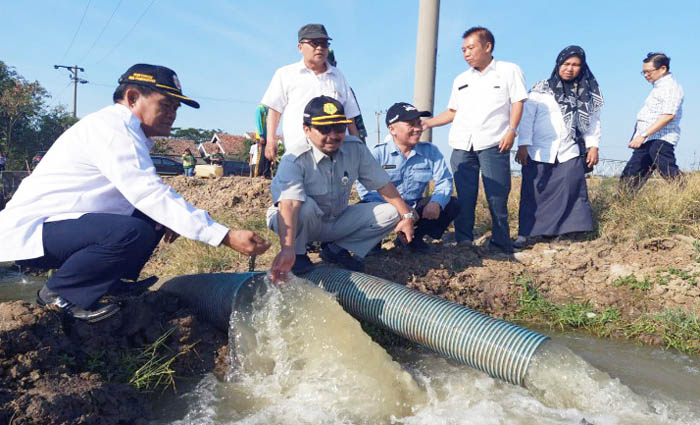 POMPA AIR: Dirjen PSP Kementan Sarwo Edhy menegaskan bahwa pihaknya menerapkan langkah serupa di seluruh Indonesia dalam tiga tahun terakhir yaitu pemberian 100 ribu mesin pompa air [Foto: Humas Ditjen PSP]
Ponorogo, Jatim [B2B] - Kekeringan akibat kemarau panjang di Kabupaten Ponorogo, Provinsi Jawa Timur yang sudah berlangsung selama dua bulan diatasi dengan pompanisasi, yang digagas oleh Direktorat Jenderal Prasarana dan Sarana Pertanian - Kementerian Pertanian RI [Ditjen PSP Kementan], dengan membuat embung untuk memenuhi kebutuhan air sehingga dapat menyelamatkan potensi lahan persawahan dari ancaman kekeringan.
Pelaksana Tugas [Plt] Kepala Dinas Pertanian [Disperta] Pemkab Ponorogo, Andi Susetyo mengatakan pompanisasi digagas oileh Ditjen PSP Kementan yang dilakukan secara mandiri oleh petani maupun melalui kelompok tani [Poktan], Pemkab mendorong sejumlah desa untuk memanfaatkan dana desa, membangun jaringan pompa air di lahan pertanian, tak bisa mengandalkan bantuan dari pemerintah daerah semata karena keterbatasan anggaran.
"Manfaat lain, petani dapat mengubah pola tanam. Ketika kemarau, menanam palawija yang tidak sering membutuhkan air, atau alternatif lain menggunakan varietas padi yang lebih tahan air," kata Andi Susetyo.
Data Disperta Pemkab Ponorogo menyebutkan hingga September lalu, totalnya terdapat 1.671 hektar lahan pertanian yang mengalami kekeringan, 672 hektar di antaranya dipastikan puso. Sementara 260 hektar mengalami kekeringan berat, 308 hektar kekeringan sedang, dan 390 hektar kekeringan ringan.
"Beruntung, sebagian besar petani yang mengalami puso sudah terdaftar dalam asuransi usaha tanaman padi ataui AUTP. "Kekeringan di atas 75 persen bisa mendapat asuransi. Penyedia asuransi melakukan verifikasi di lapangan sebelum mencairkan ganti rugi tersebut," kata Andi Susetyo.
Di tempat terpisah, Dirjen PSP Kementan Sarwo Edhy menegaskan bahwa pihaknya menerapkan langkah serupa di seluruh Indonesia dalam tiga tahun terakhir yaitu pemberian 100 ribu mesin pompa air. Sementara untuk 2019 mencapai 20 ribu unit yang didukung 7.300 meter [7,3 km] selang air.
"Kementan membantu pompa air untuk daerah-daerah yang kekeringan seperti di Ponorogo. Permintaan untuk 2019 yang masuk ke Kementan mencapai 20 ribu unit pompa," katanya.
Kementan juga pengembangan embung, yang akan diakomodir Kementan dengan syarat harus di lahan desa, lahan pemerintah atau hibah dari masyarakat, agar pengembangan embung tidak sia-sia sehingga dapat dimanfaatkan oleh para petani.
"Anggarannya kita bantu melalui dana alokasi khusus atau DAK, asalkan lahan yang disiapkan minimal 25 x 25 meter, kedalaman dua metar di lahan yang aman, bukan di lahan pribadi agar tidak dijual dan dibongkar," katanya. [Sur]
Ponorogo of East Java [B2B] - The small farm reservoir locally known as the embung was chosen by Indonesian Agriculture Ministry to support the provision of water on agricultural land, especially in swamps to meet water needs in tidal and swamp land, according to the senior official of agriculture ministry.