Banjir Sultra, Dirjen PSP Kementan Beri Bantuan Korban Bencana Alam
Indonesian Agriculture Ministry Help the Flood Victims in Southeast Sulawesi
Editor : M. Achsan Atjo
Translator : Dhelia Gani

PUBLISHED: Minggu, 16 Juni 2019 , 01:51:00 WIB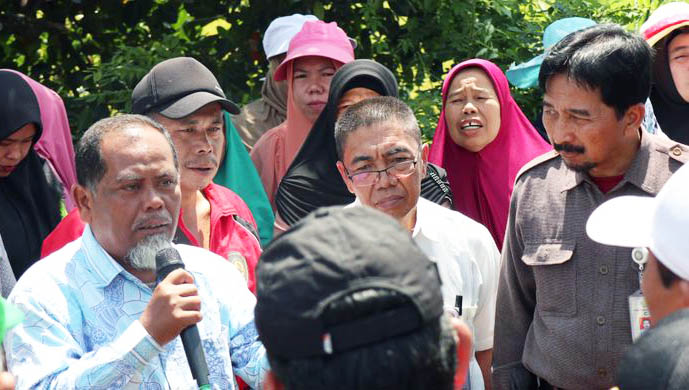 DIALOG PETANI: Dirjen PSP Kementan, Sarwo Edhy [kemeja coklat] kerap berdialog dengan masyarakat dan petani pada kegiatan kunjungan kerja di daerah [Foto: Humas Ditjen PSP Kementan]
Konawe, Sultra [B2B] - Dirjen PSP Kementan Sarwo Edhy memberikan bantuan bagi korban banjir di sejumlah wilayah Provinsi Sulawesi Tenggara, sementara wilayah terdampak banjir di Sultra mencakup empat kabupaten: Kolaka Timur, Konawe Utara, Konawe, dan Konawe Selatan.
Ditjen PSP juga menggandeng para pemangku kepentingan dalam memberikan bantuan seperti Jasindo sebagai mitra asuransi pertanian, dan Pupuk Indonesia yang merupakan mitra program pupuk bersubsidi.
Total bantuan dari Ditjen PSP dan mitranya mencapai 15 truk dengan nilai bantuan Rp472,8 juta terdiri dari beras empat ton senilai Rp40 juta, 200 karton air mineral Rp7,8 juta termasuk pengangkutan bantuan ke lokasi banjir. Sementara bantuan dari Pupuk Indonesia mencapai 14 truk senilai Rp 400 juta, dan Jasindo satu truk senilai Rp25 juta. Total bantuan senilai Rp 472.800.000 (15 unit truk).
Dirjen PSP Sarwo Edhy mengatakan, pihaknya juga siap memberikan bantuan secepat mungkin apabila terjadi kerusakan jaringan irigasi pertanian.
"Apabila ada irigasi yang rusak, segera ajukan untuk rehabilitasi. Untuk kerusakan-kerusakan di lahan pertanian, apabila membutuhkan excavator, kita juga bisa segera merelokasi," kata Sarwo Edhy, Kamis (14/6).
Dirjen PSP menjelaskan, untuk para petani yang telah mengikuti asuransi pertanian, akan mendapatkan ganti rugi berupa uang. Sementara bagi petani yang belum mendaftar asuransi, pemerintah sudah menyiapkan alokasi APBN untuk bantuan benih dan alat mesin pertanian (Alsintan).
"Inshaa Allah, bagi yang sawah dan kebunnya rusak, kami akan salurkan bantuan bibit, pupuk, alat mesin pertanian dalam bentuk brigade dan sebagainya. Kita akan inventarisasi langsung untuk mengetahui tingkat kerusakan dan memberikan bantuan sehingga produksi tanaman pangan, perkebunan dan holtikultura bisa kembali dijalankan," katanya. [Sur]
Kendari of Southeast Sulawesi [B2B] - The Director General of Indonesian Agricultural Infrastructure and Facilities, Sarwo Edhy helping flood victims in a number of districts in Southeast Sulawesi province, while flood affected areas hit four districts: East Kolaka, North Konawe, Konawe, and South Konawe.