UPJA Berperan Penting Dukung Optimalisasi Pemanfaatan Alsintan
Indonesian Push Optimization of Agricultural Machinery: Senior Official
Editor : M. Achsan Atjo
Translator : Dhelia Gani

PUBLISHED: Kamis, 27 Juni 2019 , 15:18:00 WIB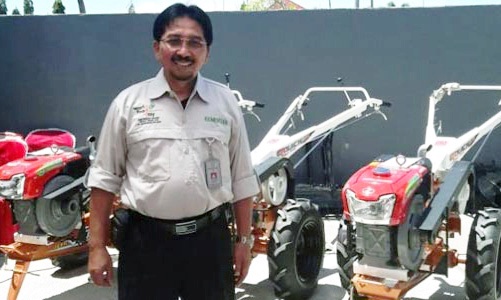 Dirjen PSP Kementan, Sarwo Edhy: ""Alsintan meringankan beban petani anggota Poktan atau Gapoktan secara bisnis melalui UPJA untuk mendorong kemandirian permodalan" [Foto: Humas Ditjen PSP]
Jakarta [B2B] - Peningkatan manfaat alat mesin pertanian [Alsintan] kepada kelompok tani melalui Usaha Pelayanan Jasa Alsintan [UPJA] yang bertujuan mengoptimalkan pemanfaatan 350.000 unit Alsintan bantuan Kementerian Pertanian RI kepada petani melalui kelompok tani, UPJA dan Brigade Alsintan di seluruh Indonesia.
Dirjen PSP Kementan, Sarwo Edhy mengatakan 350.000 unit Alsintan telah didistribusikan sejak 2015 hingga 2018 terdiri atas traktor roda dua [TR2], traktor roda empat [TR4], pompa air, alat tanam padi [rice transplanter], cooper, cultivator, excavator, hand sprayer, implemen alat tanam jagung dan alat tanam jagung semi manual.
"Alsintan meringankan beban petani anggota Poktan atau Gapoktan secara bisnis melalui UPJA untuk mendorong kemandirian permodalan untuk membiayai usaha tani sekaligus merawat Alsintan," katanya di Jakarta, belum lama ini.
Sebagaimana diketahui, pada 2015 disalurkan 54.083 unit, meningkat menjadi 148.832 unit pada 2016, 82.560 unit pada 2017, dan 112.525 unit pada 2018.
"Saya minta para pendamping di daerah berinteraksi dengan kelompok tani dan seluruh masyarakat tani di tiap daerah, terutama para pemuda tani secara intensif dan melaporkannya pada kami, sehingga dapat merespon kondisi lapangan melalui penyempurnaan kebijakan teknis dan penganggaran," kata Sarwo Edhy. [Sur]
Jakarta [B2B] - Indonesian government held the Mechanization-Based Corporate Agriculture program [PKBM] to increase utilization of agricultural machinery to farmer groups through the Agricultural Machinery Rental Businesses [UPJA] which aims to optimize utilization of 350,000 units of agricultural machinery assistance of the Agriculture Ministry to farmers through the farmer groups and UPJA.