Stop Desember 2017, RI Ekspor Manggis Lagi ke China 9 Ribu Ton
Indonesia Export Mangosteen to China after being Stopped in December 2017
Reporter : Gusmiati Waris
Editor : Cahyani Harzi
Translator : Dhelia Gani

PUBLISHED: Kamis, 06 September 2018 , 15:27:00 WIB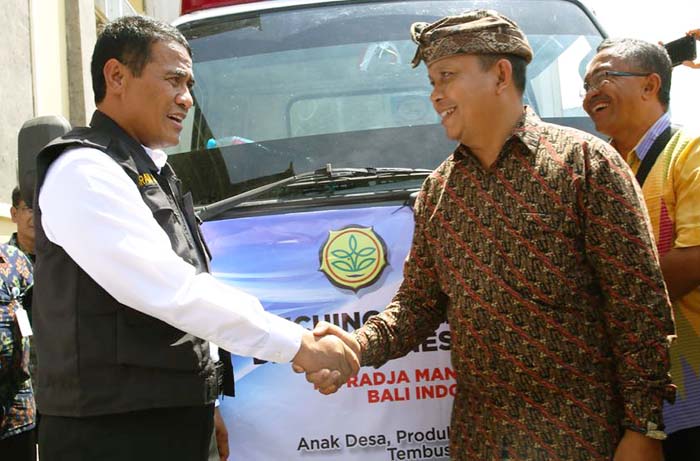 POKTAN PADANAN: Mentan Andi Amran Sulaiman (kiri) menyalami perwakilan dari petani Desa Padanan, Kecamatan Pupuan, Kabupaten Tabanan di Bandara Ngurah Rai, Denpasar (Foto: Humas Kementan)
Denpasar, Bali (B2B) - China sebagai pasar terbesar manggis Indonesia kembali membuka peluang ekspor, ditandai ekspor 9.000 ton manggis ke ´negeri tirai bambu´ setelah distop sejak Desember 2017. Ekspor manggis disambut gembira oleh Menteri Pertanian RI Andi Amran Sulaiman saat melepas ekspor manggis di Bandara Ngurah Rai, Denpasar, Bali, hari ini (6/9).
Manggis ekspor merupakan hasil produksi kelompok tani di Desa Padanan, Kecamatan Pupuan, Kabupaten Tabanan, yang disebut Mentan Amran Sulaiman sebagai buah eksotis unggulan ekspor Indonesia.
"Indonesia sudah mengekspor manggis ke 23 negara. Kita fokus untuk budi dayanya, sekaligus mendorong harmonisasi aturan SPS-nya (sanitary and phytosanitary) agar bisa diterima oleh negara tujuan ekspor lainnya, untuk memperluas pasar," kata Mentan kepada pers.
Menurutnya, kebutuhan China terhadap manggis Indonesia tergolong tinggi, realisasi ekspor ke China pada Januari hingga Juni 2018 mencapai 17.000 ton dari total ekspor 29.000 ton. Diprediksi hingga akhir 2018, ekspor manggis meningkat hingga 60.000 ton atau naik 600% ketimbang 2017.
"Ekspor manggis ke China merupakan bukti keberhasilan peningkatan daya saing produk pertanian, sekaligus kemampuan memenuhi standar perdagangan internasional," kata Amran.
Denpasar of Bali (B2B) - China as Indonesia´s largest mangosteen market opens export opportunities again, and today Indonesia exported 9,000 tons of mangosteen to China after being stopped since December 2017. Bali mangosteen exports were appreciated by Agriculture Minister Andi Amran Sulaiman while he released exports here today, Thursday (September 9).
Mangosteen exports are the production of farmer groups in Padanan village of Pupuan subdistrict in Tabanan district, the Minister Sulaiman referred to as Indonesia´s leading export exotic fruit.
"Indonesia has exported mangosteen to 23 countries. We focus on cultivation, and encourage harmonization of sanitary and phytosanitary rules to meet international export requirements," he said.
China´s need for Indonesian mangosteen is high, realization of exports to China from January to June 2018 reached 17,000 tons from a total export of 29,000 tons. It is predicted that by the end of 2018, mangosteen exports will increase to 60,000 tons, up 600% compared to 2017.
"Mangosteen exports to China are proof the increasing the competitiveness of agricultural products, and the ability to meet international trade standards," Mr Sulaiman said.