Rp677 Juta, 30 Unit Alsintan dari Ditjen PSP Kementan untuk Petani Karawang
Indonesian Agriculture Ministry handed over Agriculture Machinery to Farmers
Editor : M. Achsan Atjo
Translator : Dhelia Gani

PUBLISHED: Selasa, 12 Maret 2019 , 15:29:00 WIB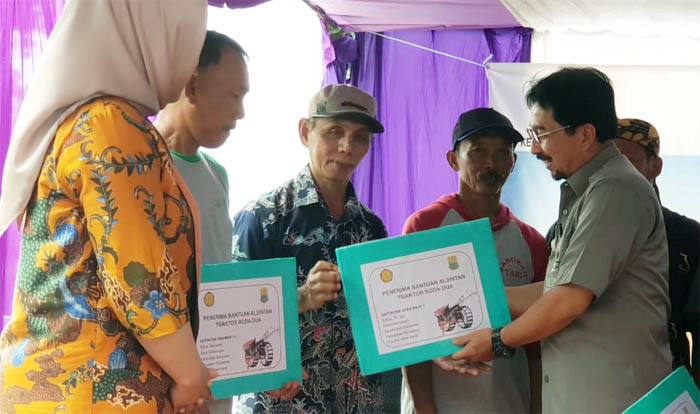 KELOMPOK TANI: Dirjen PSP Kementan, Sarwo Edhy [kanan] menyerahkan bantuan Alsintan kepada petani Karawang (Humas Ditjen PSP Kementan)
Karawang, Jabar [B2B] - Sedikitnya 30 unit alat mesin pertanian [Alsintan] senilai Rp677 juta diserahkan oleh Dirjen Prasarana dan Sarana Pertanian - Kementerian Pertanian RI [Dirjen PSP] Sarwo Edhy kepada petani Karawang, Provinsi Jawa Barat hari ini, Selasa [12/3] disaksikan Bupati Cellica Nurrachadiana dan Anggota IV Badan Pemeriksa Keuangan [BPK] Rizal Djalil.
Dirjen PSP Sarwo Edhy mengapresiasi Karawang yang konsisten mempertahankan lahan pertaniannya, bahkan terus berusaha menambah luasannya. Seperti diketahui, Karawang termasuk daerah yang diincar sektor industri, yang berpotensi mengancam lahan pertanian teralih fungsi.
"Kepada kelompok tani yang mendapatkan bantuan ini, kami harap agar dapat dipergunakan semestinya. Alat pertanian ini harus dijaga dengan baik serta dirawat selepas pemakaian. Mudah-mudahan dengan alat ini hasil yang diperoleh petani bisa lebih meningkat lagi," kata Dirjen Sarwo E dalam sambutannya usai menyerahkan bantuan Alsintan kepada petani Karawang di Desa Pamekaran, Kecamatan Banyu Sari.
Bupati Cellica N menyampaikan terima kasihnya atas nama petani Karawang atas perhatian pemerintah pusat melalui Kementan, yang sudah banyak sekali membantu dan mendukung peningkatan produktivitas pertanian Karawang.
Sementara Rizal Djalil mengakui kontribusi Kabupaten Karawang terhadap ketahanan beras nasional sangat vital, mendukung kondisi politik pangan kondusif dan saat ini pasokannya mencapai 800 ribu ton.
Alsintan yang diberikan Dirjen PSP Sarwo Edhy meliputi 10 unit traktor roda dua (TR2), lima unit cutivator, 10 unit pompa air empat inchi, lima unit power tresher multiguna senilai Rp677 miliar.
Penerima Alsintan TR2 antara lain Poktan Tani Mukti 2 Desa Gembongan di Kecamatan Banyusari; Poktan Sukamaju di Desa Mekarasih, Kecamatan Banyusari; Poktan Saluyu 1 di Desa Kutaraharja, Kecamatan Banyusari. Penerima cultivator antara lain Poktan Subur di Desa Jatimulya, Kecamatan Pedes; Poktan Alam Jaya di Desa Tanjung, Kecamatan Banyusari.
Sementara bantuan pompa air diberikan kepada Poktan Harapan 3 di Desa Sumur Gede, Kecamatan Cilamaya Kulon; Poktan Sri Mukti 2 di Desa Cicinde Selatan; Kecamatan Banyusari dan Poktan Sahabat di Desa Pamekaran, Kecamatan Banyusari. Bantuan power thresher diterima oleh Poktan Subur Makmur di Desa Pamekaran, Kecamatan Banyusari sedangkan bantuan power thresher multiguna diterima oleh Poktan Bina Sri Lestari di Desa Ciptasari, Kecamatan Pangkalan.
Karawang of West Java [B2B] - At least 30 units of agricultural machinery or Alsintan worth IDR677 million were handed over by the Director General of Agricultural Infrastructure and Facilities at the Indonesian Agriculture Ministry or Dirjen PSP, Sarwo Edhy Sarwo Edhy to farmers in Karawang district of West Java province today, Tuesday [March 12] witnessed by Regent Cellica Nurrachadiana and Member of the Supreme Audit Agency Rizal Djalil.
DG Sarwo Edhy appreciates Karawang district for consistently maintaining its agricultural land, even trying to increase the area of agricultural land. As is known, Karawang is an area targeted by the industrial sector, which has the potential to threaten the conversion of agricultural land into industrial estates and settlements.
"The farmer group that received Alsintan's assistance, agricultural machinery must be maintained so that it can increase agricultural production," said DG Edhy in his speech.
The Regent Nurrachadiana expressed her gratitude on behalf of the Karawang farmers for Jakarta's attention through the agriculture ministry, which helps farmers and supports agricultural development in Karawang.
While Rizal Djalil acknowledged the contribution of Karawang district to Indonesia's basic food security, currently the supply reaches 800,000 tons of rice.
Alsintan for Karawang farmers includes 10 units of two-wheel tractors, five units cultivator, 10 units of water pumps, five units of power thresher.