30 Unit, Rp650 Juta Bantuan Alsintan dari Ditjen PSP untuk Petani Jembrana Bali
Indonesian Govt Provided Agricultural Machinery for Balinese Farmers
Editor : M. Achsan Atjo
Translator : Dhelia Gani

PUBLISHED: Senin, 18 Maret 2019 , 15:47:00 WIB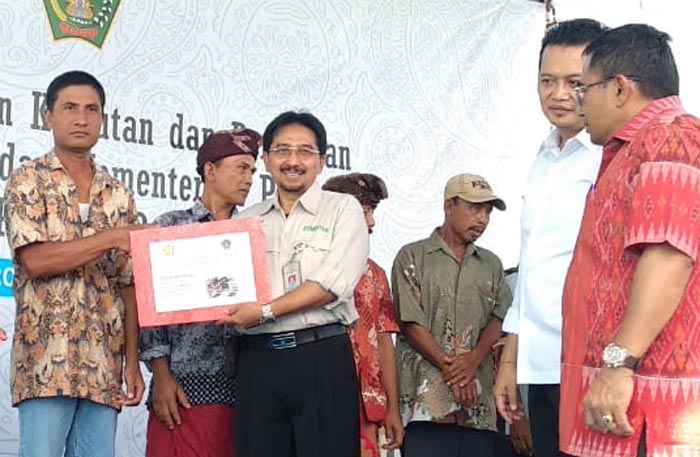 OPTIMALISASI ALSINTAN: Dirjen PSP Kementan, Sarwo Edhy [ke-3 kiri] menyerahkan bantuan Alsintan kepada petani Jembrana disaksikan Anggota Komisi XI DPR Gusti Agung RW [kanan] Foto: Humas Ditjen PSP
Jembrana, Bali [B2B] - Sedikitnya 30 unit alat mesin pertanian [Alsintan] senilai Rp650 juta diserahkan oleh Dirjen Prasarana dan Sarana Pertanian - Kementerian Pertanian RI [Dirjen PSP] Sarwo Edhy kepada petani di Kabupaten Jembrana, Provinsi Bali pada kunjungan kerja Anggota IV Badan Pemeriksa Keuangan (BPK) Rizal Djalil dan Anggota Komisi XI DPR RI Gusti Agung Rai Wirajaya di Bali, Senin [18/3].
Penyerahan Alsintan senilai Rp650 juta diserahkan secara simbolis kepada sejumlah kelompok tani, adapun Alsintan yang diberikan berupa 20 unit traktor roda dua, lima unit cultivator, dan lima unit power tresher multiguna.
Dirjen PSP mengingatkan bantuan Alsintan dari pemerintah harus dimanfaatkan semaksimal mungkin, jangan sampai hanya disimpan di rumah atau kantor Poktan, karena hal itu sudah terjadi di daerah lain yang mengakibatkan tindakan tegas dari Kementan untuk menariknya kembali untuk realokasi ke daerah lain yang lebih membutuhkan.
"Ada daerah lain, bukan di Bali, ditemukan Alsintan tidak dipergunakan bahkan ada yang dijual. Jangan sampai hal ini terjadi di sini karena kantor dinas pertanian akan menarik kembali Alsintan tersebut untuk diberikan kepada daerah lain," kata Sarwo Edhy.
Wakil Bupati Jembrana Made Kembang Hartawan mengapresiasi dukungan Kementan untuk petani di wilayahnya, dan akan berupaya mendorong petani melakukan optimalisasi Alsintan untuk mendukung peningkatan produksi pangan strategis.
"Bantuan dari Kementan ini sangat berarti. Sekarang yang perlu kami kembangkan adalah pengolahan pasca panen," kata Made KH.
Anggota IV BPK Rizal Djalil mengatakan, bantuan Alsintan untuk pertanian Jembrana merupakan bentuk perhatian Presiden Joko Widodo, yang sangat memperhatikan kepentingan petani di seluruh Indonesia.
"Bantuan Alsintan adalah bentuk perhatian Presiden Jokowi. Saya hanya bertugas menyampaikan saja kebutuhan-kebutuhan apa saja dari petani di berbagai daerah. Semoga bantuan ini memberikan dampak kesejahteraan bagi para petani," katanya.
Legislator asal Bali, Gusti Agung Rai Wirajaya menambahkan Jembrana sesungguhnya menyimpan sejumlah potensi yang bisa dikembangkan, terutama di sektor pertanian maka bantuan Alsintan untuk meningkatkan produksi pertanian sekaligus menaikkan posisi tawar petani menjual hasil produksi pertaniannya.
"Tak kalah penting adalah pelatihan kepada petani untuk memanfaatkan Alsintan secara optimal melalui kursus atau dilatih di balai pelatihan," kata Gusti Agug RW.
Jembrana of Bali [B2B] - At least 30 units of agricultural machinery of IDR650 million were handed over by the Director General of Agricultural Infrastructure and Facilities at the Indonesian Agriculture Ministry [Dirjen PSP] Sarwo Edhy to Jembrana farmers in Bali province here on Monday March 18] was witnessed by Member of the Supreme Audit Agency [BPK] Rizal Djalil and Member of Parliament Gusti Agung Rai Wirajaya.
Agricultural machinery assistance of Jakarta was handed over consists of 20 units of two-wheeled tractors, five cultivator units and five units and five units of power trasher.
Thye Dirjen PSP reminds the agricultural machinery of Jakarta must be utilized as much as possible, don´t just keep it like in other districts, it will result in strict sanctions from the government to reallocate to other areas that are more in need.
"There are other areas, not in Bali, it is found that agricultural machines are not used and even sold. Don´t let this happen here because the agriculture office will withdraw and then give it to other regions," Edhy said.
Deputy Regent of Jembrana Made Kembang Hartawan appreciated Jakarta´s support for farmers in his district, and strive to encourage farmers to optimize agricultural machinery to support the increase of main food production.
Agricultural machinery assistance of the ministry is very meaningful. Now what we need to developing is post-harvest processing," Hartawan said.
Djalil said, Jakarta´s assistance to Jembrana agriculture was a form of attention of President Joko Widodo, who was very concerned about the interests of farmers across the country.
Rai Wirajaya said the Jembrana actually has a lot of potential, especially in the agricultural sector, so the assistance of agricultural machinery will increase the bargaining position of farmers to sell agricultural products.
(US$1 = 14,255.0000 rupiah)