Songsong MT III, PJ Upsus Lampung Tengah Pantau Olah Tanah dan Tanam
Indonesian Govt Invites Lampung`s Farmers to Rice Harvest 3 Times a Year
Editor : M. Achsan Atjo
Translator : Dhelia Gani

PUBLISHED: Kamis, 13 September 2018 , 15:57:00 WIB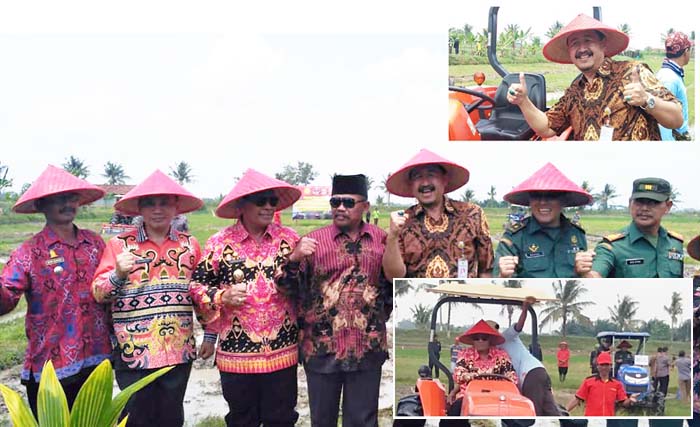 GERTAK OTT LAMPUNG: PJ Upsus Lampung Tengah, Susanto MM (ke-3 kanan) bersama Wakil Bupati H Loekman Djoyosoemarto dorong petani mewujudkan pola tanam serentak (Foto2: Humas Itjentan Kementan/Irfan)
Lampung Tengah, Lampung (B2B) - Para petani di Kabupaten Lampung Tengah, Provinsi Lampung terlibat gerakan serentak olah tanah dan tanam atau Gertak OTT menyongsong musim tanam ketiga untuk MT III 2018, yang dipusatkan oleh PJ Upsus Lampung Tengah, Susanto MM di Kampung Rama Dewa, Kecamatan Seputih Raman, belum lama ini, didampingi Wakil Bupati H Loekman Djoyosoemarto.
PJ Upsus Susanto MM mengatakan Gertak OTT songsong MT III akan berlangsung selama 24 hari kalender, sejak Jumat (7/9) hingga Minggu (30/9) sebagai langkah mewujudkan pola tanam serentak pada musim kering, MT III 2018.
"Gertak OTT di Lampung Tengah menargetkan olah tanah seluas 7.432 hektar terdiri atas 5.599 hektar di Kecamatan Seputih Raman, 749 hektar dan 1.084 hektar di Kota Gajah dan Gunung Sugih," kata Susanto Santo, yang juga menjabat Inspektur I di Inspektorat Jenderal pada Kementerian Pertanian RI (Itjentan Kementan).
Sementara Wakil Bupati H Loekman Djoyosoemarto mendukung langkah Kementan, dengan mengerahkan Alsintan bantuan pemerintah pada kelompok tani (Poktan), gabungan kelompok tani (Gapoktan), dan unit pelayanan jasa Alsintan (UPJA) di Lampung Tengah.
"Setidaknya ratusan traktor roda dua dan 20 traktor roda empat dikerahkan mendukung sukses Gertak OTT untuk MT III," katanya.
Dia mengharapkan capaian luas tambah tanam (LTT) yang dicanangkan PJ Upsus Lampung Tengah dapat mendukung ketersediaan pangan di tingkat kabupaten dan provinsi mendukung capaian swasembada pangan. (Cah)
Central Lampung of Lampung (B2B) - Farmers in Indonesia´s Central Lampung district of Lampung province involved in simultaneous movement of soil and planting or Gertak OTT to prepare for the third planting season of 2018. The Gertak OTT ctivities are led by Personal in Charge of Central Lampung´s Increase Food Production or the PJ Upsus Susanto MM was accompanied by Deputy Regent H Loekman Djoyosoemarto in Rama Dewa village of Seputih Raman subdistrict.
The PJ Upsus Susanto MM said the Gertak OTT activities for 24 calendar days, 7 to 30 September 2018 as the step to realize simultaneous cropping patterns in the dry season or MT III 2018.
"The Gertak OTT in Central Lampung district targeting land processing 7,432 hectares consists of 5,599 hectares in the Seputih Raman District, 749 hectares and 1,084 hectares in Kota Gajah and Gunung Sugih subdistricts," said Mr Susanto who was also served as the Inspector I in the Inspectorate General of the Indonesian Agriculture Ministry.
While Deputy Regent H Loekman Djoyosoemarto supported the ministry´s program, by mobilizing agricultural machinery from government assistance in farmer groups and agricultural machinery rental centers in Central Lampung.
"At least hundreds of two-wheeled tractors and 20 four-wheeled tractors were deployed," he said.
He expects the government´s target for extensification of rice planting support food availability in district and province.